Using Adobe with Windows 7, I have been getting the message: Cannot Use Adobe To View PDF In Browser. If you are getting the same error, here is the solution that worked for me.
Over the last year, I have been getting the message Cannot Use Adobe To View PDF In Browser and, rather than fix it, I have just dealt with it. Today, I researched and fixed it because I had to review several Adobe documents on my Windows 7 machine.
The fix, in my case, was remarkably easy…I should have taken the time to fix it earlier.
This solution may work for you if you have a similar setup.
Cannot Use Adobe To View PDF In Browser: The Solution
Ok, my problem was that I have Adobe Acrobat installed on my Windows 7 machine. My Adobe Acrobat version is a bit older and doesn't seem to like to work with Windows 7 in some instances.
Fortunately, I did not have to uninstall Adobe Acrobat. I simply had to associate the .PDF extension with Adobe Reader rather than Adobe Acrobat (the full program). This fixes the problem with Windows 7 not opening Adobe PDFs.
To implement this Adobe fix for Windows 7, do the following:
Before implementing the solution below, be sure to download the latest Adobe Reader.
1. Click your Start Menu and then choose "Default Programs" (new in Windows 7)
2. Click "Associate a file type or protocol with a program"
3. Scroll down to ".PDF" and then click "Change Program" up above.
4. Here, you will want to select "Adobe Reader" and then click ok, as you see in the graphic below.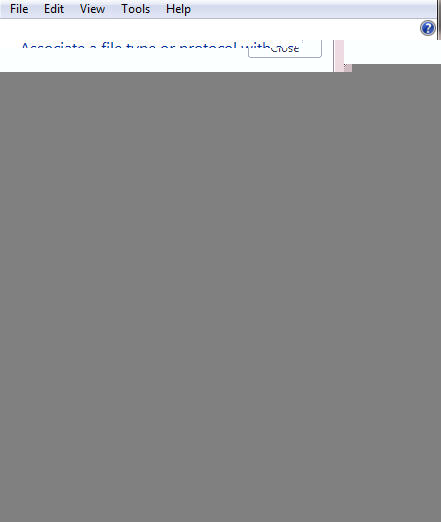 5. Click "close", close your browser and re-open to test. If all is successful, go have a beer or your beverage du-jour to celebrate a job well done!

Richard Cummings is writer, traveler, and web content developer.

Get your copy of his latest book entitled Obvious Conclusions, stories of a Midwestern emigrant influenced and corrupted by many years living in San Francisco and abroad. It just received its first outstanding review "...reminiscent of David Sedaris or Augusten Burroughs" on Amazon UK.

Latest posts by Richard Cummings (see all)