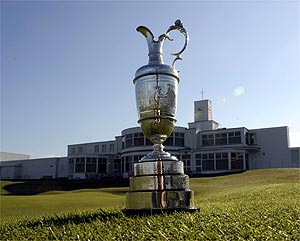 As you watch the The Open Championship at Royal Birkdale, bookmark this page for unfolding stories and great British Open historical moments.
Greg Norman Still Leads the Open Championship
Judy Rankin, on the ABC coverage, said yesterday that Greg Norman will continue to play well and perhaps lead the Open Championship going into Sunday.  She was one of the few who said this without qualification.  And she was right!
In the British Open Storiesyesterday, I made mention of Greg's many unfortunate finishes throughout his PGA Tour Career.  Some of these he inflicted upon himself ('96 Masters), while others (the Bob Tway chip-in, the Larry Mize chip-in, the Robert Gamez holeout) were the result of strange twists of fate.
 What will happen to Greg tomorrow?  He seems much calmer than in his hey-day.  If he does, he will be 5 years older than the oldest player to win a major–Julius Boros was 48 when he won the 1968 PGA Championship in San Antonio.
Can he do it?  There are a lot of good competitors who have a shot.  I wonder what Judy Rankin thinks.
ABC Coverage of the Open Championship
I was just wondering…would it be possible for ABC to run more commercials during The British Open?  I thought it was suppose to be about 15 minutes of commercials for every one hour of television.  Is it now the reverse?
Valuable British Open Links
While you're watching the golf, you may want to have these links handy:
View the British Open Leaderboard
Padraig Harrington Tries to Repeat As Open Champion
First off…let's pronounce his name correctly.  As I am watching the British Open with my Irish friends, you will not hear them prounounce the "D".  It's not Pad-Rig; it's Par-Rig.  I am surprised the golf announcers still pronounce this incorrectly.  After all, they figured out Olazabal–OlaTHAbal.
Padraig is the reigning Open Champion.  He was one putt away from being the new Jean Van de Velde.  Do you remember how he played the 18th hole last year? 
But he seems more sure of himself now and is accustomed to the Birkdale winds.  While all the talk today was of the ball moving on the putting surface, and the players not being able to ground their club, did you see who looked most comfortabe? 
Padraig Harrington.
I'd say he has the best shot to win tomorrow.
Ben Curtis Has Another Shot at Glory
So often, in major championships, the leader falters on the final day (unless it's Tiger).  And so, what the players must do is calculate what it would take to beat the second highest score, which in this case is +4, where we find both Padraig and K.J. Choi.
Then we ask:  how far back is too far back to win the British Open?  An English announcer just mentioned that he thinks Sergio Garcia has a reasonable chance tomorrow.  Sergio is at +9.  He points out that last year Padraig trailed Sergio by even more than that. 
I think the +9's are still in it but they'll have to shoot a good number tomorrow.  The weather is suppose to be equally ferocious, which would make a 68 like a 61 or 62. 
If the weather is bad, I think +7 wins the tournament…and I think Ben Curtis will shoot par to end up right on that number.
Of course, my Irish friends disagree.

Richard Cummings is writer, traveler, and web content developer.

Get your copy of his latest book entitled Obvious Conclusions, stories of a Midwestern emigrant influenced and corrupted by many years living in San Francisco and abroad. It just received its first outstanding review "...reminiscent of David Sedaris or Augusten Burroughs" on Amazon UK.

Latest posts by Richard Cummings (see all)