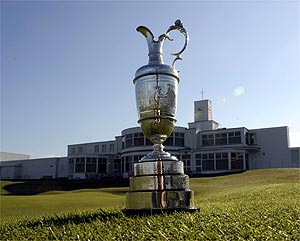 As you watch the The Open Championship at Royal Birkdale, bookmark this page for unfolding stories and great British Open historical moments.
Greg Norman Leads The Open Championship
At 53, Greg Norman is shockingly in the lead at the British Open at Royal Birkdale.  In an interview, Jim Hubert asked him if he felt compelled to catch up to new wife Chris Everet's  tennis majors.  Jim, she's won 18; he has 2.  Silly question.
A better question might be:  "Greg how can you play so well after just handing over $103 million to your ex-wife?"
Will Greg Norman be able to maintain this form over the weekend?  I certainly hope so but I am doubtful.  Has he even played much lately? 
He has only played 3 PGA tour events this year and did not make the cut in any of them.  I say his chances aren't good but it's good to see him around.  If life has dealt Greg Norman a good hand, the golf Gods have given him flushes that were all beaten by straights: 
Do the golf Gods owe Greg one last shot at glory? 
David Duval Close to the British Open Lead
David Duval, when interviewed after his round today, said, "I'm not trying to achieve mediocrity; I'm after greatness."
This seems like a stretch of a statement for someone who has only made 1 cut in 12 PGA events this year.  Just last month, Ed Sherman of the Chicago Tribune noted how David Duval's decline has been dramatic.   And people on the Internet are asking "What ever happened to David Duval?" as if he no longer exists. 
Given that he lost his game so quickly after his British Open win in 2001, is it possible he returns to form with equal haste and wins another British Open?
He would probably respond, as he insinuated today: "This has not been a rapid ascent.  I have been working a year and half to reach where I am right now."
I would like to see David in the hunt come Sunday.  Will it happen?
KJ Choi Muscles Into the British Open Lead
If you follow golf, you know that K.J. Choi used to be a body-builder.  In the last 3 months though, he has dropped 17lbs to eliminate some back problems that he was having. 
I would think heavy lifting and golf may be mutually exclusive, but it seems to steady KJ's game. 
Golf is a game of controlled athleticism.  Perhaps the muscles developed in the gym help control surplus elasticity in the body. 
Should we watch out for KJ come Sunday afternoon?  In a quote after he won the PODS Championship, K.J. Choi said "I try to be a very patient man… Without patience, you can't really accomplish anything in life."
That is the attitude one needs to win an Open Championship. 
Rocco Relaxes Near Top of British Open
Admit it.  You thought would not hear much of Rocco after the U.S. Open loss to Tiger Woods.  I enjoyed Rocco's performance too but, like you, I did not think we would see it again.
His swing looks a little loose and his mouth is even looser.  He seems to not want to stop talking.  With what has happened in his life lately, can you blame him?  Like Lee Trevino, the chatting and enjoyment seems to relax Rocco.
Will his quest for the jug continue?  I don't think so…but I said that at the U.S. Open.    
Who Will Win
I like all of the players just mentioned and much hype has been made of their performance thus far.  But the race is nary half over.  I do not believe any of the players mentioned above will win, but I hope I  am wrong. 
 The one with the best chance is K.J.  Choi.

Richard Cummings is writer, traveler, and web content developer.

Get your copy of his latest book entitled Obvious Conclusions, stories of a Midwestern emigrant influenced and corrupted by many years living in San Francisco and abroad. It just received its first outstanding review "...reminiscent of David Sedaris or Augusten Burroughs" on Amazon UK.

Latest posts by Richard Cummings (see all)