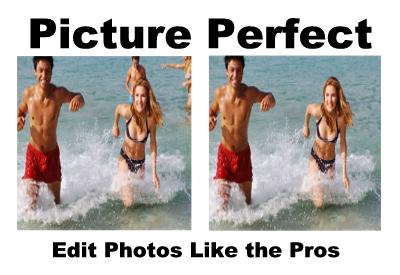 How To Use Photoshop to Make Yourself Look Like a Model
I attended a wedding a few weeks ago but I forgot my camera.  My friend Sarah said that she would send me all of the photos from her camera after she "touched herself up."
"Touch yourself up?" I asked. 
"Oh," she responded, "I never upload pictures before I make myself look better."
Sarah confided that she uses Adobe Photoshop to smooth her skin, get rid of her age marks, remove any evidence of weight gain and a bunch of other stuff before she uploads her photos to FlickR.com.  What vanity, I secretly thought.  How do I that?
"How did you learn how to do all that?" I asked Sarah.  Sarah's great at her sales job, but I have never known her to be a computer whiz.  That's what I do and I have always thought Photoshop was kind of difficult to use. 
She said, "I bought these videos called How To Edit Your Digital Photos Like a Pro and it made all that hard stuff so easy."
I checked out the program.  It's pretty cool because you can get started immediately as all of these training videos are available for online viewing or download.  Also, there was a money-back guarantee so what did I have to lose. 
Sarah uses it to make herself look like a model (and it works!) but I was more interested in removing red-eye, enhancing landscape photos, removing unwanted objects and generally making my pictures look better. 
I have to say…Sarah was right.
These videos made the previously difficult Photoshop simple to use.  I highly recommend them.  Whether you want to make yourself look like a model, or simply make all of your photos look more professional, check out the How To Edit Your Digital Photos Like a Pro video series. 
Enjoy,
Richard
Other Fun Notes/Links on Editing with Photoshop

Richard Cummings is writer, traveler, and web content developer.

Get your copy of his latest book entitled Obvious Conclusions, stories of a Midwestern emigrant influenced and corrupted by many years living in San Francisco and abroad. It just received its first outstanding review "...reminiscent of David Sedaris or Augusten Burroughs" on Amazon UK.

Latest posts by Richard Cummings (see all)