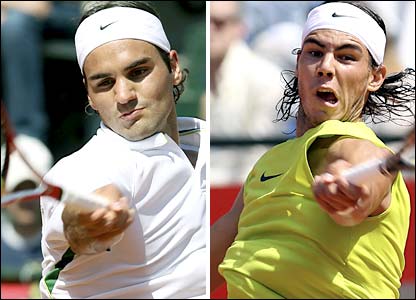 Read this live, on-line, coverage of the match between Rafael Nadal and Roger Federer in the French Open Final, 2008.
This match begins way too early, 8am midwestern time.  I abandoned some festivities early last night to awake at this dreadful hour.  Will it be worth it? 
Doubtful.  The pundits are currently discussing whether Federer has a chance this time.  I like to believe that he does, as I find Nadal to be a somewhat distant warrior.  Nadal is like the silent kid off in the corner mastering his craft while you're out practicing, but having fun.  Then, when you get in the "ring" with him, you smile and he stares you down like Drago in Rocky IV:  "I must break you."
They are saying that if Federer can notch a win, he will truly be the greatest tennis player ever.  But, McEnrore added, "if cannot win here, he cannot claim that honor."
What does this say about the greatest players of recent time?  Borg never won the U.S. Open or the Australian Open.  McEnroe never won the Australian or the French.  Ivan Lendl and Matt Wilander never won Wimbledon.  And many greats, including the all-time grand-slam champion Sampras, never won the French. 
Who does that leave in the last 30 years to have won the Career Grand Slam?  Yep, Agassi!  He started his career with ads touting "image is everything."  Yet, we find him now with a substantive argument that he may better than many who we consider among the all-time greats.
Even Federer?
Federer can end that discussion today with a win.  Does he have what it takes?  Let the games begin…   
I am going to watch the first set to get a feel for the match.  Here goes…
Not looking good for Federer; he is currently down 1-6, 0-2 and looks utterly hopeless. 
McEnroe just said, "He (Federer) is one of if not the best players of all time and he looks utterly defeated."
Federer has to break Nadal here to avoid going down 0-3 in this set.  It's 15-40…DONE!
Alright, now it's 1-2 and a commercial is on.
What should Federer do for his serve?  If he serves and stays back deep in the court, the service advantage completely disappears or reverts back to Nadal.
McEnroe and I are kindred spirits…he should just said the same thing.  He has to serve and move forward.
Deuce…
Ad Federer. 
PERFECT…2-2.
Federer won points in that game by hitting short balls and forcing Nadal to come forward.  He brought Nadal out of his comfort zone…pounding away from the baseline.  He must continually do this.
Nadal just held serve.  Federer had some good opportunities but missed easy volleys.  It's as if he gets so excited to have a winnable volley that he is thinking about that instead of actually hitting the volley!
Nadal 3-2 second set. 
Will Federer be able to hold serve?  This will be another critical game.
Federer held.  It continues to be a match.  They just showed Federers's girlfriend.  I remember her looking a little different…and a bit better.  Has she put on a few lbs?  I'm surprised he is not with some European model.  Actually no, he is more a man of substance.
And he needs to find that substance right now:  3-3, deuce.  Now, he has a break point.  Be you Roger, be cool!  Damn Roger.  You had the point again.  A failed drop shot by Rafe…and you hit it in the net.  C'mon Roger.  You would never do that agaisnt someone else.  This guy is IN YOUR HEAD!
Roger just lost the game.  Too many baseline points.  How many people need to tell him that he'll lose almost all of those points.?
I feel better now…Maria Sharapova's commercial came on.  Commercial is stupid.  But does it matter?
Alright, 3-4:  Another do or die for Roger.
Roger's Service Game at 3-4:  Another easy missed volley at 15-0.  He does not miss these shots against other people.  Ok, 30-30.  Whay type of point will it be?  The serve and volley did not serve Roger; he was easily passed.  Roger just saved one break point on a great high-kick serve to Rafe's backhand, but just lost the deuce point.  Advantage Rafael.   Ok, deuce again.   Ad R.  Federer just saved another break point…but again lost at deuce…and now has lost the game.  Federer down 3-5.
Do they drug test in tennis?  Nadal looks unusually large for a tennis player.  Tennis muscules are usually more elastic and elongated.  Nadal looks more like a body builder.  He must lift a lot of weights or have Balco's # on speed-dial.
Well, muscles just one the second set.  And now there is a Cialis commercial on.  I thought they only ran these during golf tournaments.   Are tennis players similary afflicted?  Federer currently needs a Cialis type boost for this match. 
Third set:  Is that match all but over?  Time for a coffee break.
The return from coffee break yielded expected results.  2-0 Nadal.
The middle announcer, what's his name (who sits in between John McEnroe and Mary Carillo), just said, "Nadal is like any other 22 year old."  I don't know about that.  I don't have any friends with that intense stare who have won four French Opens.
3-0 Nadal.  Federer is completely listless.  He needs to be lustful.  He needs the aforementioned Cialis in a big way.  Perhaps he expended himself last night with his girlfriend.  I wonder:  Do tennis players have the same rules as boxers:  No sex before the big match?
The solution for Federer is obvious, but he can't see it.  It's like when people are having relationship problems.  It's so easy to see the solution from the outside, but when you're in it, you're blind.  You're caught in the thick of thin things. 
Roger is not thinking about winning right now.  Why can't he see it?  Almost every time a point is "off-balance", Roger wins it.  Here is what he should do (or should have done):  Approach the net when he has a ball to attack on, hit many shots (like the short slice back hand) that induce "off-balance" points, hit a few high-shots and approach the net in a delayed manner…anything to avoid these dastardly baseline points that he continues to lose.
He might lose this set at love.  It's 5-0 Nadal now.
What is this rivalry akin to?  Who are other great champions that had one nemesis that they could not overcome?  One nemesis that has so gotten into their psyche that it completely throws them off their game?
Federer has the look of defeat similar to those golfers who face Tiger Woods, the look Roy Jones has had since taking the one hit from Antonio Tarver, the stunned, incredulous look George Foreman had as he was knocked out by Ali. 
Match over:  6-0 in the final set.  A historic trouncing!
I came home early last night to wake up for this?  This match was shorter than many women's matches.  I don't begrude that I watched it…I just wish that it would have been a better match.
In spite of this absolute beat down, I think Roger Federer can beat Rafael Nadal at the French Open.  He does not need to attend more tennis practices; he needs to attend therapeutic sessions.  Nadal is just too much in his head.
And Nadal?  What is this guy like when not playing tennis?  He justs so distant and intense on the court that I can't really root for him. 
But, as McEnroe just said, Nadal "is simply the best clay court player that I have ever seen."
Is it groundhog year?  French Open–Nadal.  Wimbledon–Federer.
I was hoping that this would be the year in which Federer takes down Nadal at the French and achieves the moniker of "greatest player of all time".
Perhaps, instead,  it will be the year that Nadal takes down Federer at Wimbledon?  What do you think?
Like the online coverage?  Stop back in for live, on-line coverage of the US OPEN golf beginning Thursday. 

Richard Cummings is writer, traveler, and web content developer.

Get your copy of his latest book entitled Obvious Conclusions, stories of a Midwestern emigrant influenced and corrupted by many years living in San Francisco and abroad. It just received its first outstanding review "...reminiscent of David Sedaris or Augusten Burroughs" on Amazon UK.

Latest posts by Richard Cummings (see all)