Question: Where are my Skype Pictures stored on my computer? I took a bunch of Skype photos of myself and others from within Skype and now I cannot find any of them. So, my question is, where in the heck are the Skype photos stored on my computer?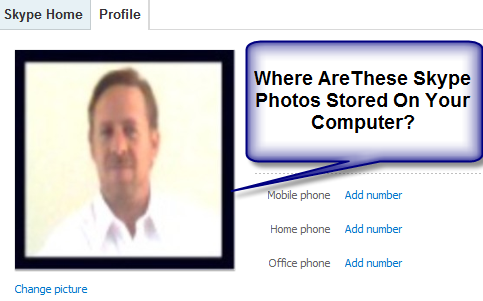 Skype Photo Location!
Skype Photo Location On Your Computer: Solution
Many people have asked us this question! We are not sure why Skype does not make it more clear where they put their photos on your computer. But, whatever the reason, we know that they should because a lot of people keep asking us "Where are my Skype Photos?"
Fortunately, we have the answer for you and it's pretty simple.
The easiest way to find your Skype photos on your computer is as follows:
To begin, click Start | Run as you see in the photo below: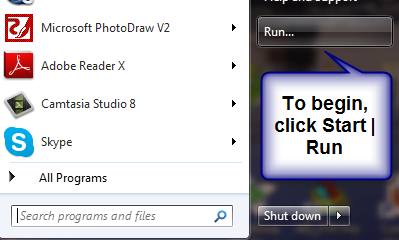 Finding Skype Photos!
In the Run box, you want to type the following: %appdata%SkypePictures (as you see in the photo below)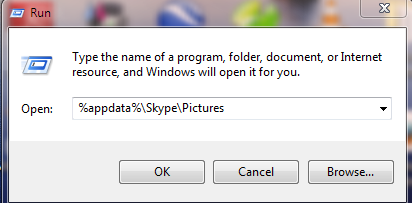 Getting to the Skype Photo Directory!
After clicking ok, you will see the directory that contains all of your Skype photos as you see in the image below.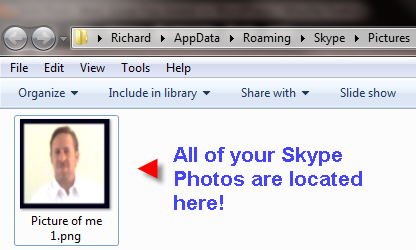 View Your Skype Photos Here!
Conclusion: Skype Photo Location
On behalf of Skype, we apologize that they do not make this clearer. Wait, no we don't…it should be clearer, but it's not!
Now, who cares? We have got you covered.
We have shown you where to find your Skype Photos so that now you can do whatever you would like with them. If you have any further questions or comments, simply use the comment area below!

Richard Cummings is writer, traveler, and web content developer.

Get your copy of his latest book entitled Obvious Conclusions, stories of a Midwestern emigrant influenced and corrupted by many years living in San Francisco and abroad. It just received its first outstanding review "...reminiscent of David Sedaris or Augusten Burroughs" on Amazon UK.

Latest posts by Richard Cummings (see all)