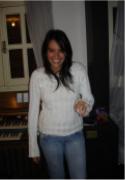 For those that are visiting Montevideo, Uruguay, and seeking to learn Spanish, I thought I would introduce you to my Spanish teacher Alejandra (Ale).  Ale helped me with many of my Spanish web site projects while I was here (see Spanish Pronunciation: Spanish Readings of Paulo Coelho Essays as an example) and she was also my private Spanish tutor for 6 months.
Ale has her degree in teaching and currently works teaching little kids both Spanish and English.  And she also teaches Spanish to those of us, like me, who need some extra assistance.
Since she works during the week, her schedule is a little tight, but she is available to help you with Spanish during your visit.  Ale is available to teach both little kids and grown-ups, and also grown-ups who act like little kids, like me! 🙂
Ale has a perfect location to teach in Pocitos and can accept groups of people or provide one-on-one training. 
So, if you are looking to learn Spanish during your visit, send Ale an email and she will get back to you in a timely manner.
Ale can be reached at the email below.
And I would like to personally thank her for helping me with my Spanish projects during my stay in Uruguay.
Ale's email contact information:


Richard Cummings is writer, traveler, and web content developer.

Get your copy of his latest book entitled Obvious Conclusions, stories of a Midwestern emigrant influenced and corrupted by many years living in San Francisco and abroad. It just received its first outstanding review "...reminiscent of David Sedaris or Augusten Burroughs" on Amazon UK.

Latest posts by Richard Cummings (see all)