With all my friends telling me that Spotify is the best thing since sliced bread, I attempted to install it and this triggered a virus alert on my computer.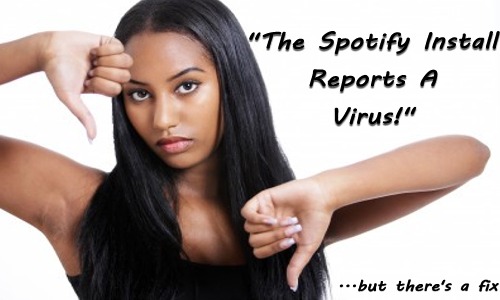 Spotify: Terrible First Impressions With Virus Alert
As a tried and true Pandora user, I was not too excited to make the switch from Pandora to Spotify. However, once I was told by my music loving friends that you can choose the exact song that you want to listen to, I was sold. I thought I would at least give it a try.
So, I went to the Spotify home page to see what it was all about. Following the instructions, I clicked on the "Get Spotify for Free" button as you see in the photo below.

When you click this button, it prompts you to download a file called SpotifySetup.exe. I figure that this is fine because Spotify is a professional company and would not do anything to cause my computer harm. So, as you see in the photo below, I chose to download the Spotify setup file.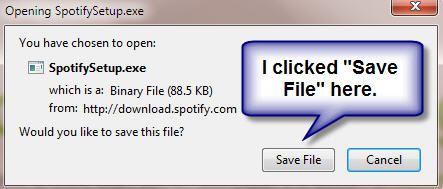 This also disappointed me because Pandora does not require you to install software. It just runs completely online, which I love. In fact, I use Pandora so much that they have just sent me a message that they may have to start charging people like me who use their service extensively. Well, that's another reason to look at Spotify.
What happened after I downloaded the file? Take a look at the message below.

Well, if first impressions are the most important, Spotify immediately fails to impress. What kind of legitimate software reports a virus when you download the file?
As someone who has been involved in technology all of my life, I have rarely seen something like this–a prominent piece of software that everyone is talking about causing a virus on your computer?
Well, I guessed that this is probably a misreported virus because a company on the uptick like Spotify would not be malicious software. I confirmed these suspicious by searching the Internet but was still left with a highly negative first impression of Spotify.
So, when I try to run this file to install Spotify, I am unable to do so because I get another virus notification that you see below.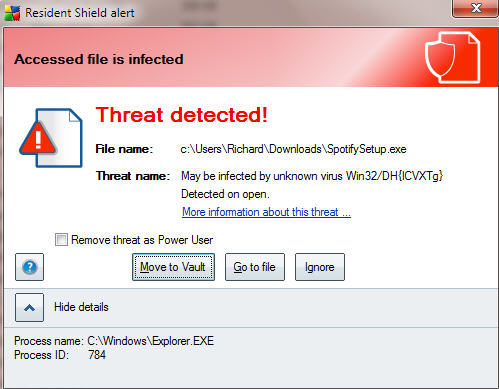 Now, even though I am pissed off at Spotify and really don't like the product and don't want to install it because of this bad experience, I'll continue for the sake of this article and tell you how to get around the Spotify virus warning and actually install Spotify.
How To Remove Virus Warning and Install Spotify
Ok, after much Google searching for things like "spotify setup threat detected", I found that the Spotify installation file is being flagged by my AVG virus program. There were many articles that talk about this and many proposed solutions that failed to fix the Spotify virus warning.
However, I found one that completely solved the problem in a short and sweet fashion. In this AVG forum post, one user provided this quick solution which worked perfectly for me and took just about one minute. The instructions to the remove the Spotify virus warning and install Spotify are as follows:
1. start AVG user interface (right click on AVG in system tray)
2. select components -> resident shield
3. select click manage exceptions
4. select Excluded files, click Add
(I modified steps 5 & 6…see NOTE below).
5. browse over to c:\Program Files\Spotify\spotify.exe and select the file then click open
6 spotify.exe appears in the list with a selected tickbox – click apply
NOTE: I left the original instructions above intact but I did something a little different for steps 5 and 6. Because the file that was causing the virus error on my computer was SpotifySetup.exe, I excluded this as the problem and it was located in my "downloads" directory.
Success! After going through all of this, I am now successfully installing Spotify as you see in the graphic below:

Conclusion: The Spotify Virus Warning
I hope that this article has helped you all out there who are getting the same or similar virus warning when you install Spotify.
There is no question that this annoyance is a terrible introduction to a program that I have heard so many people rave about. Spotify should remedy this immediately. I should never have to go through all of this to install a piece of software…neither should you.
I hope it's worth it…I'll let you know in a future Spotify review.

Richard Cummings is writer, traveler, and web content developer.

Get your copy of his latest book entitled Obvious Conclusions, stories of a Midwestern emigrant influenced and corrupted by many years living in San Francisco and abroad. It just received its first outstanding review "...reminiscent of David Sedaris or Augusten Burroughs" on Amazon UK.

Latest posts by Richard Cummings (see all)