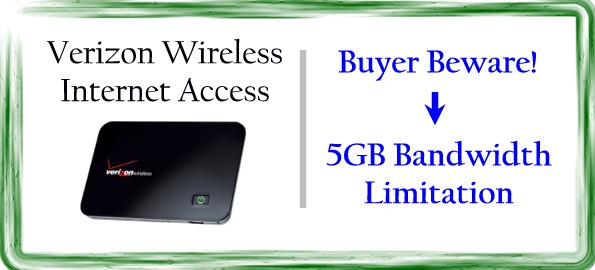 If you are considering Verizon 4G LTE Wireless Internet, you might want to stop right now. Their current package has a 5GB bandwidth limit, which makes Verizon Wireless Internet the best Internet service that you can't use.
A few days ago, I wrote this Verizon 4G LTE Wireless Internet Review. I wrote glowingly about this Verizon 4G Wireless Mi-Fi product because it was truly remarkable: easy to setup, easy to connect to, and Internet speeds the likes of which I have not seen in a home network. And, on top of that, it was all wireless–you could literally take it with you anywhere you wanted to go.
And then, as I was filing away the contract paperwork, I saw a little note that said: 5GB Bandwidth Limitation.
Verizon 4G Wireless Internet 5GB Bandwidth Limitation: You Can't Be Serious
Excuse me? I thought I had read this wrong. A 5GB bandwidth limitation?
The reason people need fast Internet is to do things that consume bandwidth! I dont' need superfast Internet to check email or view web pages. All of these things are fine on DSL. I, and you, need fast Internet to watch YouTube videos, NetFlix movies, Hulu Online TV, and everything that is "downloading" or "buffering" when I wish I could start watching it right away.
Most people are unaware just how limiting 5GB of bandwidth really is. Well, let me tell you. One movie of decent quality video consumes about 1GB of bandwidth. Read More