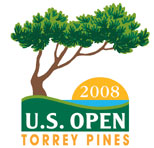 Life On-Line Coverage of the 2008 US Open from Torrey Pines
Saturday, June 14th
We are going to start the discussion with this…if Tiger Woods is not in the lead when he tees off on Sunday, can he still win?  He never has…
Bookmark this page to return for updates…or just hit your refresh button and see the updates live!
The question posed above may be a moot point as Tiger Woods has already maneuvered himself into second place…behind only Rocco Mediate.  As I mentioned yesterday, Rocco Mediate seems like a great guy.  However, your best bar buddy is not going to win the U.S. Open and neither is Rocco Mediate.  Prove me wrong, Rocco, prove me wrong!
I'm still reeling from Phil's 9 and coming to grips with the fact that he is GONE!  Gonzo baby.  What happened to you Phil?  We were all on your side.  Got a 60 in you tomorrow?
Have you ever seen so many short putts missed?  Vijays's 4 putt from three feet?  Adam Scott's tap-in, tap-out?  Stuart Appleby's 3 putts from 3-feet?  New Rule (a salute to Bill Maher):  If a putt is 3 feet away, it does not need mean you should take 3 putts to get it in the hole.
A quick entertainment aside:  Do you know who the voices are in the new USGA spots they are running? If not, you don't watch enough movies and TV.  Speaking of entertainment…before U.S. Open coverage begins tomorrow, they will show entertainers trying to tame Torrey Pines.  They played it last week.  Players include Justin Timerberlake, and Matt Lauer and Tony Romo; Tony actually tried to to qualify for the U.S. Open.  Tony…quarterback for the Cowboys, girlfriends Jessica Simpson and Carrie Underwood, scratch golfer…could things get any better.  Yeah, I know, you fumbled in the biggest game of your life.  Whatever…I saw Jessica's Simpson "Boots Were Made For Walkin" video…and you went there…you lucky bastard…You're not allowed to complain about anything, ever!
Tiger just 3-putted a par 5 that he had reached in two.  I hate to root agaisnt someone, but I don't want him to run away with this thing. 
And, now, we need to talk about the aforementioned question:  Can Tiger win the U.S. Open if he does not have a share of the lead tonight? 
The evidence says no and I find it to be a peculiar phenomenon.  Let me ask this question:  Would you rather have the lead on Saturday night or Sunday on the second hole or the 7th hole for that matter? 
Tiger has had both those situations.  Do you remember the Masters that Zach Johnson won?  Tiger had the lead on Sunday…just not the lead Saturday night.  Remember last year's U.S. Open that Angel Cabrera won?  Tiger had the lead on Sunday there too.  So, in the majors, Tiger has had several leads on Sunday and LOST.  But he never loses if he enters Sunday with the lead or a share of it.
So, as it stands now, he's in third place behind only Rocco and Lee Westwood.  You know what I said earlier…that  a guy you would have a beer with would not win the U.S. Open.  Scratch that about Lee.  He's a drinker and a winner.
Holy sh*t…so many missed putts.  Davis, Geoff, Stuart…are the greens that difficult?
Commercial time…figure out who's doing those USGA commercials yet?  Hint:  One was a McMullen brother and the other recently incurred the wrath of Bourne.
Rocco seems to have a birdie putt every time they show him.  Has everyone forgotten?  It's the U.S. Open–fairways and greens.  Go Rocco!
What can you say about Stuart Appleby's putting today?  Nothing?  Not Johnny Miller.  He just said, "His putting absolutely stinks!"  What does he say to his wife when she says, "Honey, does this outfit look good?"
I just saw a recap of Phil's 9.  Phil carried so many wedges in his bag to handle all the elements of the short game.  He just didn't know that he would play them all consecutively from the same spot.  But the reason people love Phil?  He said, "It was a great hole placement that tempts people, and it tempted me.  It's ok.  I'll enjoy tomorrow and I look forward to Bethpage next year." 
Phil is always so honest about his disasters.  I remember after his meltdown at the U.S. Open, he just said, "I am stupid.  So, so stupid.  I just blew the U.S. Open."  Would you ever find that candor from Tiger? 
The dumbest quote of the week has to go Woody Austin who said yesterday after the round, "Tiger isn't that tough.  He doesn't need to be tough.  Good things happen to him all the time on the golf course.  If good things are happening all the time, you don't need to be tough."
Woody, do you even believe your own words?
Currently on the course…Tiger for Eagle.
Un-fricking-believable!  He just sank a 50 some-odd footer…like his putt at the Players that one year on the 17th.
I need a break after that…
Ernie Els in the house at +3.  Are the +3's still in it?  I think they are given that there  aren't many players at or under par AND that Tiger just winced after his last drive. 
Sidethought…as I just mentioned Ernie Els:  Does winning the U.S. Open have the power to destroy your career?  Does it take that much out of you?  The first name that comes to mind is Lee Janzen.  He won the U.S. Open back in 1998 and has not won since.  He is not even a full member of the PGA Tour. 
Again?  Tiger just holed one from the rough on a one-hop.  Maybe Woody Austin wasn't too out there after all.  Look at Tiger's reaction…sometimes he even amazes himself. 
Back to Lee Janzen.  He's currently #328 in the World Golf Rankings.  How tough would that be?  He can't play in many tournaments and the one that he can always get into is the U.S. Open, the toughest track in all of golf.  The only reason he can play here is the 10-year winner's exemption.  This is his final year of that…and he missed the cut.
And what of Michael Campbell…winner just a few years back? Check out his statistics this year.  Total winnings:  $0. 
Tiger's now wincing even more, but in spite of that he is putting for eagle on #18 and will be in the final pairing tomorrow.   Foregone conclusion? 
Tune in tomorrow for Sunday Coverage of the U.S. Open from Torrey Pines and we'll find out!

Richard Cummings is writer, traveler, and web content developer.

Get your copy of his latest book entitled Obvious Conclusions, stories of a Midwestern emigrant influenced and corrupted by many years living in San Francisco and abroad. It just received its first outstanding review "...reminiscent of David Sedaris or Augusten Burroughs" on Amazon UK.

Latest posts by Richard Cummings (see all)