Today's Hot Topic:  Ziami and Boris Kodjoe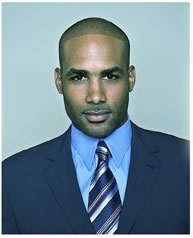 Out of curiosity, I will occasionally visit Google Trends to find out what people are searching for.  This morning I expected to see a lot of searches for Barack and Hillary since the Democratic National Convention is taking place.
However, the #1 and #2 slots are occupied by Ziami and Boris Kodjoe.  Am I totally out of it?  I have never heard of either of these two. 
So, just in case you find yourself similarly situated–completely out of it like me!–I am here to enlighten. 
Ziami is a clothing line and you can read more about them at Ziami.com.  Ziami claims "revolutionary value" in their clothing line: 
Ziami manufactures custom-made clothing for a fraction of what you would pay for them locally. At any department store in North America you would ordinarily pay upward of $180 for a custom-made shirt, $1500-4000 for a custom-made suit of equal quality as Ziami's and delivery time is generally ten weeks and beyond. Ziami suits starting at $99.95 and shirts starting at $29.95 are delivered within an estimated 3-5 weeks.
What does Boris Kodjoe have to do with Ziami clothing?  He is a spokesman and model for them.  He claims:
"The value of any Ziami product is unmatched all the way around." ….Boris Kodjoe
This sounds like a great deal.  Men's Warehouse pricing but with fashionable clothing and European style flair and quality. 
However, the first review of Ziami that I came across said this:
Personally fitted and fashioned suits, shirts and jeans:  well that was the intention.  But wait, it took 5 months to get my jeans, and they added inches to the orginal measurements, for what reason I have no clue.  So, now I have a pair of jeans that are very baggy even after I washed them.  Ugh.  Just goes to prove, things aren't always what they seem.
3/3/08  Just got two more items in the mail I didn't order from this company that don't fit, and no return address (other than Hong Kong).  The stuff is expensive and awful.
Hmmm…so Ziami claims quality clothes for a good price and the only review says, basically, poor quality with a high price tag.  I suppose it wouldn't be the first time advertiser claims did not meet with reality.
My guess is that women are mainly searching for these terms.  Over the rapid waves of the Internet, they hear "you must check out Boris Kodjoe…he's the new Tyrese."
Should we be surprised that, during the week of the Democratic National Convention, people are searching for a hot male model rather than investigating the political future of their country?   Not really, since most young Americans cannot locate Iraq on a Map, much less locate their own country. 
I'd keep writing about this disturbing trend, but I need to go check if anybody has posted new photos of Kim Kardashian. 

Richard Cummings is writer, traveler, and web content developer.

Get your copy of his latest book entitled Obvious Conclusions, stories of a Midwestern emigrant influenced and corrupted by many years living in San Francisco and abroad. It just received its first outstanding review "...reminiscent of David Sedaris or Augusten Burroughs" on Amazon UK.

Latest posts by Richard Cummings (see all)