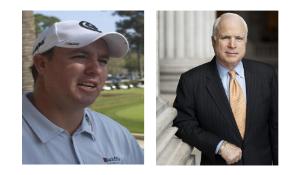 Last Sunday, I watched the U.S.A. win the Ryder Cup, a victory spearheaded by an unlikely individual named Boo Weekley, a victory that made all who watched proud of our Americans, and our America.  We saw all of the characteristics that made our country great:  tenacity, teamwork, honesty, competitiveness, friendship, and fun, lots of fun.  I felt great.
Later that same night, I watched 60 minutes which featured an interview with John McCain.  This depressed me. 
I got to thinking…John McCain could learn a lot from Boo Weekley. 
With the election season upon us, we have entered a season of untruthfulness, lies, and deceit.  John McCain has said in the past that he was against offshore drilling, against regulating the financial community, and against dirty politics.
Now that he is running for president, he has changed his tune on all three of these things:  He leads the cause for offshore drilling and says his opponent has been slow to adopt this policy.  Since the financial fallout in the markets this past week, he has proclaimed the need for financial  regulations that he has never before supported and has recommended the termination of the Secretary of the Treasury Hank Paulson.  And, after claiming that he dislikes dirty politics, he has championed a sleazy campaign against Barack Obama likening him to Britney Spears and Paris Hilton.
All the political lies are enough to make one…consider a redneck for President?
Last weekend, one the greatest sporting events of the year took place:  The Ryder Cup.  For the non-golf fans, this is a three-day golf tournament, played just once every two years,  which pits the United States against the Europeans.  The Americans have been dominated by the Europeans in the recent Ryder Cups in spite of having a better team.
The tournament holds a special place for the golfers, and golf fans, because it is the one time when golfers play as a team, not as individuals playing for millions of dollars.  The experts say that the Americans have lost with such frequency in the past decade because they're too selfish and unable to play as a team. 
For the first time in many years, the European team was favored to win.  Two reasons account for this:  One, Tiger Woods is hurt.  And two, the Europeans have become better world golfers. 
But this year, the Americans won on the heels of several inspired performances and great teamwork.  One of the substantial contributions to the team came from a golfer relatively unknown outside the golfing community:  Boo Weekly.
Boo Weekly is not your ordinary golfer.  In fact, one might consider him a maverick in the golfing world.  Boo Weekly is a redneck.  In a sport long considered the bastion of spoiled rich kids, Boo grew up in Milton, Florida, which he says is,  "kind of a redneck little town. The boys and girls down there all drive trucks."
The first real glimpse of Boo that I had was just last year at a tournament called the Honda Classic.  On the final green, Boo had a 3 foot putt, a putt he would make 99 out of 100 times, to win the tournament.  He missed the putt and lost the tournament.  Asked afterward about the missed putt, Boo said, "I was shaking.  I ain't going to lie about it. I mean, I was shaking like a leaf. … I made a good stroke. I just hit it way too hard."
What refreshing honesty!  Most golfers would blame the green, the weather, the equipment-anything but themselves. 
The next week Boo won his first golf tournament and has since become one of the best golfers in the world.  But, most importantly, he hasn't allowed his accomplishments to overshadow himself; he hasn't changed.
This past weekend at the Ryder Cup, Boo was asked if he felt the pressure of the failed Ryder Cups that preceded him.  He responded:  "That's all on paper that we're underdogs. You don't know what you've got until you get out there and play with it.  It's like getting a new pack of hounds when we were growing up and going deer hunting. You don't know what kind of dogs you've got until you run them, so let's run them and we'll see."
Boo went on to stunning victories in the Ryder Cup this past weekend and boosted the U.S Team to a win not only with his golf but with his humor.
"The Ryder Cup didn't change Boo.  He just tells it like it is and it's so refreshing," said one of the golf columnist. 
The initial appeal of John McCain was so similar to Boo-a maverick who just tells it like it is.
And so, as I watched 60 minutes last Sunday, and heard John McCain telling me what he thinks that I want to hear, I wondered:  Where has the real John McCain gone?  Where is the Maverick? 
Boo would never do me like that!
Other Notes/Links on Boo Weekley
It's always fun to surf the Internet for similarly-themed articles after I write a piece.  In doing so for this article, I realized first that…
Nobody agrees on the spelling of Boo Weekley. Google provides more hits for his name spelled incorrectly-Weekly-than it does for his name spelled correctly, Weekley.
Here is a great interview with Boo Weekley:
[youtube]YuqTE8xwhow[/youtube]
And a profile of Boo's life with comments from his family in Milton, Fl:
[youtube]ImCow_PYJTE[/youtube]

Richard Cummings is writer, traveler, and web content developer.

Get your copy of his latest book entitled Obvious Conclusions, stories of a Midwestern emigrant influenced and corrupted by many years living in San Francisco and abroad. It just received its first outstanding review "...reminiscent of David Sedaris or Augusten Burroughs" on Amazon UK.

Latest posts by Richard Cummings (see all)