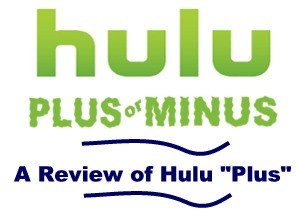 Hulu Online TV just recently released Hulu Plus, an absolutely horrendous idea that should be called Hulu Minus.
A few months ago, I wrote this review of Hulu Online TV and hailed Hulu as "Revolutionary Online Television…if they don't screw it up." Well, they have just screwed it up with their launch of Hulu Plus.
What is Hulu Plus?
First, let's take a look at what Hulu plus is and how it changes what you receive from Hulu.
Hulu Plus is a service from Hulu which "gives you exclusive access to every episode, all season long, of Glee, Modern Family, House, and dozens of other popular shows – some featuring full series runs – from ABC, Fox, NBC, and more." Plus, "Stream episodes instantly in HD (720p) to your connected TV, Blu-ray player, gaming console, set-top box, iPad, iPhone, and other devices."
These quotes came directly from the Hulu website. As a practical matter though, we can say that Hulu Plus "took away the majority of content from the basic Hulu Service and made you pay for it."
It should be called HULU MINUS!
Why Hulu Plus Is a Bad Idea
In my initial review of the Hulu Online television experience, I basically praised the service. The clarity of the picture and speed of the service had me at hello. In spite of the commercials, I thought Hulu was a great product.
Then Hulu Plus screwed it all up.
The best way to illustrate this is by example. My sister and I were talking on the phone 3 weeks ago and she told me that she had been watching the show Modern Family, which I had not yet seen. Since she and I often have similar tastes, I decided to give it go. I went to Hulu.com to watch the first episode.
And guess what? It was not there as it would have been in the past. Since the advent of Hulu Plus, Hulu Basic now only shows the latest 5 episodes of each program. For all of the episodes, you must subscribe to Hulu Plus.
So, what did I do? I went back to my old favorite–Sidereel–and found all of the episodes of Modern Family.
Modern Family has aired 41 episodes over 2 seasons. That is a little more than 800 minutes of television or the equivalent of about 13 hours (scary!!!). If Hulu basic still carried all of the shows, as they did in the past, they would have had 13 hours of my time to show me ads. Instead, they lost a customer for good.
Why Hulu Basic Did Not Work
The real question on the table is: Why did Hulu Online TV, in its original form, not work?
The obvious answer seems like it would be money. If basic Hulu was working and producing a profit, there would have been no need for Hulu Plus. Right? So, was Hulu basic making money? The answer seems to be yes and no.
According to the Hulu Wikipedia Page, "…early in 2010, Hulu chief executive Jason Kilar said the service has made a profit in two quarters, and that the company could top $100 million in revenue by summer 2010, more than its income for all of 2009. …video streams reached 903 million in January 2010, over three times the figure for a year earlier, and second only to YouTube…Hulu has been identified as a possible candidate for an IPO by 2013. On August 16, 2010, a report revealed that Hulu is planning an Initial Public Offering (IPO) which could value the U.S. video viewing site at more than $2 billion." These numbers indicate that Hulu is not only making money, they are making a lot of money.
However, in March of last year, Viacom pulled two shows from Hulu, The Colbert Report and The Daily Show, which were two of Hulu's most popular saying: "In the current economic model, there is not that much in it for us to continue at this time. If they can get to the point where the monetization model is better, then we may go back." This seems to indicate that, while Hulu may be doing well, they are not compensating the providers properly. Fortunately, as of February 2011, both The Colbert Report and The Daily Show, have returned to Hulu.
I don't know how Hulu basic could not make money. To say that Hulu does not make money seems tantamount to saying "Internet advertising, or advertising in general, does not work."
When you watch TV on Hulu, you get advertisements like you do on TV. However, these advertisements are always clickable, which means advertisers are literally one mouse click away from customers, an ideal situation. You don't get that on regular TV! On top of that, Hulu now has a feature that allows you to choose what ads you want to see so advertisers now know that the eyeballs on their ads have said, "I like these types of products." Does it get any better for an advertiser?
Oddly, Hulu Plus does not absolve you from advertisements even though you are now paying a monthly fee. Hulu Plus just gives you more content.
Hulu Plus Review: Conclusion
Hulu Online TV was a great concept that was delivering great content being funded through advertising.
Now, with Hulu Plus, they have drastically reduced what you get with the basic service and are making you pay for what you got for free before…and you are still exposed to advertising.
That's why I think that they should have named this new service Hulu Minus.
Now, I am off to watch Season 1, Episode 23 of Modern Family on Sidereel, which offers more than 50 places that I can watch this show for free without commercials.

Richard Cummings is writer, traveler, and web content developer.

Get your copy of his latest book entitled Obvious Conclusions, stories of a Midwestern emigrant influenced and corrupted by many years living in San Francisco and abroad. It just received its first outstanding review "...reminiscent of David Sedaris or Augusten Burroughs" on Amazon UK.

Latest posts by Richard Cummings (see all)