The Golf Channel is reporting the Rory McIlroy and Caroline Wozniacki have split up!
Who dumped whom? Well, apparently, Rory McIlroy laid down the breakup gauntlet that ended the relationship, which had been going on for quite some time.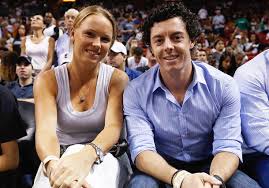 However, one could argue that a breakup was a necessity for their careers. Both of them have faltered of late in their respective golf and tennis careers.
In 2013, after signing a contract with Nike for a reported $250 million dollars , Rory had a terrible year.
And Wozniacki? She has won no singles titles this year and her ranking has plummeted from a high of #1 in the world 2010 to #9 in the world.
Hmmmm…career vs relationship? Looks like these two are choosing career!

Richard Cummings is writer, traveler, and web content developer.

Get your copy of his latest book entitled Obvious Conclusions, stories of a Midwestern emigrant influenced and corrupted by many years living in San Francisco and abroad. It just received its first outstanding review "...reminiscent of David Sedaris or Augusten Burroughs" on Amazon UK.

Latest posts by Richard Cummings (see all)