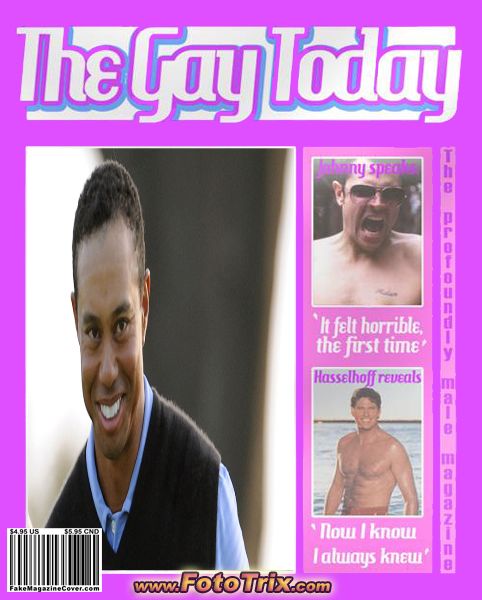 Yesterday, reports surfaced that golfer Tiger Woods is gay or that Tiger Woods is bi-sexual.
According to the website RadarOnline, one of Tiger Woods Mistresses, Loredana Jolie Ferriolo, is going to write a tell all book in which she will claim that the golfer liked to engage group acts in which men were involved, thus leading to this claim that Tiger Woods is gay or bisexual.
The article claims the following:
RadarOnline.com has learned exclusively that Loredana has claimed she saw Tiger having sexual relationships with other men. That shocking twist is something no other mistress has claimed and there has been no proof.
Is any of this true? Are these just online tabloids trying to make a buck? Do you care?
Frankly, the story was riveting at first because we were all led to believe that Tiger Woods was an outstanding family man and father. He made us believe that he was not only perfect on the golf course but that he was perfect in his personal life. His personal story was a farce and thus the intrigue with the whole affair.
Now, this new claim. Does it surprise anyone? All of Tiger Woods´ Mistresses claim that he had a voracious appetite for them. Thus, the fact that he indulges these new whims should not really come as a surprise.
The claim comes from a woman who is trying to fetch more than $1,000,000 for a tell-all book. Thus, this would lead us to believe that it has the makings of a fabricated story. However, in this saga, just about every tawdry detail of the personal life of Tiger Woods has proven to be accurate to a certain degree.
Whether it is true or not, I don´t care (though I did have fun making that magazine cover photo).
We know that Tiger Woods personal life was a lie.
But we know that the professional golf life of Tiger Woods was the truth.
As a golf fan, I want to know one thing:
When will Tiger Woods play golf again?
NOTE: For those with no clue, I submit this disclaimer: The picture of this magazine cover with Tiger Woods is not real.

Richard Cummings is writer, traveler, and web content developer.

Get your copy of his latest book entitled Obvious Conclusions, stories of a Midwestern emigrant influenced and corrupted by many years living in San Francisco and abroad. It just received its first outstanding review "...reminiscent of David Sedaris or Augusten Burroughs" on Amazon UK.

Latest posts by Richard Cummings (see all)