Since the Tiger Woods affair began over Thanksgiving three months ago, we have heard from nearly everyone except Tiger Woods.  Today, he speaks. (Watch the Tiger Woods Conference live here at 11am Eastern Time).
Many people simply want to see him.  With all the speculation that his face was badly damaged in the November incident, people want to see if he still looks the same.  There was the photo below that was circulating in everybody's inbox for the last couple of months.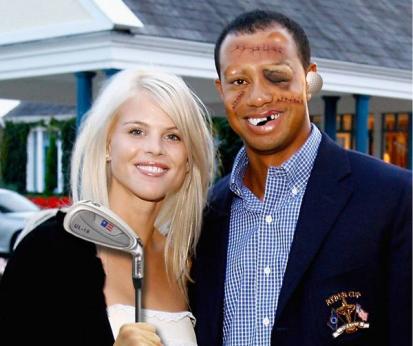 Will he look like that?  Obviously not.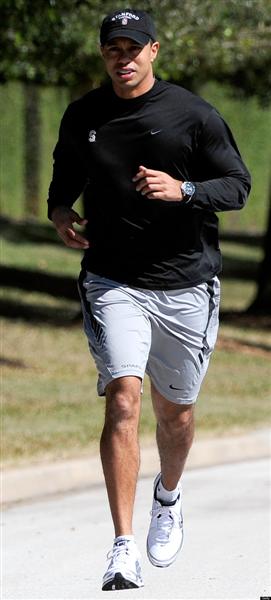 In fact, Tiger Woods was spotted jogging just the other day and seems to still be in terrific shape as he has always been.
Will his wife Elin be by his side during this speech as Kobe's wife was by his side during his forgiveness speech?  I seriously doubt that as she, like Tiger jogging, was last spotted without her wedding ring.  Besides, Kobe Bryant had a one night fling with a stranger.  Tiger had on-going affairs with-what's the running count?-maybe 15 women, one of whom says Tiger Woods is gay or bisexual.
Since we still have not heard Tiger speak, everyone continues to speculate on what he will say.  In this video, Rick Reilly on ESPN suggests that Tiger will apologize for being a "sex addict".  Rick Reilly, who usually has incredible insight, is wrong on this one.
Tiger will apologize for letting his family down but definitely will not apologize for being a sex addict.  It won't happen.  And, in all likelihood, he does not think that he is a sex addict because he is a man (women think that Tiger is a sex addict; men see that Tiger is a billion dollar athlete with endless options who acted on impulses that would be very challenging to resist…see athletes and actors reaction to Tiger Woods below).
So will Tiger say?
Hopefully, we will get the definitive answer to the question when will Tiger Woods play golf again?
Many see this press conference as an indication that this will be soon.  Others are still unsure, suggesting that Tiger may take the entire year off.
We have now seen Tiger Woods out jogging.  We know that he supposedly attended a sex rehab clinic in Mississippi (a curious place for sex-rehab, no?  Perhaps they offer a family discount) and has been working diligently on reconstructing his whole personal life.  My bet is that he needs a break from his "golf break" and wants to get back to what he does best-play golf!
We will know the answer in a few hours.

Thoughts on Tiger Woods: Athletes and Entertainers Comment

I mentioned above that women and men (see relationships and sex for more on this topic) view this Tiger Woods saga VERY differently. Take a look at the video from ESPN below. It seems that every man sympathizes a bit with Tiger Woods while the one woman interviewed in the end suggests that Tiger Woods deserves everything that he is getting.

Richard Cummings is writer, traveler, and web content developer.

Get your copy of his latest book entitled Obvious Conclusions, stories of a Midwestern emigrant influenced and corrupted by many years living in San Francisco and abroad. It just received its first outstanding review "...reminiscent of David Sedaris or Augusten Burroughs" on Amazon UK.

Latest posts by Richard Cummings (see all)