This must be the most popular day of golf that December has ever produced:  Tiger Woods has returned for the first time since August 2015, more than 400 days.
I saw this coming on The Golf Channel and had to put down the work files and pick up the enjoy golf files for at least 2 hours.
Of course, the most important shot was the first one, his tee shot.  He swang smoothly but pulled it left in front of a bunker and into deep grass.  Second shot?  Perfect!  Landed it on the green and two-putted for par.
And, his chipping yips were just tested on 3, a test he passed perfectly, an easy up and down for a birdie on 3.
He's now -1.
Easily the most anticipation of a golf event that I have felt since the Ryder Cup.
With The Golf Channel announcing the first hour of Tiger's round, we are forced to listen to Brandel Chamblee endless over zealous analysis.  Sometimes Brandel forgets that Tiger is probably the best golfer of all time.
Is Brandel channeling his PGA career failures in his analysis of Tiger's technical missteps?
Probably.
Tiger just hit another flawless chip shot on 4, now nearly holing both chip shots attempted.  Brandel said that the one thing that he is looking for (in spite of all his comments about other things) is whether Tiger can have 5 good chip shots.
2 down, 3 to go.
Tiger stiffs it at hole 5, a par 3,  Let's see if he can sink the putt and get to -2.
Not to be.  Off to the par 5 th.  Another chip on the way after a wayward 3-wood for his second shot.  Let's see if he can still another.
Yep, about a 45 yard full lop wedge to 5 feet.
Now that the full coverage has begun, they are showing other golfers.  Matt Kuchar is in the lead at -3 with Tiger 2 behind.
Boom — birdie on #6.  Tiger now at -2, just one off the lead.
Another birdie go on #7 of about 4 feet.  It's down.  Tiger at -3.
At -3, Tiger has already birdied nearly half of his first 6 holes.  Interesting…becuase they said that he didn't have any birdies (but 2 eagles) in the pro-am.
They just showed Jordan Spieth.  This might be the least amount of coverage given to Jordan Spieth since Tiger's last outing.
Tiger stiffs another one at 8, another likely birdie.  What is with this course?  It's as if every hole is a par 5 or par 3.
While Tiger's walking down the 8th fairway, let's do a quick reflection on the question:  Can Tiger ever have success on the PGA tour again?  
Many people have answered this "no way".  Yet, here he is, possibly -4 through just 8 holes of golf after over 400 days without playing.
Here's what people forget about a Tiger return:  He came back after his many infidelities (check out all of the photos in that link).  Many think that, since Tiger's infidelities and divorce, Tiger has done nothing.    That's so wrong.
Tiger did come back and was the #1 player in  the world for two years after that!
Tiger in for birdie on 8, top of the leader board.  He's now birdied 50% of his holes.  How can I go back to work with this happening?  🙂
This may be fun…as we go hole-by-bole, let's give you some updates on the women of Tiger Woods.
Uh-oh.  On 9, Tiger tried to fade his driver and ended up in very thick rough.  We'll see.
In the meantime…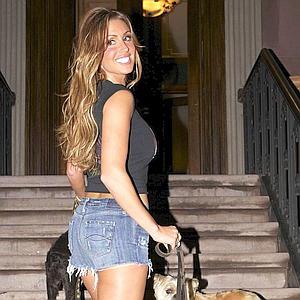 Rachel Uchitel — Her ex-husband says I hope you die and she says that she'll take Tiger back if he grovels.  Her'e's her Wikipedia page.
Wow, Tiger's in mean rough on 9 and looking to just chop out into the fairway.  You can hear rock under his feet and we hope this doesn't rock his wrist.
Ok, he got it to the fairway uninjured but pulled his third.  Let's see if he can salvage just a bogey.
Tiger flubbed a chip!
Now, he's chipping again on 9 for a par on this par 5.  Decent shot.  He'll have a slippery one at 9 for a bogey.  Made it, but back to -3.
Do note:  Other players, given this type of bermuda, are also duffing chips.  Zach Johnson just hit one that rolled right back near his feet.
Jaimee Grubbs was the second girl exposed.  Remember the steamy and often ridiculous text messages between Jaimee and Tiger?
Well, she has been arrested and has posed for Maxim magazine.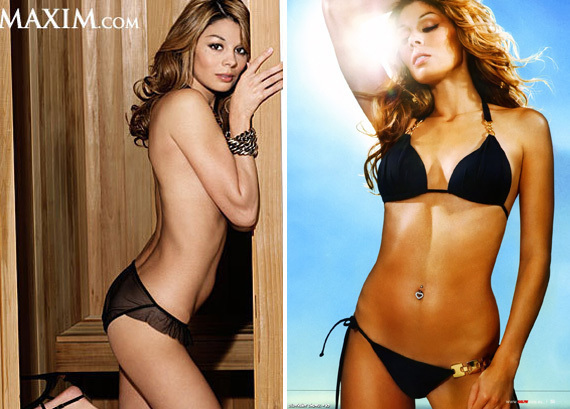 Not unpleasant to look at it that's for sure.  And, she likes to send "sexts" to her bo's.  That, and an angelic look.  Perhaps Tigers should go re-think this one.
Would she take Tiger back?  Probably — all of these girls had very positive coital reports!
For more on all of Tiger's infidelties, check out this complete guide.
Ok, back to golf..
Tiger saves par on 10 with a solid 4 footer.  He's been consistently draining putts, using his old tried-and-true Scotty Cameron putter.
Speaking of Tiger's equipment, since Nike is now out of the golf equipment business, Tiger is  using new drivers this week:  the new TaylorMade drivers.  I tested these new drivers one time and they are smooth…and expensive.  Since TaylorMade would not offer me a deal, I saved the $650 but I think Tiger can afford it.
We'll see how he fares with the new TaylorMade drivers given that driving is generally the weakest part of Tiger's game.
On 11, Tiger is having problems.  He drove left, then hit his second shot right into the brush.  He had to take an unplayable so now he'll be hitting his 4th shot, but it's a par 5 — this course has 6 of them.  Great fourth shot from the bunker with a chance to save par.  Didn't happen.
Tiger back at -2 with the leader now being J.B. Holmes at -7 through 14.
Well, after 11, Tiger has escaped with pars on 12, 13, & 14.
On another par 5, the 15th, Tiger birdies…back to -3.
Another uh-oh…debacle time.  Tiger finishes with 2 double bogeys on 16 & 18 and, in the end, finishes the day in 2nd to last place having shot a 40 on the back 9, 7 shots worse than his front-nine 33.
Here's his scorecard:

We know the Brandel Chamblee's of the world will have a field day with this back nine 40 talking about whether Tiger will ever get his swag back.
Of course he will and that's all he needs — his swag!  'Cause once the swags back, the swing will soon follow.

Richard Cummings is writer, traveler, and web content developer.

Get your copy of his latest book entitled Obvious Conclusions, stories of a Midwestern emigrant influenced and corrupted by many years living in San Francisco and abroad. It just received its first outstanding review "...reminiscent of David Sedaris or Augusten Burroughs" on Amazon UK.

Latest posts by Richard Cummings (see all)