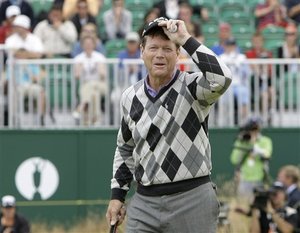 "Tom Watson Wins the British Open at Turnberry!!!" Will this be the headline we read five hours from now? Can Tom Watson, 2 months short of his 60th birthday, win the British Open today?
We found ourselves similarly situated last year at about this time.  Greg Norman led the British Open by 2.  After the first day, people thought, as Tom Watson said about himself the other day, "Give the old man one day in the sun."  Then, after day 2, people acknowledged that an old man can play two quality days of golf with the big boys.  Then, after day 3, people took his lead seriously.
What happened?  Greg Norman went on to shoot a 77.  Age, and pressure, finally caught up with him.
So, is there a significant difference between Tom Watson this year and Greg Norman last year?
Yes, there are two:  Age and Pressure.
Tom Watson is 59, just two months away from his 60th birthday.  Last year, the pundits spoke of the impossibility of leading a major at age 53 with Greg Norman.  The oldest winner of a major is 49.  Tom Watson exceeds that by 10 years.  If he wins, this would shatter all age records.
The age difference between the Greg Norman of last year and the Tom Watson of this year pales in comparison to the difference in pressure.   All Golf aficionados (and that is what you are if you get up early to watch the British Open) know the pains of Greg Norman's golfing career.  Beating himself and being beaten by others was commonplace in the career of Greg Norman.   Who can forget the unforgettable Masters decline?
Tom Watson does not have the pressure of unforgettable defeats.  He has memories of success.  Inducted into the golf Hall of Fame many years ago, this is a possible bonus on an already brilliant career.  And the British Open is the site of Tom Watson's greatest successes.  As he has said, this is a spiritual experience for him.
So, will the heading in a few hours read Tom Watson Wins the British Open at Turnberry?  Even with the success in the first 3 days this week, and the vast success he has had in the British Open, winning a golf major is not simple.  His putting woes of the past may reappear, his age may get to him, or his very close competitors may mount a charge.
I don't know that he will win…but I sure hope that he does.

Richard Cummings is writer, traveler, and web content developer.

Get your copy of his latest book entitled Obvious Conclusions, stories of a Midwestern emigrant influenced and corrupted by many years living in San Francisco and abroad. It just received its first outstanding review "...reminiscent of David Sedaris or Augusten Burroughs" on Amazon UK.

Latest posts by Richard Cummings (see all)