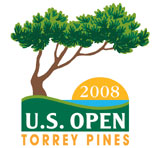 Life On-Line Coverage of the 2008 US Open from Torrey Pines
Friday, June 13th
We join the coverage later in the day as Phil Mickelson just made an amazing par on the Par 3 3rd after having hit it over the green down in the canyon.  He played one of his patented flop shots and then hit a bomb of a putt.  Go Phil! 
We left the Thursday Coverage of the U.S. Open asking the question:  Will the amateur leaders be able to sustain their leads?  Streelman shot a 6 over, but still finds himself at 3-over and in a tie for 25th place.  Justin Hicks is currently at +8 for the day and not finished yet.  Hopefully, he can stop the bleeding and make the cut. 
Who is the currently the enemy of all the players at +6 or worse?   Not Tiger Woods.  It's Rocco Mediate.  Why?  Well, his score is currently dictating whether they will play in the U.S. Open this weekend and earn a check come Sunday night.   
If you are currently watching the golf coverage on ESPN, you will see the cut # in the upper right.  It changes with the score of the leader…currently Rocco Mediate.  The cut will currently be all those within 10 shots of leader.  For awhile, Rocc was at -4 and so the cut # was at +6.  Currently, the # is all those at +8 or better.
This is pretty silly when you think about it.  Are there any among us who think that Rocco Mediate will win this tournament?  I like Rocco….seems like he'd be fun to drink some beers with, but he will not win on Sunday.  And so to have a guy who is not going to win dicate the fate of all the others seems foolhearty. 
And I have a question:  What if Rocco Mediate got to -10 and thus the cut would be at even.  Currently, there are 7 people at even or better.  Does that mean the weekend of the U.S. Open would inlcude just 8 golfers?  Obviously not.  Do you know the cut rule?  Who would make the cut if you had 1 guy at -10 and his closet pursuers were at even?  What would happen?
Here is a rather feeble explanation on Yahoo:  What is the cut # at the U.S. Open golf?  This person suggests that they had to modify the 10-cut rule because of Tiger.  He was so far ahead that nobody would have been allowed to play on the weekend.  Thus, they had to add the top 66 and ties.
You mean to tell me that they did not factor this in when they created the rule?  I think not!
Holy Sh*t!  Tiger Woods is now -1 and birdieing everything in site!  His first 5 holes on the backside read 3-3-3-3-3!  Wow.
Then Phil birdied!  The crowd is electric.  If you're not tuned in, you're missing it!
I"ve just watched the two play their final three holes.  They travelled in opposite directions: Tiger towards victory and Phil towards someone who says to himself I am a pro golfer I should be able to hit a driver.   
(Ben Crane just sank a long putt.  Was it a chat with the man upstairs?)
A bunch of players sitting at +8 just cursed the name of Stuart Appleby as he drained a putt on the 18th to finish at -3.  They no longer have to be tortured and taunted by Torrey Pines and they'll cringe as they watch it on TV tomorrow thinking if only… 
Davis Love will not be thinking if only tonight.  He sits at -1 only 2 off the lead.  It's good to see Davis Love back in form.  A few weeks ago, I rememeber seeing that Davis did not receive an automatic entry into the U.S. Open–he would have to qualify.  I was not sure if Davis Love would put himself in the qualifying process.  Why?  
Davis has always had an entitled, Thurston Howell III quality about him.  He grew up in an area called Sea Island, Georgia.  If you walk around Sea Island, everyone has that entitled look.  And so, I thought Davis may think the qualifying process was beneath him.  I'm glad he didn't–it's good to see him back.
Do you know that Tiger Woods was once asked, "What was the greatest round that you have ever seen played?"
He answered, "Probably Davis Love's final round in the Players Championship."
I'm just watching the end of ESPN coverage as the players are finishing up on the 18th.  Do you remember this hole from several years back when John Daly won in a playoff in Buick Invitational?  What a hole…I can't wait for Sunday afternoon. 
I hope eagle beats birdie on Sunday afternoon to win the tournament.
But for it to be that close on Sunday afternoon, Tiger can't run away with it tomorrow.   But, for Tiger to win, he has to have the lead tomorrow afternoon.  Because, if he doesn't, he can't win!
Tune in tomorrow for Saturday afternoon coverage of the U.S. Open at Torrey Pines as the leaders tee off…

Richard Cummings is writer, traveler, and web content developer.

Get your copy of his latest book entitled Obvious Conclusions, stories of a Midwestern emigrant influenced and corrupted by many years living in San Francisco and abroad. It just received its first outstanding review "...reminiscent of David Sedaris or Augusten Burroughs" on Amazon UK.

Latest posts by Richard Cummings (see all)