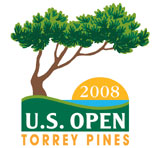 Life On-Line Coverage of the 2008 US Open from Torrey Pines
Sunday,  June 15th
Tiger has never lost when he holds the lead going into the final round of a major.  But he has never gone into the Sunday with a looming injury like today. 
Can he do it? 
Bookmark this page or hit refresh to receive frequent updates.
Before we begin, here are some links that you may find valuable to accompany the television coverage: 
View Each of the Holes at Torrey Pines:  This page presents the holes at Torrey Pines from many views…overhead, fly-over, and walkthrough.  View each of the holes as the players go through.
View the Live U.S. Open, Torrey Pines Scoreboard:  Not showing the full leaderboard when you need it?  Check out this page where you can sort by score, player, position, etc.
Players Status:  Want to check the stats and history of the players at the U.S. Open?  This page provides you more detail on each player than you will be able to digest.
Tiger just tees off…let the games begin!  He went right…Lee to the left.
Will he get the same breaks as he did yesterday?  The beauty of his errant drives has been that they are so errant that they're ok.  The drives end up in the trampled grass area outside of the graduated rough.   Fortunately yesterday he did not end up behind any trees.  That fortune cannot continue endlessly. 
Somebody, please, put the heat on Tiger today…don't let him coast to victory. 
"That was one of the worst shots that I have ever seen Tiger hit."  –Johnny Miller.  Gotta love his comments.
Tiger now lying 2 somewhere over on the left side of hole #1.  Will he come back to the field a bit and give them hope?  Someone out there has already shot a 6-under today.  Can Tiger be caught?
They just interviewed Phil Mickelson who is already done.  He is a class act in defeat as well as victory. 
Tiger's now hit 3 and not even in at the hole yet.  Are we looking at another 6 for Tiger on the first hole? 
"I've never seen him play a whole like this in his entire life."  Go JM!
The day is looking up…
Alright, a 6 for Tiger as the day begins. He's no longer alone atop the leaderboard…AND Rocco almost just dunked a hole-in-one on #3.  Rocco is now the leader of the U.S. Open!
Johnny Miller on Rocco:  "He looks like the guy who cleans Tiger's swimming pool."  Nice Johnny.
Here's what Tiger's faltering on the first hole does.  It makes the other players realize that Tiger is human and, more importantly,  that they do not need to shoot lights out to beat him.  Thus, they can play within themselves…and play much better.
"I promise that you'll never meet another person as mentally tough as you in your entire life."  –Earl Woods. 
As I watched Tiger Woods dad say this in the Nike commercial,  his 6 on #1 means nothing.  He'll come back…he is mentally tougher than anyone out there on the course today. 
Johnny Miller said players would have to get to -3 to have a chance.  This did not factor in a Tiger collapse.  Could it be that par will win again at the U.S. Open.  I doubt it, but we'll see.
I just thought of Stuart Appleby as they just showed him and referred to his miserable putting yesterday.  Maybe he should not have done that FedEx Points commercial…you know the one where he lines up the putt to win the FedEx end of the your tourney…and misses.  Oh well, he has a lot of fast cars and will win again next January.
Rocco just misses on 5.  He can't miss those putts and win a U.S. Open.
Aside from #1, Westwood has kept the pars coming.  Tiger has steadied the ship as well with several consecutive pars.
After his drives, Tiger winces in agony.  He has started to go at the ball with less aggression and it seems to be paying off.  More fairways, less pain.  Tiger back on track.
Geoff Olgivy-he keeps teasing me.  I think he has a chance because he has won it before (even though he backed into it).  He's long and often straight.  But, today, after he birdies a hole, he'll even it out with a bogey on the next.  Let's go Geoff…you still got a shot!
The only way Ernie Els seems to be able to make a birdie is by not putting.  He needs a chip-in, which he got.  I thought that that would ignite him.  Next hole:  More missed putts…
By making pars, Lee Westwood is winning.  Will he be able to keep it up?  Where is another Heath Slocum?  Come on guys, he shot a 6 under today.  Are any of you as good as Heath Slocum today?
Tiger hits a beautiful shot at the par 3 11th that plays off the hill and rolls toward the hole.  Result:  Birdie.  Another result:  Tiger solo leader after Westwood's bogey on 10.
Rocco great chance for birdie on 13…misses.  He's got to make these to keep up with Tiger.
Or, does he?  Tiger just double-crossed a wood on 13, an unfathomable play after Lee had just done the same thing and Tiger has the lead,  and had to take a drop.  I think he wanted to put away the tournament right here.  And what he did is put everyone right back into it.
Two bogeys on 13 for Tiger and Westwood.  Very unexpected. 
Rocco must be a father and here was his present.
I love this 14th hole at Torrey Pines today.  The USGA decided to play the very forward tees.  Thus, we have a par 4 playing only 267 years.  And Tiger is…laying up.  Fear of the double-cross?  Westwood has no such fear-he stripes it and the ball ends up just in front of the green-beautiful! 
Although Westwood makes a feeble putt for eagle, he gets his birdie.  Tiger-par on a 267 yard par 4.  Most interesting day…
The 17th hole.  Rocco has a chance to put this thing away.  A very good look at birdie.  If he makes, Tiger and Lee have to play 2 holes in 2 under assuming Rocco does not birdie 18 as well.  Point moot-he strikes a good putt but misses.  Rocco is so anxious out there-I don't know how he could even strike the golf ball.
Then, Rocco hits the rough on the 18th…ends up with only a par.  This won't be enough to win it outright.  As Tiger and Lee both par 17, they'll need an eagle to win and or a birdie to tie.
And both put their tee shots in the rough on 18.  Chances of this?  Very slim.  But slim just appeared and nudged Rocco on the shoulder, "Here's hope Rocco."  This guarantees Rocco a playoff at a minimum.
Both laid up…Tiger in the rough, an unusually poor lay-up for the world's greatest golfer.
Both on the green…putting for birdie.
Westwood just misses and holds his head down.  He battled today and I really thought he may be able to do it. A worthy effort from a worth champion.  I hope the folks over in England stayed up to watch their countrymen.
It's down to just one putt for Tiger.  If he misses, Rocco wins.
The putt is a lighting fast breaker from right to left.  All week, these putts have had to be dead center, proper speed and proper break…or they don't fall.
Tiger strikes the putt.  It's a little too fast and a little too above the hole.  These putts don't go in the cup at Torrey Pines…
…unless their struck by Tiger Woods.
Oh, my, what a day!  Unbelievable.  I need a break.
Tune in tomorrow for Sunday reflections and Live, Online U.S. Open Playoff Coverage between Tiger Woods and Rocco Mediate. 

Richard Cummings is writer, traveler, and web content developer.

Get your copy of his latest book entitled Obvious Conclusions, stories of a Midwestern emigrant influenced and corrupted by many years living in San Francisco and abroad. It just received its first outstanding review "...reminiscent of David Sedaris or Augusten Burroughs" on Amazon UK.

Latest posts by Richard Cummings (see all)