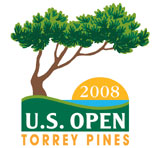 Life On-Line Coverage of the 2008 US Open from Torrey Pines
Coverage on ESPN just began…
First thought:  With all the press coverage of Phil and Tiger being paired together, shouldn't we have been able to see them tee off from hole #1? 
As it is, we were stuck with the golf channel non-video coverage:  "Look, Phil just hit it into the deep rough!" exclaimed Vince Gillini.
Well, Vince, I cannot look because nobody is showing the coverage!   
Second Thought:  Phil Mickelson put away the driver for the first round.  Good idea?  Well, he is at +3 and the leaders are at -4.  Probably not a good idea…especially if you cannot hit the fairway with the 3-wood which he currently cannot!
Chris Berman is headlining the coverage for ESPN.  I watched Chris play in the AT&T a couple of years ago and then saw him later that night at local Monterrey bar.  He's exactly as you think he would be:  a fun, large, smiling, beverage-consuming, guy's guy.
At the turn, Tiger -1, Phil +3.  Wait, who hasn't played a golf tournament in 2 months?  To get the latest scores where you can sort by score, player, etc. visit this page. 
To see pictures of Tiger"s Wife during commercials, visit this page.
I remember seeing all the PGA players wives as Justin Leanord holed the "final" putt at the Ryder Cup in Brookline–they were all hot!  You can see that final putt at Brookline here.   Patrick Havens was thinking along the same lines as he wrote this post about hot golfer wives. 
You can also follow along with Jason Sobel's Blog on ESPN; but, really, does he provide links to hotty, golfer wives?  I think not!
If you are going to play golf, instead of watch golf, be sure to visit the ever expanding best golf instructional videos page. 
Justin Hicks is now leading the U.S. Open…who is he?  Well, this is the first listing in google for Justin Hicks.   Is it the same guy or am I giving this PGA tour instructor free advertising? 
Timeout:  Ouch:  Phil just hit a fairway wood about 2 feet!  Then, he used the exact same club again, from essentially the exact same spot without hesitation.  I love that about Phil!  The result?  A fantastic shot!
Well, it turns out I gave undue credit.  The first google golfer named Justin Hicks is not the same one who currently leads the U.S. Open at Torrey Pines.  You can read about Justin Hicks the leader of the U.S. Open here. 
Why, as viewers, do we love the major championships, especially the U.S. Open?  Fallibility!  We all have it in our games and, in these tournaments, we find our favorites, the absolute best golfers in the world, fallible. 
Tiger and Phil have now finished.  Surprisingly, Phil edged out Tiger by a shot.  That's Phil's game though, the endless rollercoaster.  Apparently, it's been that way his whole life.  Take a look at the video below:  The Early Days of Phil Mickleson.
As long as we're reflecting, let's look at Phil's greatest golf moments below:
[youtube]nZEK6r1Vp30[/youtube]
Think Phil is only popular with golf fans?  Let's talk dollars!  Who earns more?  Phil or Lebron?  Phil or Floyd Mayweather?  Phil or Shaq? Phil or Kobe?  Phil or A-Rod?  Of course, the answer to all of these is Phil.  He is the highest paid athlete in America aside from Oscar De La Hoya and, of course, Tiger Woods.
Speaking of which, did you want to see picture more pictures of Elin? Or watch a video on YouTube.com entitled Elin Nordegren, Tiger Woods' sexy wife?
These are things you just can't quite get on other golf blogs about the U.S. Open at Torrey Pines.
But, it is time to get back to golf. 
We have another no-namer in the lead named Streelman.  What kind of a name is that?  Who is he?  We have more information here.   He's played 16 events this year and made 9 cuts and about $250,000.  Not bad.  Will he be able to sustain it?
Are you kidding?  Does Ellen Degeneres feel amorous when licking a popsicle?
Of course not.
There's still several folks out there on the golf course but we'll call it a day for our Thursday coverage.  We'll get less frivolous each day as the horses get closer to the finish line.  Stay tuned tomorrow for Friday coverage of the U.S. Open at Torrey Pines.

Richard Cummings is writer, traveler, and web content developer.

Get your copy of his latest book entitled Obvious Conclusions, stories of a Midwestern emigrant influenced and corrupted by many years living in San Francisco and abroad. It just received its first outstanding review "...reminiscent of David Sedaris or Augusten Burroughs" on Amazon UK.

Latest posts by Richard Cummings (see all)