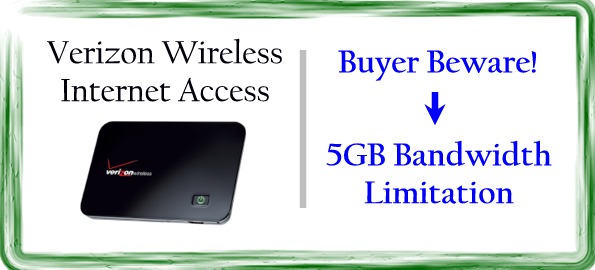 If you are considering Verizon 4G LTE Wireless Internet, you might want to stop right now. Their current package has a 5GB bandwidth limit, which makes Verizon Wireless Internet the best Internet service that you can't use.
A few days ago, I wrote this Verizon 4G LTE Wireless Internet Review. I wrote glowingly about this Verizon 4G Wireless Mi-Fi product because it was truly remarkable: easy to setup, easy to connect to, and Internet speeds the likes of which I have not seen in a home network. And, on top of that, it was all wireless–you could literally take it with you anywhere you wanted to go.
And then, as I was filing away the contract paperwork, I saw a little note that said: 5GB Bandwidth Limitation.
Verizon 4G Wireless Internet 5GB Bandwidth Limitation: You Can't Be Serious
Excuse me? I thought I had read this wrong. A 5GB bandwidth limitation?
The reason people need fast Internet is to do things that consume bandwidth! I dont' need superfast Internet to check email or view web pages. All of these things are fine on DSL. I, and you, need fast Internet to watch YouTube videos, NetFlix movies, Hulu Online TV, and everything that is "downloading" or "buffering" when I wish I could start watching it right away.
Most people are unaware just how limiting 5GB of bandwidth really is. Well, let me tell you. One movie of decent quality video consumes about 1GB of bandwidth. A Netflix HD movie may consume a little more and 1 to 2 hours of not-so-quality YouTube videos will consume a little less.
Thus, if you watch one movie, you have consumed 20% of your Internet bandwidth for the month. If you exceed your Verizon 5GB Bandwidth limit, their current contract stipulates that you will pay $10 per each 1GB that you go over. After you see your first Internet bill, you may need to get a second job 🙂 And that Netflix movie that you just paid $1.50 for may have just cost you $11.50.
If you are heavy Internet user, you might just be able to blow through your monthly data cap in 32 minutes. Yes, as PC Magazine found out:
Verizon's new 4G LTE network is so fast that you can use up your entire 5GB, $50 monthly allotment in 32 minutes.
In this article, the author posits that Verizon, as a "major seller of home broadband", wants individuals who are going to consume lots of bandwidth to sign up for DSL. Hmmm.
---
–> Experienced problems with Bandwidth Limitations? Comment Below! <--
---
At the Verizon store, they actually pitched the 4GB LTE Network as a replacement for DSL. And, they mentioned nothing about the 5GB bandwidth limitation. On the contrary, they said things like: "The Verizon 4GB LTE network is ideal if you like to watch movies and videos all the time. It's so fast."
Currently, on Verizon's own Verizon Wireless 4G LTE Mobile Hotspot MiFi™ 4510L page, they also mention nothing of the 5GB bandwidth limitation. I simply cannot imagine what Verizon is thinking. Why even offer this type of Internet speed if it is accompanied by such restrictive limitations? And, why are they not more up front about this bandwidth limitation? Are they trying to deceive customers and then hit them with huge monthly bills or simply being negligent?
In the end, the speed claims of Verizon Wireless 4G are absolutely true. It is easily the fastest Internet out there.
However, with their 5GB bandwidth limitation, it is the fastest Internet that you can't use. I returned mine yesterday.
More Reading On This Topic
Verizon Admits 5GB Wireless Broadband Cap: Apparently, Verizon has a history of promoting "unlimited bandwidth" when there is really a bandwidth limitation.
Verizon, AT&T To Limit Bandwidth; They Don't Understand Customers: This article discusses how these companies do not understand customers. Clearly, in this instance with Verizon, they have no idea how customers use the Internet these days.
When Netflix meets 4G, wireless hell breaks loose: "Bandwidth capping from Verizon LTE and other 4G wireless networks will crush our dreams of mobile On-Demand multimedia content."
Are you, or have you been, a Verizon Wireless 4G customer? Let us know if you have experienced problems with their bandwidth limitations below.

Richard Cummings is writer, traveler, and web content developer.

Get your copy of his latest book entitled Obvious Conclusions, stories of a Midwestern emigrant influenced and corrupted by many years living in San Francisco and abroad. It just received its first outstanding review "...reminiscent of David Sedaris or Augusten Burroughs" on Amazon UK.

Latest posts by Richard Cummings (see all)