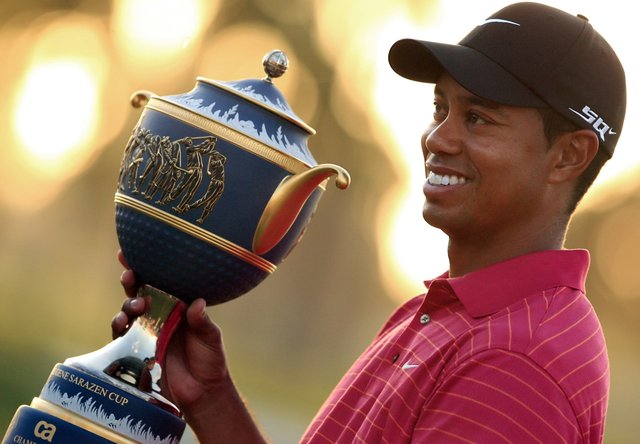 After all of this speculation about the personal life of Tiger Woods, with recent revelations of Tiger´s Mistresses and that Tiger Woods is gay, the real question that I am after is when will Tiger Woods play golf again?
Oddly, it turns out that the only rumors to be true are the tawdry ones about the personal life of Tiger Woods.  The rumors about Tiger Woods return to golf have proven false.
You see…Tiger Woods was rumored to make a surprise return to golf next weekend in the World Golf Championships, a tournament in which is win percentage is unequaled.  Unlike the gossipy rumors, this rumor about Tiger Woods returning to golf was entirely unfounded.  It turns out that Tiger will not play in this World Golf Championship.
So, when will Tiger return to golf?
One ESPN twit, Jason Sobel  (why ESPN hired him I´ll never know) concluded that we would not see Tiger Woods playing golf again at all this year.   This certainly can not be true.
My prediction is that Tiger will return for the Doral Championship in Florida where he also has an incredible winning percentage.   This tournament begins March 8th.  He will then play Arnie´s tournament to gear up for the Master.  And then, he´ll be ready to tee it up at the Masters.
Golfers out there…what do you think about that timeline?

Richard Cummings is writer, traveler, and web content developer.

Get your copy of his latest book entitled Obvious Conclusions, stories of a Midwestern emigrant influenced and corrupted by many years living in San Francisco and abroad. It just received its first outstanding review "...reminiscent of David Sedaris or Augusten Burroughs" on Amazon UK.

Latest posts by Richard Cummings (see all)