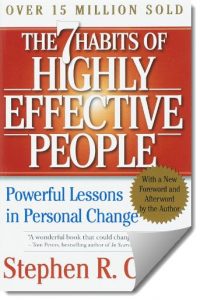 It annoys me that the Seven Habits of Highly Effective People is on my favorite book list.
The title itself is manipulative. We as a society are known to respond when given a numbered list.
It's typical of self-help books to provide you with one directive and then provide 30 supporting pages of evidence, as if you're a dummy and cannot understand the directive.
For example, habit #2: Begin With The End in Mind. That's it. You're done. You get it. Do you need to now read 30 more pages about this? Or is it just a waste of time? Should this book just be one page which lists The Seven Habits?
Who knows? Maybe sometimes we need those extra 30 pages as re-enforcement.
But each of these habits has great value. If you measure your actions and behaviors against these habits, you will have a much clearer direction of who you want to be and what you want to achieve.
My advice in general is to be mindful of fraudulent self-help gurus but I think that you'll find this book very useful.
I would like to present an alternate recommendation for those that choose to consider self-improvement ad-nasueam.
This will allow you to embrace an endless cycle of self-help, always reading about self-improvement instead of self-improving: Read the Seven Habits of Highly Effective People, which espouses goal-setting. Then read, Goal Free Living, which contradicts this advice. After which, you may way to pick up a copy of Don't Sweat the Small Stuff…And It's All Small Stuff: Simple Things To Keep The Little Things From Taking Over Your Life.
Then, go see a therapist while reading Why I Don't Need a Therapist (I'm shocked-this book does not exist. Maybe I'll write it! :))

Richard Cummings is a writer, traveler, and web content developer.

Get your copy of his latest book entitled Obvious Conclusions, stories of a Midwestern emigrant influenced and corrupted by many years living in San Francisco and abroad. It just received its first outstanding review "...reminiscent of David Sedaris or Augusten Burroughs" on Amazon UK.

Latest posts by Richard Cummings (see all)