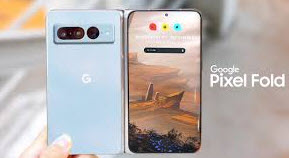 As an avid consumer of many Google products, I am anxiously looking forward to attend the Google annual developer conference, where all the talk is about the Pixel Fold, Google's first foldable phone. Let's dive into the details!
The Pixel Fold has been confirmed by Google in a teaser video and a page on the Google store, but the details are still scarce. However, based on the rumors and leaks so far, we have a good idea of what to expect from this groundbreaking phone.
Here are five reasons why the Pixel Fold will steal the show at Google I/O 2023.
It will challenge Samsung's dominance in foldables
Samsung has been the undisputed leader in foldable phones, with its Galaxy Z Fold and Z Flip lines offering impressive designs and features. However, Samsung has not faced any serious competition in this category, until now.
The Pixel Fold promises to be a direct rival to the upcoming Galaxy Z Fold 5, with a similar book-like design that opens up to reveal a large inner display.
Moreover, Google has some advantages over Samsung, such as its expertise in software and AI, its close integration with Android, and its reputation for delivering great cameras and value.
Google also has a loyal fan base of Pixel users who may be eager to upgrade to a foldable phone.
Given these advantages, the Pixel Fold could be the first foldable phone that can truly challenge Samsung's dominance.
It will be the thinnest foldable phone ever
One of the drawbacks of foldable phones is that they tend to be bulky and heavy, especially when folded — this can make them uncomfortable to hold and use, as well as hard to fit in pockets. The Pixel Fold aims to solve this problem by being the thinnest foldable phone ever made.
According to the rumors, the Pixel Fold will measure 6.2 x 5.5 x 0.22 inches when open, compared to 6.09 x 5.1 x 0.24 inches for the Galaxy Z Fold 5. That may not seem like a huge difference, but every millimeter counts when it comes to ergonomics and portability.
The Pixel Fold should offer a more sleek and elegant design than other foldables, without compromising on screen size or durability.
It will offer something more exciting than AI search
Google is known for its innovation in search and AI, and Google I/O 2023 will likely showcase some of its latest advancements in this area.
According to a report in The Wall Street Journal, Google is planning to overhaul its search product with AI, making it more visual, personal, and human. This will involve displaying chatbot conversations, short videos, and social media posts instead of the traditional blue links.
While this sounds interesting and useful, it also feels inevitable and predictable.
Google is playing catchup to Bing's ChatGPT, which integrates AI with search in a more natural and conversational way.
The Pixel Fold, on the other hand, offers something more innovative and exciting than AI search — it's a new form factor that could change the way we use our phones and interact with our content.
It will have a unique aspect ratio that enhances multitasking and media
Most foldable phones have adopted a similar aspect ratio for their inner displays: either 4:3 or 5:4. These are relatively square-shaped screens that offer more space for apps and content than regular phones.
But foldables have some drawbacks: they can make some apps look stretched or distorted; they can leave black bars on the sides when watching videos; and they can limit the number of apps that can run side by side.
The Pixel Fold will have a different aspect ratio for its inner display: 3:2.
This is a shorter and wider screen that should offer some benefits over other foldables: it should fit better in pockets when folded; it should display more content without scrolling; it should make videos fill up the screen without cropping; and it should allow more apps to run simultaneously in split-screen mode.
It looks to me like The Pixel Fold will offer a better multitasking and media experience than other foldables.
It will have a Google-made Tensor chip that boosts performance and AI
One of the most intriguing aspects of the Pixel Fold is that it will be powered by Google's own chipset called Tensor. Tensor is Google's first custom-made chip for phones, and it promises to deliver better performance and AI capabilities than Qualcomm's Snapdragon chips that power most Android phones.
Tensor will leverage Google's expertise in machine learning and neural networks to enhance various aspects of the Pixel Fold, such as camera quality, speech recognition, natural language processing, and security.
Tensor will also enable some exclusive features for the Pixel Fold, such as Live Translate, which can translate speech and text in real time across multiple languages.
The Pixel Fold is not the only phone that will use Tensor; the Pixel 7 and Pixel 7 Pro (that's what I use now) also have this chip.
However, the Pixel Fold could benefit more from Tensor's AI prowess, given its larger and more versatile display. The Pixel Fold will offer a smarter and faster experience than other foldables.
The Pixel Fold is not a perfect phone — it will likely have some drawbacks, such as a high price tag, a fragile hinge mechanism, and a limited app compatibility.
However, it will also have some unique advantages that could make it the most exciting phone of 2023. T
The Pixel Fold will be a showcase of Google's hardware and software innovation, and a potential game-changer for the foldable phone category.
We will find out more about the Pixel Fold at Google I/O 2023 on May 10, where Google will reveal more details and specifications about this device. The Pixel Fold is expected to go on sale in June and could cost between $1,300 and $1,800.
As a trusted and very happy user of all the Pixel varieties, I anticipate being one the first with a Google Fold in my hand.

Richard Cummings is a writer, traveler, and web content developer.

Get your copy of his latest book entitled Obvious Conclusions, stories of a Midwestern emigrant influenced and corrupted by many years living in San Francisco and abroad. It just received its first outstanding review "...reminiscent of David Sedaris or Augusten Burroughs" on Amazon UK.

Latest posts by Richard Cummings (see all)