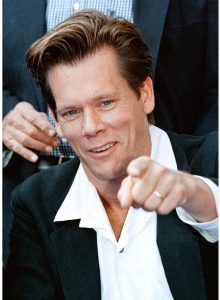 Many out there want to know the top movies of Kevin Bacon and this page will satisfy your curiosity and then some.
I have a 2021 updated list of Kevin Bacon movies and you may be surprised to find that the movie Kevin Bacon is most noted for — Footloose — doesn't even crack the top 10!
What's with the interest in the best movies of Kevin Bacon?
Well, many of you probably like Kevin Bacon and simply have an interest in his films. The fact that it seems like that he's been around forever has many asking just how many movies has Kevin Bacon been in?
This extended career has led to a very fun game (with the right people) called "6 Degrees From Kevin Bacon".
If you have lived on another planet, this game is a variation on the notion of 6 Degrees of Separation whereby you can connect yourself to anybody in the world within 6 people.
Smaller minds may consider this useless information but the idea is that Kevin Bacon has been in so many movies that you can connect any actor or actress to Kevin Bacon within 6 movies.  I am pretty good at this game and can usually do it in within 3 movies.  Often, it can be done within one move!
So, to assist you in this game, or simply to provide you with a list of the Top 10 Movies of Kevin Bacon, we bring you this list Kevin Bacon's most popular films by amount earned.  Look below the list to find a link of all Kevin Bacon movies…then you can truly master 6 Degrees From Kevin Bacon!

Top Movies Of Kevin Bacon [Updated 2021]
Here is a list of the Top Ten Movies of Kevin Bacon including how much money each movie earned and the year it was made:
| | | |
| --- | --- | --- |
| Movie | Year Released | Amount Earned |
| Apollo 13 | 1995 | $355,840,000 |
| X-Men: First Class | 2011 | $354,410,000 |
| A Few Good Men | 1992 | $243,340,000 |
| JFK | 1991 | $205,410,000 |
| Hollow Man | 2000 | $190,210,000 |
| Sleepers | 1996 | $166,100,000 |
| Mystic River | 2003 | $157,140,000 |
| Crazy, Stupid, Love. | 2011 | $143,350,000 |
| National Lampoon's Animal House | 1978 | $142,200,000 |
| Black Mass | 1984 | $100,580,000 |
Surprisingly for me, many of the movies that I associate Kevin Bacon with don't even crack the top ten.
Obviously, the foremost on that list would be Footloose, which comes in at #12. But others come to mind as well, like Flatliners, The River Wild, and Wild Things (loved it!).
So, while Kevin Bacon movies sure have grossed a lot of money over the years, some of the top grossing films of Kevin Bacon may not be included in your personal best list.
View All Movies of Kevin Bacon Here.
---
Appendices: Kevin Bacon Questions
Given that many generations have seen Kevin Bacon starring in various roles, it is not surprising that the curiosity about the man is never ending. Here are some more questions people are asking about Kevin Bacon:

How Many Movies Has Kevin Bacon Been In?
Answer:  As of today, May 9th, 2021 Kevin Bacon has starred in over 65 Films and the list just continues to grow.
In fact, while we can usually see the films of an actor on their Wikipedia page, Kevin Bacon has a separate page called Kevin Bacon filmography.
So, the next time that you want to dominate Six Degrees of Kevin Bacon, be sure to go through this list first.
---
What was Kevin Bacon's First Movie?
Kevin Bacon's first movie is the all-time classic National Lampoon's Animal House created in 1978.
---
Who is Kevin Bacon Married To?
Kevin Bacon is married to the actress Kyra Sedgwick.  They married in 1988 and have starred in several films together.
---
Does Kevin Bacon Have Any Kids?
Kevin Bacon has two kids with his wife Kyra Sedgwick who were born in 1989 and 1992 respectively.
---
Related Searches:  kevin bacon filmography, kevin bacon films, movies starring kevin bacon, how many movies has kevin bacon made, kevin bacon movie list, list of movie featuring kevin bacon, how many movies has kevin bacon been in, what movies has kevin bacon starred in, list of movies kevin bacon was in, what movies has kevin bacon been in

Richard Cummings is a writer, traveler, and web content developer.

Get your copy of his latest book entitled Obvious Conclusions, stories of a Midwestern emigrant influenced and corrupted by many years living in San Francisco and abroad. It just received its first outstanding review "...reminiscent of David Sedaris or Augusten Burroughs" on Amazon UK.

Latest posts by Richard Cummings (see all)