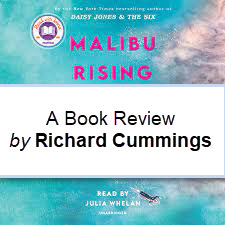 In this book review of Malibu Rising by Taylor Jenkins Reid, we'll investigate this question: can a novel be simultaneously formulaic yet uniquely appealing?
I always like to tell the reader why I chose a book. If you've read any of my other book reviews, you know I do a bit of research on a book before I roll with it.   Sometimes, it may simply be an author I've previously enjoyed, or the teaser for the book, or even the title — like Sex & Vanity, a title which drew me in to a book I would otherwise have passed on.
And the choice to read Malibu Rising by Taylor Jenkins Reid?  Well, it was actually a mistake.
For some reason that I am only now fathoming, I conflated this author's name with the author of An American Marriage, a purposeful book I really treasured. This book was written by Tayari Jones.
I read An American Marriage more than two years ago and so I couldn't exactly remember the name of the author. But how could I confuse these two names as they are nothing alike? And then I see the TJ in each name and realize the subconscious alliterative allure.
But the books are nothing alike. And at the same time, they are both editors picks on Amazon.
Let's take a look inside Malibu Rising and found out why over 13,000 people on Amazon have given this book a near perfect rating.
Quick Plot Summary: Malibu Rising by Taylor Jenkins Reid
While An American Marriage is an unforgettable endeavor about love, race, and society, Malibu Rising takes place at a Malibu Beach Party, with its requisite star-studded attendees, all of whom are formulaic … as perhaps they have to be because that's who goes to a Malibu Beach Party?
But Malibu Rising is at the same time much more than just a Malibu beach party.
It's the story of a resilient family whose life has been anything but a party.
As I write this, I think of the old show Party of Five, because the primary characters of this book are the essentially orphaned children of a mother who died early of alcohol abuse and a father who chose fame over family.
But out of this Party of Five formula comes a deeply enriching story about four children trying to survive on their own, overcoming endless odds to achieve some measure of family stability and a deep abiding sibling love.
Of course, the father realizes his errors as aging sets in and attempts to make amends. So goes the formula, right?
Exactly right.
But will the kids accept him outright? Make him pay? Or will he …
I'm not going to tell you. You'll have to read it…but should you?
Conclusion: Is Malibu Rising Worth the Read?
Yes, for me, Malibu Rising was definitely worth the read despite — or perhaps because of — the formula employed.
Just like Party of Five would often bring me to the misty-eyed frontier, Malibu Rising did as well. Is it something about the struggle of orphaned children that just touches our hearts?
Whatever it may be, the formula worked on me and it might on you as well. You may not finish the book with an enlightened view of race relations or the world as you would with an American marriage but you'll certainly be left at the misty-eyed frontier.
Read more reviews of Malibu Rising on the Amazon book page, where it has received 4 ½ stars from over 13,000 people.
---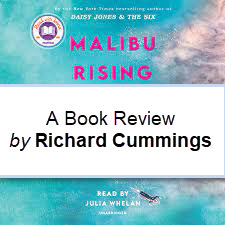 In this book review of Malibu Rising by Taylor Jenkins Reid, we'll investigate this question: can a novel be simultaneously formulaic yet uniquely appealing?

Richard Cummings is a writer, traveler, and web content developer.

Get your copy of his latest book entitled Obvious Conclusions, stories of a Midwestern emigrant influenced and corrupted by many years living in San Francisco and abroad. It just received its first outstanding review "...reminiscent of David Sedaris or Augusten Burroughs" on Amazon UK.

Latest posts by Richard Cummings (see all)