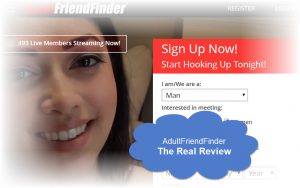 When you read certain reviews of the AdultFriendFinder website, you'll find overly positive comments. Could it be that these reviews are as fake as the many hot females you see on AdultFriendFinder?
Well, today I'm here to tell you the truth in a real AdultFriendFinder [AFF] review. You can jump to each section in the table of contents below.
Table of Contents
So, buckle-up and let's get going with this 2021 AdultFriendFinder review!
---
What is AdultFriendFinder?
"What's in a name?" Juliet asked in Act I, Scene II of Romeo and Juliet?
Having no idea that she would be quoted in an article several hundred years later about a dating site, Juliet spoke words of eternal truth: Can we find the essence of truth in a name, in words?
Well, let's separate these three words: Adult Friend Finder?
If we are to believe what's in a name, AdultFriendFinder.com is a website which is visited by adults who presumably want to find other adult friends.
However, if we dig further into the actual truth, we find that Wikipedia defines adultfriendfinder.com as: "an internet-based, adult-oriented social network, online dating service and swinger personals community website."
An internet-based adult oriented social network would support the idea that AdultFriendFinder is in fact a place where you find other adult friends — much like it's sister site FriendFinder.com, which was voted one of the best online dating sites of 2021.
It's how the definition continues that perhaps gives the real story of AdultFriendFinder.
It is more of an online dating service and swinger personals website than it is a place for adults to innocently find other adult companions with whom they can have enlightening conversations.
As we find out in the sections to come, Juliette certainly spoke the truth when she asked what's in a name because AdultFriendFinder is less of a place to find meaningful friendships and more of a place to find meaningless hookups and phantom, phony reviews.

How Popular is AdultFriendFinder?
If there's one thing people want in life, it's love and physical companionship.
Granted, AdultFriendFinder may be more about physical companionship but, as we see, this is something that people prioritize in their lives.
This is certainly borne out as we look at the monthly traffic statistics for how popular AdultFriendFinder is.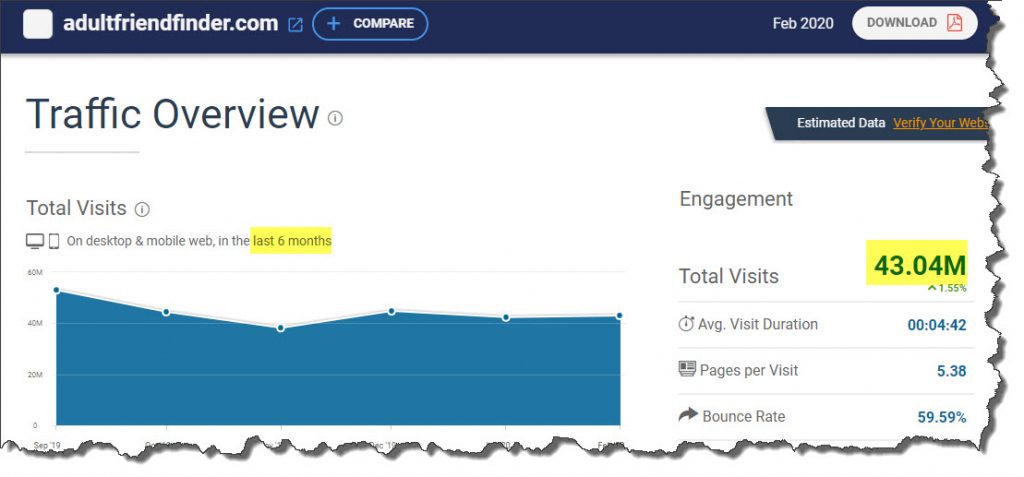 Web statistics have variances but, by any measure, 43 million is a lot of people looking for love.  However, as we'll see below, many of them may be fake.

How to Sign Up for AdultFriendFinder?
When you visit AdultFriendFinder, which you probably do not want to do at work or in public, you are greeted with many incentives.
Among them, a video of a beautiful girl, an indication that there are 493 live members streaming now, and an incentive to start hooking up tonight and "register now".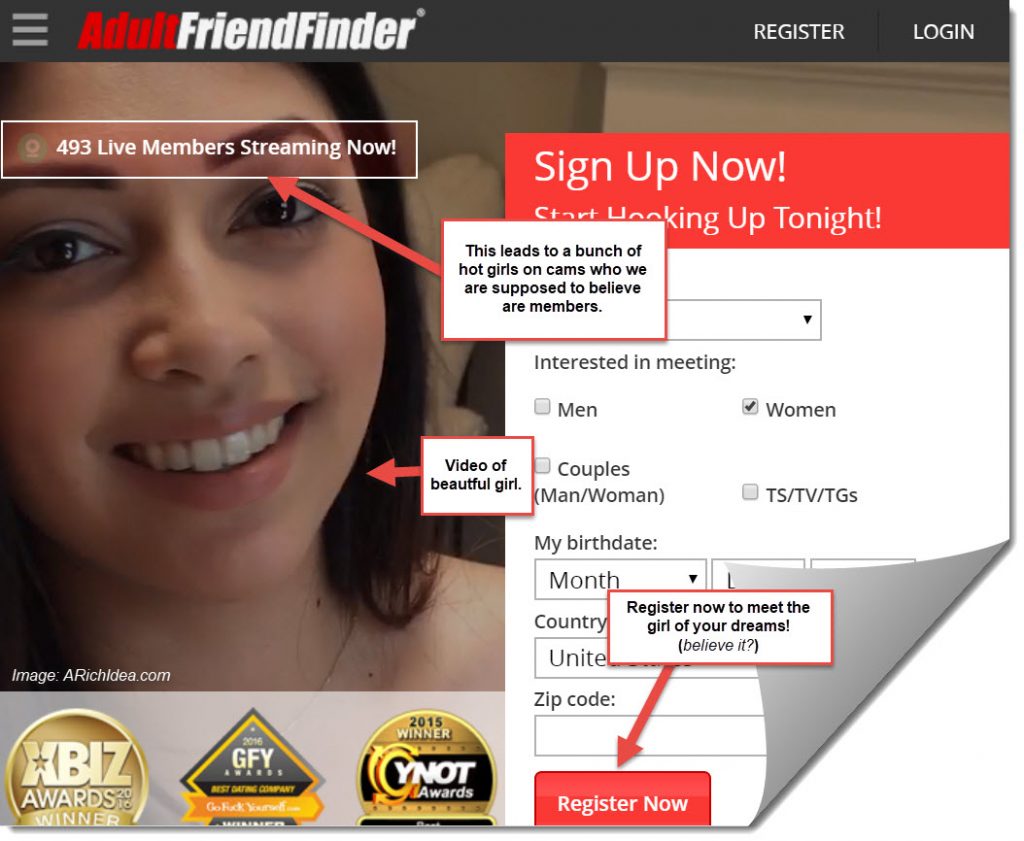 So, to signup, go ahead and fill in the information and click the Register Now button.  You will then be emailed an activation link (mine went to the gmail Spam folder, which indicates that Google thinks AFF is SPAM stuff).
And, would you look at what happens when I click the Activate Now link in my email?  The big sell is already on.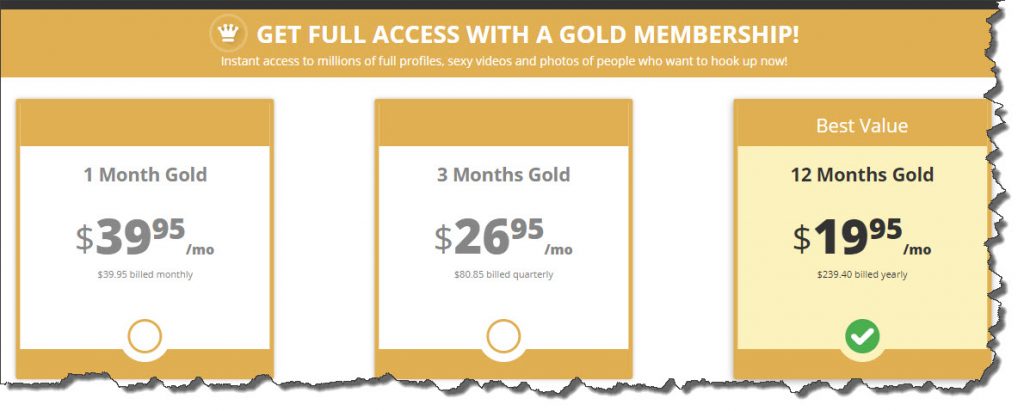 They make this page so that the novice cannot even escape it.  To leave this registration page, click the logo in the top left of the screen.
You will now found yourself on the homepage, already populated with revealing images and 4 emails already just for me.
Oh, I feel so special 🙂
So, what actually happened?
Let's take a look at the big picture first. Overall, what are the positives and negatives of AdultFriendFinder?
After that, I'll share with you what actually happened with me on AdultFriendFinder and share the experiences of my good friends who went to work for this AdultFriendFinder review.

The Five Positives of AdultFriendFinder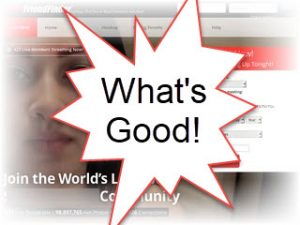 Amazing looking women: Yes, there are many amazing looking women on AdultFriendFinder but most are not available to date. They just want money for you to view them on cam.
Email correspondence that gives hope: If you need personal validation, you will get it from the many emails that you will receive from beautiful women but unfortunately you will just as quickly feel empty as none of them respond to your request to meet in person.
Definitely potential hookups: While some have estimated that the number of real women on AdultFriendFinder is about one woman for every 50 men, there are some real women on there who are looking for hookups and there is a chance you will find these women.
Open-minded adults: Just as there are women looking for hookups, you will also find couples on AdultFriendFinder who are looking for groups of people, in other words, swingers. There is a healthy group of open-minded adults on the site if you have the time to wade through all the phonies.
Cheaper than an escort service: While sites like Craigslist personals have long been closed down, AdultFriendFinder operates in a gray area and you will still find some pay for services there. So, if you're into that kind of thing, it may be less expensive than an escort service.
The Five Negatives of AdultFriendFinder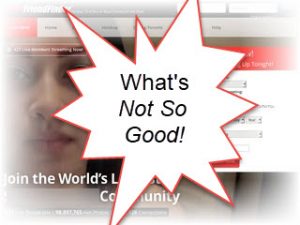 The hard sell after you sign-up:  There is literally practically nothing, aside from complete frustration, that  you will get from using the free version of AdultFriendFinder. At every turn, they are enticing you to sign up for the gold membership.
Many, many fake profiles:  Just as we found out from the Ashley Madison Scandal, and as we have heard about on all social networks, AdultFriendFinder is filled with fake profiles and bots  which leads to all but the most intrepid canceling their memberships at some point.
Endless stream of unanswered emails:   As I mentioned in the positives of AdultFriendFinder, you do receive a lot of emails but most of these are not real people with whom you will correspond. They are either fake profiles or they are people who are trying to make money off you by you visiting their cam sites or something of that sort.  Sifting through the real and the phony emails is time consuming and a real turn off for AdultFriendFinder members.
Potential danger in meeting anonymous strangers in real life:   AdultFriendFinder does not vet its members like many other social networking sites do. For example, on Facebook, you can usually check out friends and friends-of-friends to find out whether a person is legitimate. On Adult Friend Finder, this is more difficult and the risk meeting anonymous strangers in real life is much greater.
People are not who they claim to be:  This negative about AdultFriendFinder is something that we find with many online experiences — people are not who they claim to be. You may see a picture of a beautiful girl but that picture was taken years ago and the person today may look nothing like that.
My Personal Experience on AdultFriendFinder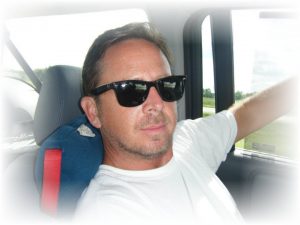 For this story, I signed up to AdultFriendFinder for 1 month.
As you saw in the sign up process above, they do really put on the hard sell for you to subscribe and, once you subscribe, you definitely have a better opportunity to see what's really going on.
And, unfortunately, one of the things that you find is that many of the profiles of the females are either fake or they are soliciting money in some form or another.
Are there real women on AdultFriendFinder?
The answer to that is yes absolutely.  But, the diamond in the rough that would take you forever to find on AdultFriendFinder is probably more accessible on other dating sites like Tinder or Match.com.
I can see, for those who put in the time, meetups would definitely lead to what you're looking for because AdultFriendFinder is not about finding adult friends; it's about finding adult hookups and open-minded swinger communities.
I would say if you have a lot of time, and you're willing to wade through all of the junk and scammers and spammers, you may find the one in 50 women that is real and wants to hook up.
But, in all honesty, there are ways to get to that end much quicker with applications like Tinder.
The Experience of My Friends on AdultFriendFinder
In this AdultFriendFinder review in 2021, I not only wanted to provide my perspective but those of my friends as well — much like I did awhile back with this online dating Match.com review.
So, I enlisted the help of three of my friends from different geographical regions to assist me in my AdultFriendFinder project.  They each committed to actively using AdultFriendFinder for two weeks if I paid their membership dues.  Here are the emails that they sent me after their two weeks:
---
Jerry's  AdultFriendFinder Review:  35 Single, San Francisco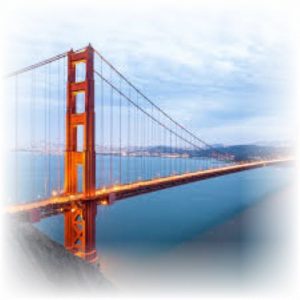 "Can I have those two weeks back? Dude, you know I date quite a bit in San Francisco and I often use Tinder to do it. Because you asked me this favor, I tried AdultFriendFinder for 2 weeks but seriously, there's so many girls just trying to get you to their cam sites that for me it's not worth going through the fake stuff to get to the real stuff. I did see a couple of girls I've dated on Tinder and I met a couple of others…so I do know there's some legitimacy to AdultFriendFinder. But is it worth it? For me, absolutely not."
---
Rob's AdultFriendFinder  Review:  39, Single, St. Louis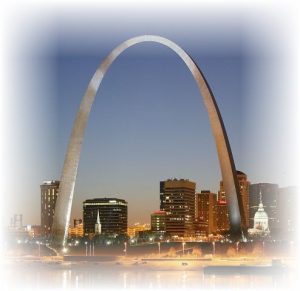 "Okay Richard, as per your request, I signed up for AdultFriendFinder for two weeks.  I was very intrigued by all the photos that I saw and the girls were very attractive.  Many seem to be looking for a sugar daddy instead of a date. And I don't really have any problem with that and I was also enticed by some of the various offers from the girls. I did meet one real woman online in those two weeks but in the end I decided not to meet her in person.  And, one other thing that intrigued me was that there were a couple of online swingers in St Louis that I had no idea existed. I sent them a message because I may have interest in that but I have not yet heard back. We'll see how it goes."
---
Mark's AdultFriendFinder Review:  41, Single, Austin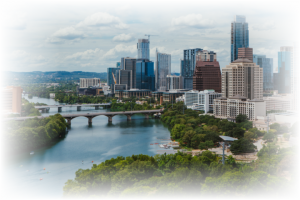 "You know that Texas is not a bad place to meet attractive women live and in person — that is how I prefer to spend my time.  But, in this instance, since you requested I go online to AdultFriendFinder and try to meet girls there, I took the two weeks and honored your request. What I found was a lot of fake stuff and this is what I like about the real world, there's no fake stuff. I emailed and emailed some more and the result was three chats with women who were interested only in talking about sex. I must admit this did lead to some engaging online conversation but I did not take the next step and meet any of these women in person."
---
So, my three friends, who all have reasonable dating success in the real world, did not find AdultFriendFinder something of value to them.
Then why are there so many positive reviews of AdultFriendFinder online?
This is irritating and I'll explain it to you right now.

Most Reviews of AdultFriendFinder Are Fake:  Why & What to Look For?
When you do a Google search of AdultFriendFinder reviews, these are your current results in 2021, which I will explain below the photo: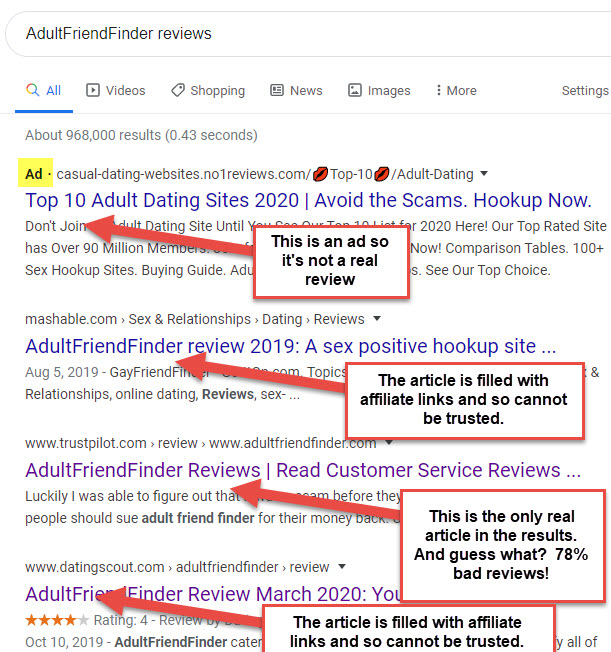 As we see, the majority of the first page Google results for AdultFriendFinder reviews are fake.  Or, at the very least, deeply compromised.
Why is this?
They are all trying to make money off the AdultFriendFinder affiliate program.  It's a way websites make money off of your subscriptions to AdultFriendFinder.  Check it out.
As you can see, you can make hundreds of dollars from just one website visitor signing up.  So, the reality is, a popular website can earn thousands of dollars by recommending AdultFriendFinder.
Can you see the incentive for glowing reviews?
How to Spot a Fake AdultFriendFinder Review
It's actually very easy to spot a fake AdultFriendFinder review.  Let me show you.
When a website links to AdultFriendFinder, you can hover over the link and see if it says AdultFriendFinder.com in the bottom of your screen.  Like this:

If not, as we see in this example, it's an affiliate link and the authenticity of the article or blog post is certainly in question.
Video reviewers also get into the act because they know that YouTube attracts eyeballs.  Here is an example of that:
Erika tells to us her dating experience on Adult Friend Finder
Sample affiliate video review of AdultFriendFinder
---
Couldn't they have found someone a little more passionate for their fake review?
So, as you can see, there's a huge financial incentive for people to provide positive reviews of AdultFriendFinder.
I hope the above examples have shown you how to identify the reviews that you can trust, which are few and far between, and those you cannot.

Read the Real Internet Reviews of AdultFriendFinder
I've shared my personal experiences of AdultFriendFinder, and those of my friends.  Now, let's take a look at what the general population thinks of AdultFriendFinder.
This does beg the question:  With so many fake reviews, where can you find real reviews of AdultFriendFinder?
Here are 3 web pages that provide many real reviews of AdultFriendFinder:  Trustpilot, Sitejabber, and Quora.
Here are the summary findings of AdultFriendFinder on Trustpilot: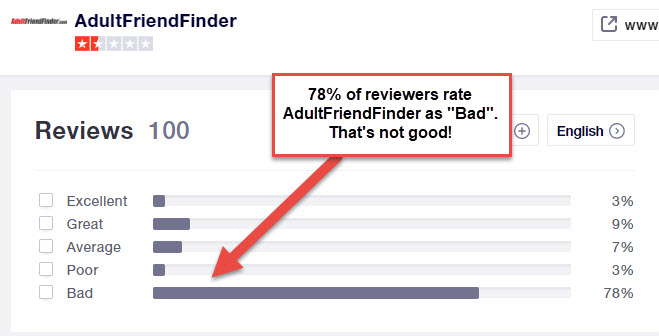 The first review on Sitejabber appears to mimic these findings as well:

On Quora, we find many people saying things such as "Adultfriendfinder is a SCAM, Dont listen to other answers that say they are legit, They are just affiliate marketers."

But we are able to also find reviews claiming:  "100 % legit and you will find me there…"

One has to wonder though:  Are they just affiliate marketers trying to prop up the Adultfriendfinder reputation?

Conclusions:  Should You Sign-Up for AdultFriendFinder?
Many of you know me from my writings here or my book and that my general attitude and life-philosophy is as follows: "if you never go, you'll never know."
In this spirit, you would think I would recommend giving AdultFriendFinder a try. However, life does limit us in one area and that is time. And the reality is that AdultFriendFinder takes a lot of time to find the real people who you really want to meet.
And so in this AdultFriendFinder review in 2021, I have to say there are probably better places to find what you are looking for such as Tinder or Match.com.
That said, if you have limitless time, go for it, sign up for AdultFriendFinder and let me know what you think in the comments below!

Richard Cummings is a writer, traveler, and web content developer.

Get your copy of his latest book entitled Obvious Conclusions, stories of a Midwestern emigrant influenced and corrupted by many years living in San Francisco and abroad. It just received its first outstanding review "...reminiscent of David Sedaris or Augusten Burroughs" on Amazon UK.

Latest posts by Richard Cummings (see all)