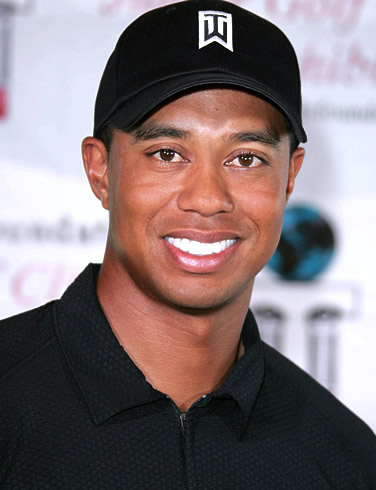 As he heads into the Masters, Tiger Woods will host a News Conference at the Masters today, Monday April 5th, 2010, in which reporters will be able to ask any question they wish.
This will be the third time that Tiger Woods has faced the media since his personal Thanksgiving Day massacre. In the previous two, he either did not take questions or had a time limit interview with a familiar face, like Kelly Tilhman on The Golf Channel. This news conference will be open to all sports reporters allowed at the Agusta National Golf Club and, apparently, no question will be off-limits.
There have been ample reports about what Tiger Woods should and should not say. Many people feel he owes deeper explanations about what happened on that fateful night that caused his world to spiral out of control. Others feel that he is a golfer and his only obligation is to field questions surrounding the state of his game and his golfing future.
Two Questions Tiger Woods Has Lied About
Tiger is in a bit of a conundrum here on two issues, which he continues to a lie about. He lied about them in both of his previous interviews and he will continue to lie or evade answers on both of these questions.
One: What really happened on that fateful night? And, two, who from Tiger Woods inner circle was involved in his philandering?
As to question one, Tiger Woods will never fully explain what happened on that Thanksgiving night. In his previous interviews, he told the reporters that "it is all in the police record" when in reality it is not—the police visited his house 3 times and he did not allow them entry any of those times. In fact, many reports said that he actually flew out of town immediately following his hospital release.
Tiger cannot answer these questions without implicating his wife, with whom he is trying to salvage a marriage and family. As I wrote in Tiger Woods Human After All, and about which many others have speculated, his wife played a starring role that night, just not the starring role of a women who was trying to save her husband.
It is pretty clear that, that night, she went berserk having discovered Tiger Woods' indiscretions and did something to cause him to flee quickly. And, in all probability, during this flight, she chased Tiger down with a golf club and bashed in the car windows.
They say that one important part of this "addiction therapy"—whether Tiger is a sex addict or just a man is a question that remains on the table for me—is to come completely clean and be honest about everything. But to do so, Tiger would have to tell this lurid tale of his wife's anger and he probably won't do that.
Though, in truth, it would not be a bad tale to tell. After all, her reaction was a human one which everyone would understand.
The same holds true for the second question that people want answered: Who knew about, and perhaps facilitated, Tiger's escapades?
He says nobody; he is lying.
As we read in all verifiable reports, Tiger was hanging out at nightclubs in Vegas and various locales in Florida.
When a famous person such as Tiger Woods frequents these types of clubs, they are given the "star treatment" being escorted to VIP rooms and generally hidden from the public if they so desire.
However, to believe that nobody from Tiger Woods' inner circle knew of this is to believe two unbelievable things: First, Tiger went by himself to these establishments. And, two, Tiger arranged everything (the advanced calls to let them know a VIP was coming).
The bottom line: Somebody, probably more than one person, knew of and facilitated Tiger Woods' secret life.
Do you know who wants an answer to this second question the most (and is probably not getting it)?
Elin, his wife.
She is the one person who deserves answer to this question; we, the public, do not.
The Tiger Woods New Conference: What I Want to Know
I know that we will not get the answers to the questions above. However, they are not the questions that I want answered.
These are the two questions that I want answered…which will also go unanswered.
How Did You Do It
For those who do not know about the game of golf, this question might not make sense to you. Athletes cheat, you think, and that will not affect their performance on the field.
This is true with other reactive sports like basketball or football. The players are moving too fast to think. In fact, they are often encouraged not to think too much. Just react.
But golf is a game all about thought, about piece of mind. They say that "golf is 90% in your head." You have to be in a good place mentally to compete.
I talked with a friend of mind who responded, "If I you were hittin' it with all those honeys, you'd definitely be in a good mental place."
I always pictured Tiger being very zen-like and disciplined during golf tournaments when he is not between the ropes. Apparently, he was finishing his rounds only to arrange secret rendezvous' with his one of his many lovers.
How do you mange a wife, kids, and something like 15 lovers–all of whom you appear to be sexting—and still have the piece of mind to go out and win golf majors?
This is compartmentalization of epic proportions…Slick Willy style. While Bill Clinton ruled the actual world while gettin' some on the side, Tiger Woods ruled the golf world while devouring women as his main course. 15 ongong affairs with waitresses, hostesses, moms, adult stars, etc? One is tempted to ask, "Would you like some golf with the female platter?"
It is difficult for a regular, anonymous man to date two girls at one time without fallout. But 15 ongoing affairs when you are the most recognized athlete in the world and the best golf ever?
That is my question to Tiger Woods: How did you do it?
Will Tiger Woods Be Able to Play Golf Like He Used To?
As a footnote to this question, many people have asked if Tiger Woods will still be able to play golf after this personal debacle.
Given this ability to compartmentalize he has demonstrated, I have little doubt that his golf will continue to be superior.
However, the oft-stated goal of the kind of therapy that he has undertaken is to dismantle the core. If therapy disrupted the core (those traits that made Tiger so invincible), he might have troubles.
I don't think so and I am excited to find out come Thursday at the Masters.
How Much Is it Costing
There have been numerous reports that Tiger Woods paid Rachel Uchitel—the first woman named– $10 million dollars so that she would not talk.
Do you remember that Rachel Uchitel was going to give a news conference (after she hired that awful Gloria Alred as her attorney) that was suddenly canceled? My hunch is that this cancellation cost about $10 million dollars. My guess is that Rachel Uchitel's opinion of Gloria Alred is significantly different from my own!
If all 15 of Tiger Woods' mistresses were able to get that amount, Tiger is out $150 million dollars!
Now, granted, Tiger is the first athlete to earn $1 billion dollars, but presumably he has spent some of that money and many of his sponsors have left him.
So, I want to know: How much is this costing you Tiger? Is it putting a dent in your fortune?
Tiger Woods New Conference at the Masters: Conclusion
Well, the Tiger Woods' News Conference at the Masters is set to begin any moment now. Of course, he will in all likelihood not answer any of the questions that people really want to know.
However, I am eager to see what he does say and to see his facial expressions.

Richard Cummings is a writer, traveler, and web content developer.

Get your copy of his latest book entitled Obvious Conclusions, stories of a Midwestern emigrant influenced and corrupted by many years living in San Francisco and abroad. It just received its first outstanding review "...reminiscent of David Sedaris or Augusten Burroughs" on Amazon UK.

Latest posts by Richard Cummings (see all)