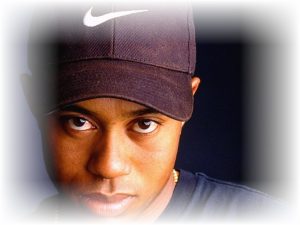 On November 27th, 2009, the life of the greatest sporting hero of the time changed forever. Relive the story of Tiger Woods infidelities, his endless mistresses, and the voicemails that changed the course of golf history.
The story of Tiger Woods has become a story much larger than the game of golf. We once thought that Tiger Woods was simply about the game of golf and, outside of the golf course, he was a loving, family man…now we know much more.
Read below about what happened to Tiger Woods, view pictures of Tiger Woods' mansion, his wife Elin Nordegren, and his ever-increasing list of women.
First, as we explore this situation, let me say that one reason that I always root for Phil Mickelson over Tiger Woods is that Tiger is too perfect, robotic like in his quest for championships.  Phil Mickelson has always been his human counterpart and when he wins it is like a human victory over a robot.
If anything, this Tiger Woods situation makes me like him more.  It makes him more human.  In fact, Tiger Woods even admitted to it, albeit with robotic-like precision:  "I'm human and I'm not perfect" is what he said, almost as if he was surprising himself with this statement.
Why else would I want to write about the Tiger Woods incident and alleged affairs?   There is A LOT of hot babes involved and more seemingly coming through the "wood" work (all puns intended). 🙂
The whole story begins so humbly, so lovingly.  See photo below: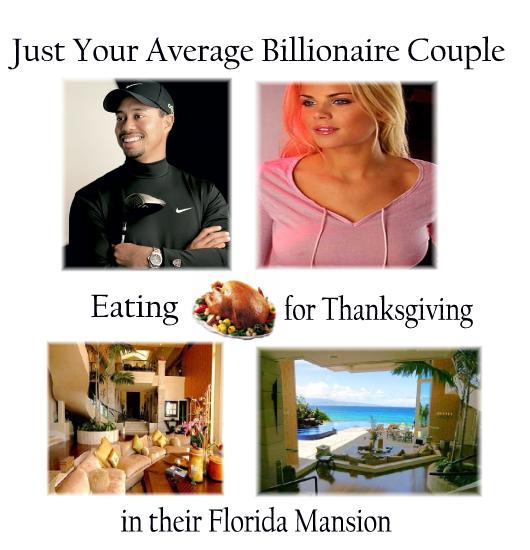 However, not all is as it appears.
Two days before this idyllic Thanksgiving setting a news report surfaces that Tiger Woods has a mistress, one Rachel Uchitel (see photos below).
Rachel Uchitel Photos
Below, you will find photos of Rachel Uchitel in various locales.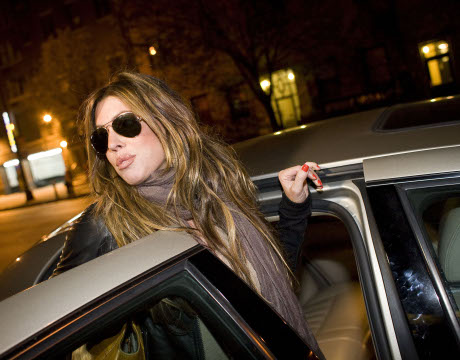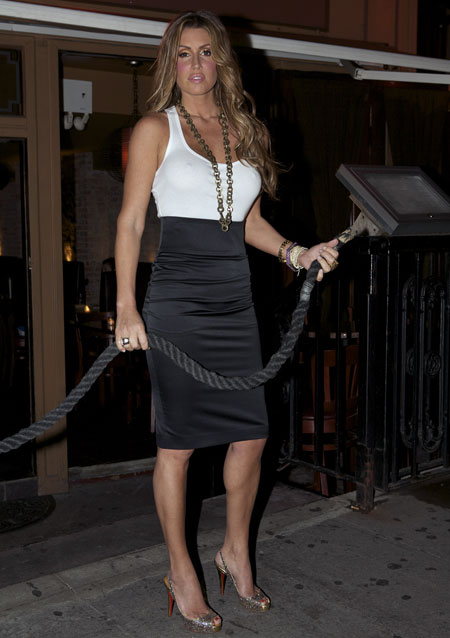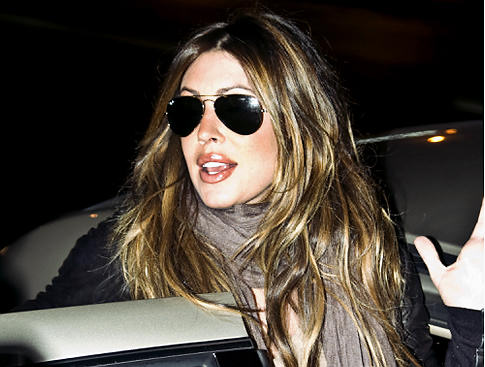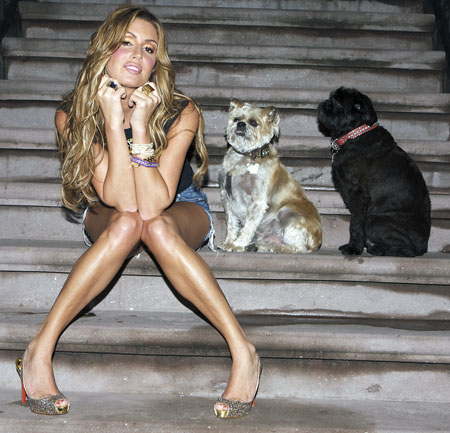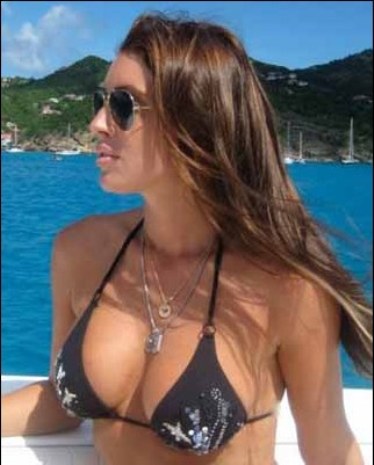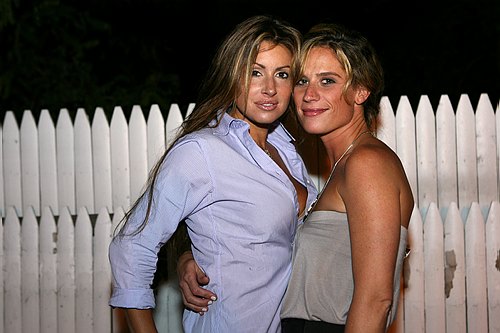 Rachel Uchitel, who "lawyer-ed up" with that nuisance Gloria Allred and is a reputed "New York Party" gal, is rumored to have dated famous baseball players, broadway stars, and David Boreanaz, who many say she was two-timing Tiger Woods with.  Of late, she works at a Las Vegas Night Club and is known for her ability to bring in the A-Listers.  I'm sure!
Elin Nordegren Photos: Wife of Tiger Woods
Now, there are many of us who look at pictures of Tiger Woods' wife and think it would be impossible to cheat on her.  Let's take another at more photos since we're at it.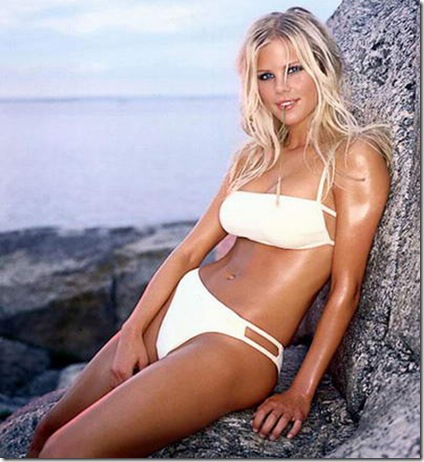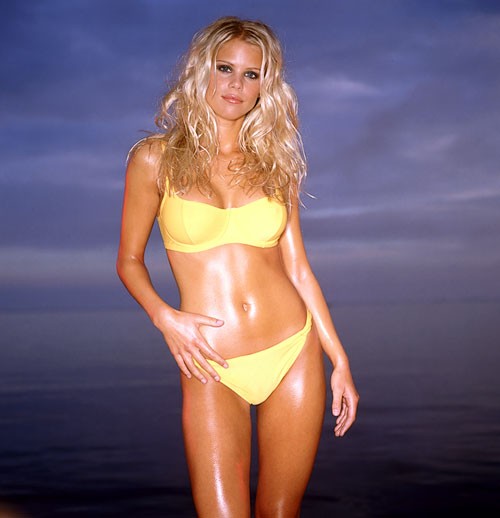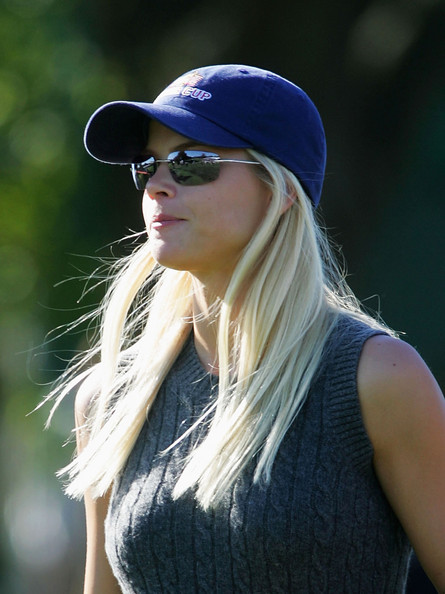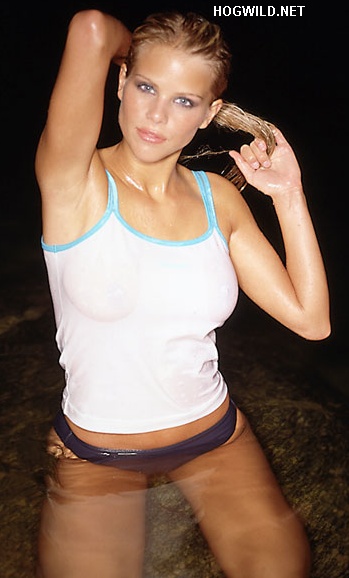 Now, how could anybody cheat on that, one asks?  For us mere mortals, we may think it cannot get any better.  But we're not Tiger Woods.
Chris Rock has said that "men are as faithful as their options."  Tiger Woods has endless options.
However, I must admit that I am a little disappointed in Tiger's choice.  A nightclub hostess?  Granted, she is semi-hot but she's an obvious floozy who will sell her non-existent soul to the highest bidder.
I have to say, Tiger, I am disappointed in your choices.  But this article is about you being human…and we all make mistakes (wait, I just looked at her pictures again and changed my mind 🙂 ).
Or, this could all be speculation.  Highly coincidental though, don't you think?
Tiger Woods Incident: Fact for Fiction
So, let's set the scene of our ostensibly tranquil dinner in Windermere, Florida at the home of Tiger Woods.
Beautiful wife Elin Nordegren is preparing Thanksgiving dinner.  Elin is a former Swedish model and au pair, that is French for babysitter.  (She may be the only babysitter with her own Wikipedia page.)    She has a twin sister who looks exactly like her–drop dead gorgeous Swedish beauty.  One has to wonder if Tiger has ever suggested…  Oh, stop, don't tell me it wouldn't cross your mind.
Both Elen and her sister worked for golfer Jesper Parnevik as au pairs.  After realizing how stupid she was for allowing him to have two Swedish models as au pairs, Jesper's wife allegedly (by me 🙂 )said, "Get them out of here" and thought What the hell was I thinking?  On a sidenote, Jesper's career has drastically declined and he has not had a smile since the day the girls left.
Elin Nordegren and Twin Sister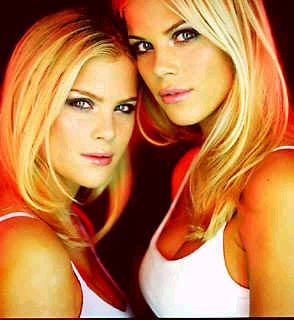 Don't tell me Tiger never thought of…
Ok, moving on.  Elin is preparing Thanksgiving dinner and she is pissed because she has heard of the alleged affair in the National Enquirer.  Though she is an au pair by trade–or perhaps because she is an au pair by trade–she knows what's up.  What Las Vegas club girl just happens to be in Australia at the same time her husband is there playing a tournament?  Elin's no dummy.  When she was an au pair, all of her overseas adventures were financed by her lovers.  She knows what's up.
So, they sit down at Thanksgiving dinner and she cannot contain herself.  The next we know is that Tiger Woods is found unconscious in the street.
Ah, the humanity of it all.  Did Tiger actually have an affair?  Men are as faithful as their options, Tiger may have been thinking as he lay in a semi-conscious state on the pavement.
Chris Rock on Tiger Woods: Stay Out of It?
What does Chris Rock think on the matter?  Strangely, he does not think the matter should involve the press.  In an interview before the Gotham Independent Film Awards, Chris Rock unloads on media for Tiger Woods car crash coverage.
Since when would Chris Rock not get involved in a matter?  He always gets involved…unless perhaps he can identify a little to closely with the subject.
But back to Tiger Woods alleged incident.  What do we know happened?
Here's is what is claimed:  Tiger Woods was found unconscious outside of his car at 2:30 Friday morning (Thanksgiving night) after his car hit a fire hydrant and a neighbor's tree.  Here's is an overhead picture of his house so you can get a view of the scene.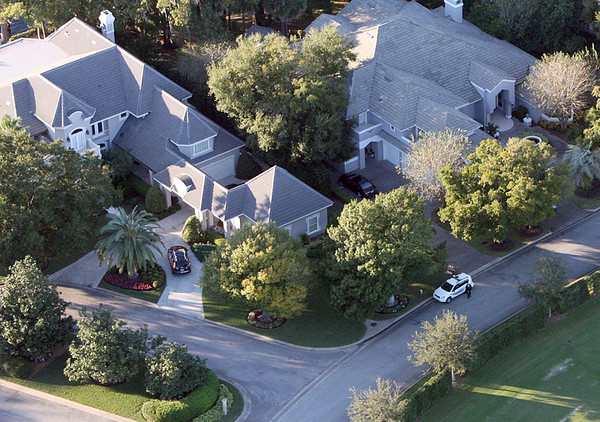 After the incident, "The wife of the world's No.1 golfer Tiger Woods used one of his tools — a golf club — to smash open a window of his SUV and then pulled him out of the damaged vehicle after an early-morning accident Friday outside their Isleworth mansion."
Tiger was reportedly unconscious for about six minutes laying on the ground with blood coming from his lips and mouth.  Elin told the officers that she heard the accident and came outside with a golf club and smashed the back windows (not the front), removed Tiger from the car, and laid him on the ground.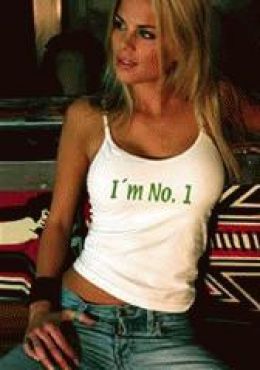 Hmmm…why the back windows?  Does Tiger not drive in the front seat?  Remember what she looks like.  (Here she is again to your left–WOW!).  She's not exactly an overwhelmingly strong woman.  So, the story is that she smashes the back window, drags Tiger's body over the front seat, into the back seat, and out of the Window?
Not likely.  If the story is true, she probably ran out with the golf club, smashed the back window to get into the car, unlocked the front door, and then dragged him to the pavement.
There has been a "back window" theory surfacing everywhere about why she broke the back window and not the front.
To me, this one is a no-brainer.  If the love of your life is in a car wreck, and he is in the front seat, and you are going to smash in a window with the golf club, you are NOT GOING TO SMASH THE WINDOW THAT IS RIGHT NEXT TO HIS HEAD.
So, people should get over the back-window gate conspiracy theory.
A better question might be:  Why did she have the golf club in the first place?
When you hear that your husband is in a car crash outside, do you immediately think, "Oh, I better bring a golf club out with me?"
Of course, all of this is speculation because Tiger has not said anything aside from a benign statement on his website.  In fact, he denied three requests by Florida police to talk to them.
This, and the alleged affair just two days before, is why there is so much speculation.  If he would have said publicly what happened in detail, none of this would be news.
Now, tawdry speculation abounds.
An alternative theory to the Tiger Woods accident is this one put forth by TMZ.com (which seems very plausible to me):  Elin confronts Tiger about his infidelities, she scratches him in the face (ergo the facial wounds), he is like, "I'm gonna get the f*** out of here", and she chases, swinging all the time with the golf club.
Makes sense doesn't it?
But this is not the real juicy follow-up.  Things are even more interesting now because…
Tiger Is Having An Affair with Another Woman: Jaimee Grubbs
Yes, apparently, Tiger is having another affair.  Of course, this is all allegedly 😉 .  But it is still important because we can find pictures of another hottie.  US magazine reports that Tiger Woods is having an affair with Jaimee Grubbs, a VH1 reality star.
Photos of Jaimee Grubbs

According to US Magazine, they can back up their story with over 300 text messages and voicemails from Tiger, one as recently as November 24th.
We will have to wait to see how this story develops.
Tiger Woods Golf,  Infidelity, and Voicemails:  Summary
Joe Sports Fan is running a poll asking:  Has your image of Tiger Woods changed?
My opinion of Tiger Woods has changed, but not necessarily for the worse.  He has exposed frailty, a human condition that I did not know he had.
Do I think he screwed up?  Absolutely!  Royally, really!
We now know that the accident did not go down like they said.  Elin learned about the alleged affair and went ape-s**t on Tiger and it probably occurred more as TMZ reported.
Now, with Tiger's new reported affair with Jaimee Grubbs (and the many more that followed, see postscript below) –especially if the text messages and voicemails can be proven–his domestic life will certainly lack tranquility.
On my end, as a golf fan, it will be interesting to see where all of this leads professionally.  Tiger has always been able to focus on the golf course independent of developments outside the ropes.
But he has never faced this scrutiny.
His year in golf will be interesting.  Will his frailty transfer to his on-course golf performance or will he maintain his robotic-like brilliance.
Only time will tell…and I'll be watching!
PostScript on Tiger Woods, Golf, and Infidelity [2020 Updates]
In looking back on this story now in the year 2020, it all seems rather remarkable and somewhat unbelievable.  How did he get away with it?
I remember thinking that it was such a grand fall from grace that I was worried he was going to end it all.  How he made through everything, I don't know.  But he did.  Despite losing nearly every sponsor, having major surgeries, and losing quite a bit of hair, Tiger made it all the way back.
Many people who don't follow golf that closely think that Tiger never did well in golf until he won the Masters in 2019.  That is far from the truth.  He was actually PGA Tour Player of the Year in 2013.
However, he didn't win a major so the non-golf fans were unaware of his continued greatness.
And then it happened in 2019.  Tiger won the green jacket again in the 2019 Masters.
A far cry from the prior decade when even Fox Sports was cataloging Tiger's mistresses.

Richard Cummings is a writer, traveler, and web content developer.

Get your copy of his latest book entitled Obvious Conclusions, stories of a Midwestern emigrant influenced and corrupted by many years living in San Francisco and abroad. It just received its first outstanding review "...reminiscent of David Sedaris or Augusten Burroughs" on Amazon UK.

Latest posts by Richard Cummings (see all)