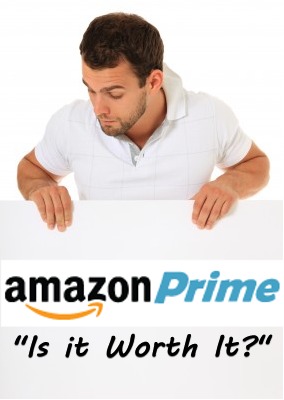 Because I write a lot about Amazon Prime, I have had several comments and emails from people asking me if Amazon Prime is worth it.
In this article, I am going to share with you a question from a reader and explain my thinking about Amazon Prime. Is it worth it or is it not?

Let's start with the mail below from Jeannie:
Question: I am wanting to know if Amazon Prime is worth it.  I keep getting these offers to join Amazon Prime and it seems like kind of a good idea.  I would like to understand it a little better and would like to here from someone who uses it to know whether they think Amazon Prime is worth it.  If you have time to answer my question, that'd be awesome!  Many big thanks, Jeannie, Charlotte, NC
Amazon Prime:  Is It Worth It and Should You Join?
Jeannie, you have hit the jackpot today!
When I first joined Amazon Prime many years ago, I recall asking myself the exact questions that you pose above.
So, I have created an Amazon Prime Review just for you! I'll first look at exactly what Amazon Prime is and why it is confusing for people to understand.  Then, after discussing exactly what Amazon Prime is, I'll let you know exactly what I think, why I joined, and whether it is worth the money.
Amazon Prime:  What Is It Exactly?
When I was first exposed to Amazon Prime, I couldn't really tell what it was.  Like me, you probably kept getting the Amazon Prime Propostion when you ordered things on Amazon.  The proposition goes something like this:  Join Amazon Prime and get free 2 day shipping on this item!  Isn't that about how it goes?
So, before I signed up, I started reading all about it.  I read things talking about how I can save on shipping AND have free streaming video content.  It really made it difficult to understand exactly what Amazon Prime was:  Is Amazon Prime a great deal on shipping OR is it a streaming video service like Netflix? 
I guess I had trouble wrapping my arms around the idea that it's both a deal on shipping and free streaming of movies and TV shows.  This combination of shipping and streaming doesn't 't seem like something that would normally go together.
Plus, you can get free some Kindle books and I'm a big reader!
There is a catch with these movies, TV shows, and books on Amazon Prime though…more on that coming.
As we see in the graphic from Amazon below, Amazon is now making it very clear what you get from Amazon Prime: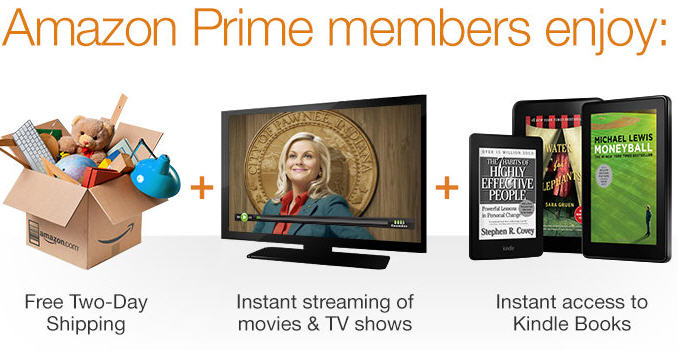 Why Did I Join Amazon Prime?
Jeannie, now that we've looked at what Amazon Prime is, I'll tell you why I joined.
I joined Amazon Prime for the deal on shipping.  It was nearing Christmas and I was ordering all of my Christmas gifts online through Amazon.  Since everything was going to have a "shipping cost", I figured that the shipping costs were going to total about what it would cost for an annual membership to Amazon Prime which is $119 per year.
As far as the other parts of Amazon Prime, I couldn't really tell whether they were complete offers.  For example, with the unlimited streaming of movies and "free Kindle books", was that any movie and any book?
Now that I am a member, I can comment on each feature below:
Amazon Prime "Free" Shipping:  My First Surprise
As stated, I joined Amazon Prime for the free shipping and the benefits of the other features (movies, TV shows, & Kindle books) would just be a bonus.
I received my first Amazon Prime surprise when I placed my first big Amazon order:  Not all items are available for free 2 day shipping!
I am sure that Amazon tells you that in the Amazon Prime agreement somewhere but, really, who reads those agreements?  So, I actually went back and replaced the items that I was going to purchase with similar items that had free shipping.
Within Amazon, you know that an item is available for free shipping with Amazon Prime if it has the little Amazon Prime logo next it as you see in the photo below:

In summary, Amazon Prime may be worth it for you for the free shipping alone.  However, take a look around Amazon first to see if the items that  you have a general interest in are available for free Amazon Prime shipping.
Amazon Prime:  The Free Streaming Movies, TV Shows, and Kindle Books
Ok, it's time to look at the other reason that people sign up for Amazon Prime:  Movies, TV Shows, and Books.
I signed up for Amazon Prime for the "free shipping" but, since Amazon Prime offers these other benefits I figured, "Why not?  Let's have a look."
Many people who are considering Amazon Prime probably are wondering:  Is Amazon Prime as good as Netflix?  In other words, if I sign up with Amazon Prime, can I cancel Netflix?
Amazon Prime vs Netflix:  Netflix Wins This Battle Easily!
If you are thinking of signing up with Amazon Prime to replace Netflix, think again.  Amazon Prime is not a viable replacement for Netflix.
Don't get me wrong–I like the free streaming with Amazon Prime!  However, the offerings for new content are thinner than what you will find on Netflix.
Let me give you an example.  A hot movie out right now is "Parasite" — it just won the Oscar for best picture.
This is available on Amazon Instant Video (the rent or buy choice), but is NOT a part of your Amazon Prime package.  Put another way, it is not Amazon Prime eligible and you have to pay for it just as you would watching a streaming movie from your cable company.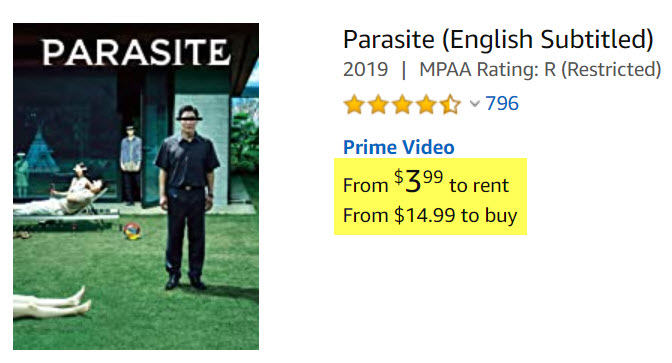 Quite often, the most popular movies on Amazon Instant Video are NOT the most poplar movies that are Amazon Prime Eligible.
The reason for that is simple:  The movies people really want to see — the brand new movies — are usually the ones you have to pay for and they are not available for free with Amazon Prime.
Streaming TV Shows and Books
As far as TV shows go, the same principle applies.  For example, one day I wanted to watch a bunch of Friends episodes.  Friends was not available for Prime members–you had to pay for it.  However, every single episode of Cheers was available so I went with Cheers.  Again, all of these things are available on Amazon Instant Video but they are not all eligible to be viewed for free by Prime members.
But Amazon Prime Video has come a long way since its inception.  As with Netflix, they are putting out some great, original content.  Some of my favorites include Goliath, The Marvelous Mrs. Maisel, Catastrophe.
The same general formula applies to books.  The "Instant Access to Kindle Books" only applies to certain books and, in all likelihood, not the book that you want to read at the moment.  Translation:  No free access to John Grisham books.  (However, do remember that you can always get library books on your Kindle for free.)
Conclusion:  Is Amazon Prime Worth It?
So, Jeannie, I hope that I have thoroughly addressed your questions about Amazon Prime.
Is Amazon Prime worth it?  It's worth it for me for sure.  However, it may not be everybody's cup of tea and definitely is not a suitable replacement for Netflix if people are looking to migrate from that.
For me, the savings I receive in shipping costs pays for at least half of my annual subscription.  So basically, for about $59 per year, I receive unlimited streaming of thousands of movies and TV shows.  True, they are often not the latest movies and TV shows, but "the latest" does not always equate to the best anyway.
For example, I just watched the movie "Crash" on Amazon Prime for free and that movie won best picture of the year!
PS: The beauty of Amazon Prime is that you can take a test drive before deciding whether Amazon Prime is right you. Check out this Amazon Prime page for a 30 day free trial!

Richard Cummings is a writer, traveler, and web content developer.

Get your copy of his latest book entitled Obvious Conclusions, stories of a Midwestern emigrant influenced and corrupted by many years living in San Francisco and abroad. It just received its first outstanding review "...reminiscent of David Sedaris or Augusten Burroughs" on Amazon UK.

Latest posts by Richard Cummings (see all)