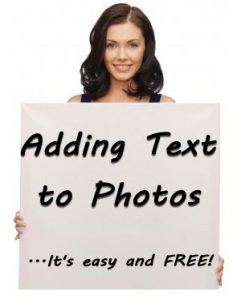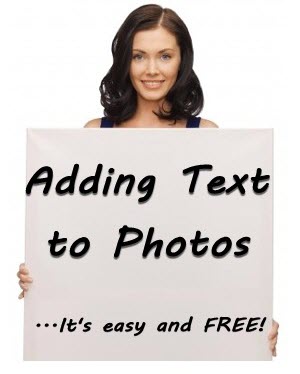 A visitor to A Rich Idea recently asked "How Can I Add Text to a Photo?" I do this all the time so I'll show you how to add text to pictures and images quickly and for FREE!
Here was the email I received: "Richard, my question is about adding text to photos. I have some great pictures and I would like to jazz them up by adding some text to explain the picture and make it look more professional. What is the best way to add text to a photo and is there a way that this can be done for free? Many thanks, Gina from Golden Colorado.
Solution: Adding Text to Photos
Gina, you have come to the right place. As you see on our site, we add text to photos all the time. Just take a look at the home page of A Rich Idea and you will see that nearly all of our articles have photos with text added to them.
In this article, we will tell how we quickly add text to photos, how the professionals do it, and then show you some great little programs and examples of adding text to photos for free.
Adding Text to Photos for Free
Let's get started — I am now going to show you how to easily add text and captions to pictures absolutely free.
And, we'll show you examples of how to do this on two free picture editing sites. The picture that we will add text to is this one (my 35th B-Day party with family members):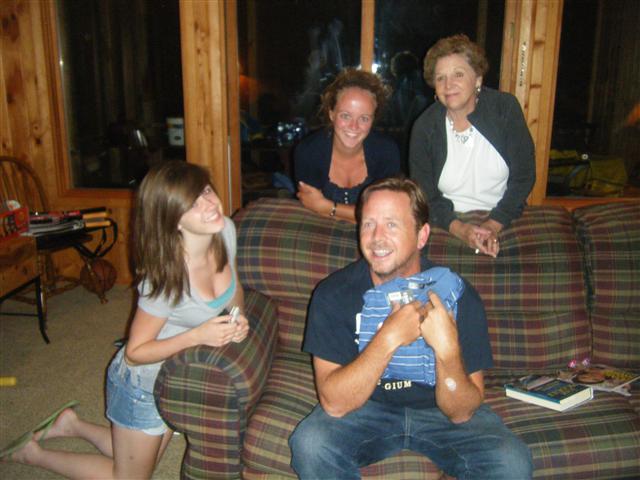 Image Before Adding Text
Adding Text to Images in 10 Seconds for Free
The quickest way to add text to images is a site called Picfont. The reason that it is so easy is that it just does that one thing. Well, it adds borders too…a feature which I really liked.
But, can you add text to a photo in 10 seconds? I'm going to attempt it right now.
Ok, I'm back. It took me two minutes because it was my first time. But two minutes? Not too bad. The way that Picfont works is that you upload your photo, add text, and then download your photo back to your computer. Here is the result below: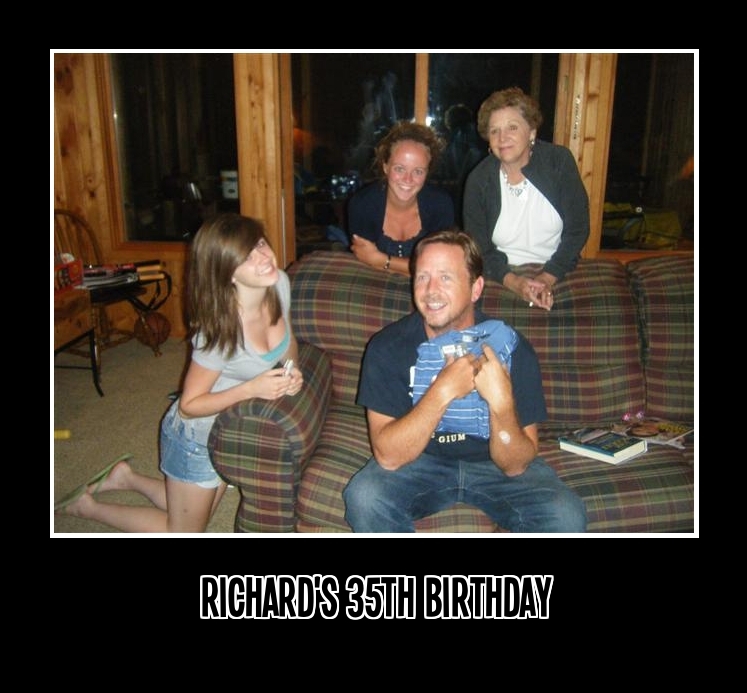 Adding Text with PicHunt–Easy!
Another Easy Site for Modifying Photos for Free
A site that is just about as easy as PicFont and enables you to do more is this Free Online Image Editor. Not only can you add text, you are able to make fancy photo cards for free and relatively quickly. I have taken about 5 minutes with the site and you can see the results below.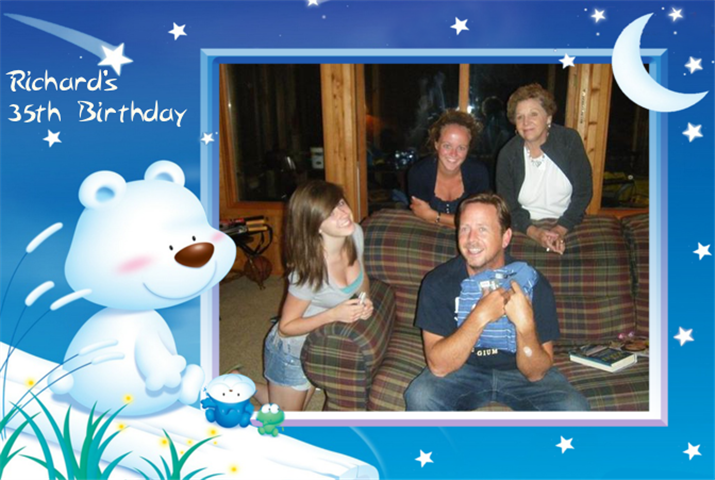 Adding Cool Photo Effects for Free
How I Quickly Add Text to Photos
At this site, my favorite and quick way to modify photos is with a program called SnagIt. I absolutely love this little program and everyone uses it. It is so easy to use to add any type of text to a photo! However, it's not free. Right now, it cost about $49.
You can take a free trial on the Snagit web page.
How Advanced People & Professionals Modify Photos
The program that people use to get really fancy with photos is called Photoshop.
Photoshop used to be very expensive but now they are coming up with some creative pricing to make it more available to the masses. Photoshop also has a trial version you can test drive.
Unlike SnagIt, a program that you can quickly learn to use, Photoshop has a steep learning curve and should not be used if your goal is simply to add text and captions to photos.
The folks at Adobe have attempted to make Photoshop easy to use by anyone. In fact, they even offer a product for personal used called Photoshop Elements. Adobe claims that Elements is "the #1 selling consumer photo editing software".
This Elements software is supposed to be far more user friendly than the full Photoshop application and is far less expensive. Many people, though, have reported that Photoshop Elements is not that easy to use. You can see for yourself. Adobe offers a free download trial of Photoshop Elements.
Conclusion: Adding Text and Other Elements to Photos for Free
Gina, we always try to give comprehensive (and sometimes fun!) answers to questions.
In this post, we let you know what tools most people are using to add text to photos: SnagIt and Adobe Photoshop Elements.
However, each of these cost a little money and, if you just want to do simple photo modifications like adding text, there are great free tools on the Internet.
We introduced you to PicFont and the Free Online Image Editor.
As you see in our examples above, each of these tools is simple to use. By uploading your photo, modifying it, and then downloading it to your computer, you can add text and many other elements to make your pictures look great!
You may also enjoy others articles that I have written on this topic including How To Resize Photos to make them easier to email and post to social media outlets. You might also enjoy How to Make Animated Web Banners for Free!

Richard Cummings is a writer, traveler, and web content developer.

Get your copy of his latest book entitled Obvious Conclusions, stories of a Midwestern emigrant influenced and corrupted by many years living in San Francisco and abroad. It just received its first outstanding review "...reminiscent of David Sedaris or Augusten Burroughs" on Amazon UK.

Latest posts by Richard Cummings (see all)