~ Ana, Dallas, Texas
Google Play Music On Android: Why is it taking up so much space?
Ok, Ana, we got your back. I am sure many other people run into this. In fact, I just checked my Google Phone (which I love but always has storage issues because you cannot add a SIM card) and am right there with you. The app is only taking up about 22MB as you mentioned but the data is consuming 784MB as you see in the photo below:
So I am thinking (just as you readers are), "What up with this?" Isn't all of this music playing from the cloud? Well, it turns out that it is playing from the cloud but, while it is doing so, it is caching (downloading locally) a large portion of the music you are playing…and that cache is staying on your phone. Google Music does this so it will not have to go back to the cloud when you play the same song again.
Strangely, nobody in Googleland seems to have a direct answer to this seemingly simple question: "Can I clear data from Google Play Music on Android"? Everybody goes into these long elaborate answers about how music is cached and so on and so forth but nobody actually says simply what will happen if I select "clear data" or "clear cache".
But, I have just found the quickest answer to this question by poking around on my phone and nobody on the Internet seems to mention it.
Ana, we can accomplish what you need to do in 3 easy steps and ensure that our music in the Google cloud remains intact. Simply bring up Google Play Music on your phone and do the following:
After performing these steps, I have quickly cleared out over 800MB of Google Play Music on my phone in about 2 seconds. Take a look at my Google Play Music settings now.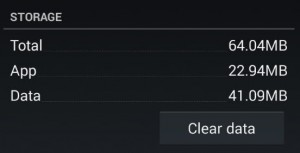 Conclusion: Clearing Storage on Google Play Music
Ana, I hope that 3-step process has helped you quickly clear up space on your phone.
The "Internet Authorities" don't seem to mention this simple solution. Most sites seem to suggest that you need to "clear data" in the App settings and that you will then need to reestablish your Google accounts an so on but that's just not the case.
Finally, Ana, you may want to make sure to uncheck the "Cache During Playback" and "Automatically Cache" to reduce the amount of music stored on your phone.
However, by simply following this 3-step process, you can quickly delete data from Google Play music in a matter of seconds.
Hope this helps!
Cheers,
Richard

Richard Cummings is writer, traveler, and web content developer.

Get your copy of his latest book entitled Obvious Conclusions, stories of a Midwestern emigrant influenced and corrupted by many years living in San Francisco and abroad. It just received its first outstanding review "...reminiscent of David Sedaris or Augusten Burroughs" on Amazon UK.

Latest posts by Richard Cummings (see all)
Google Play Music on my Android phone is taking up more storage space than any other application. When I look at my phone, it says that the app is only using 22MB but the data is taking up like 1GB. I only have 8GB total and this is preventing me from installing other apps. Can I click the "clear data" button to retrieve this space but not lose my songs? Thank you for your help.