Many people have asked me where the alarm clock is on Android phones. For example, I recently received this email from Valerie.
Question: I am searching for an Alarm Clock on my Android Phone and I can't find it. These Android phones do everything so I know that there is an alarm clock, but for the life of me, I cannot locate it. So, my question is, where in the h*ll is the Alarm Clock located on the Android phone? Thanks, Valerie –Houston, Texas
The Android Alarm Clock App
Valerie, I share your pain and you can count me among those who have had to search for the alarm clock on Android. With our old cell phones, it seemed much easier.
But, I gotta say, once you locate this alarm clock app on Android and learn how to use it, it's pretty darn cool as are most things with Android.
So, personally, let me share my experience with you as I tell you the solution to the problem.
One of the first things that I learned how to do on my Android phone was set the alarm clock by voice. Once I realized that I could talk to my phone, I was over the moon. Now, whenever I have to type, it bums me out…I talk out almost everything that I do on Android.
Anyway, let me tell you how to set your Android alarm clock by voice first because that's awesome. Then, I'll share with you the problem that that caused and why I also needed to find the alarm clock app on Android.
How To Set the Alarm Clock App on Android by Voice
When I first saw that little microphone on my Android-based phone next to the virtual keyboard, I tried a few things and realized that this bad boy recognizes nearly everything I say. So, as I talk out everything, one night I thought that, instead of using my traditional alarm clock, I'll just use my Android phone as my alarm clock.
So, taking a shot in the dark, I hit the little microphone on my Android home page and just said: "Set Alarm 6:30am".  And, boom, my phone immediately set the alarm clock for 6:30am.
That was awesome I thought!
Here are 8 other Android Voice Commands that you may find really useful.
Where Is The Android Alarm Clock App?
Having set the Android alarm clock by voice, I realized that, obviously, there is some kind of Android alarm clock app that is controlling all of this but I didn't even need to know where it was.
Until, one day, when I had already set the alarm by voice for 6:30am but I realized that the next day was a weekend and I did not want to wake up until at least 8am…or maybe even 10am!
"How do I unset the alarm on Android?", I wondered.
Well, I'll just go to the Android alarm clock app and unset it. So, I searched and searched using the term "alarm" and was getting nothing back. What the h*ll is going on, I thought. This should be easy to find. Where is the Android alarm clock app? I even tried like a doofus to say to my phone various things like, "Unset alarm." Nothing worked.
I thought this should be easy but it wasn't. So, hopefully I can make it easy for you right now.
Solution: The Alarm Clock on Android
The solution is this. The built-in alarm clock on Android is just called "Clock". Of course, I kept searching for "alarm" so I never found it.
To find the built-in alarm "clock" app on Android, simply use the search feature on your home screen by clicking the blue Google emblem. This will bring up a window that allows you to search and you can just type in "Clock".
At the bottom of the search results you should see your clock app as in the photo below: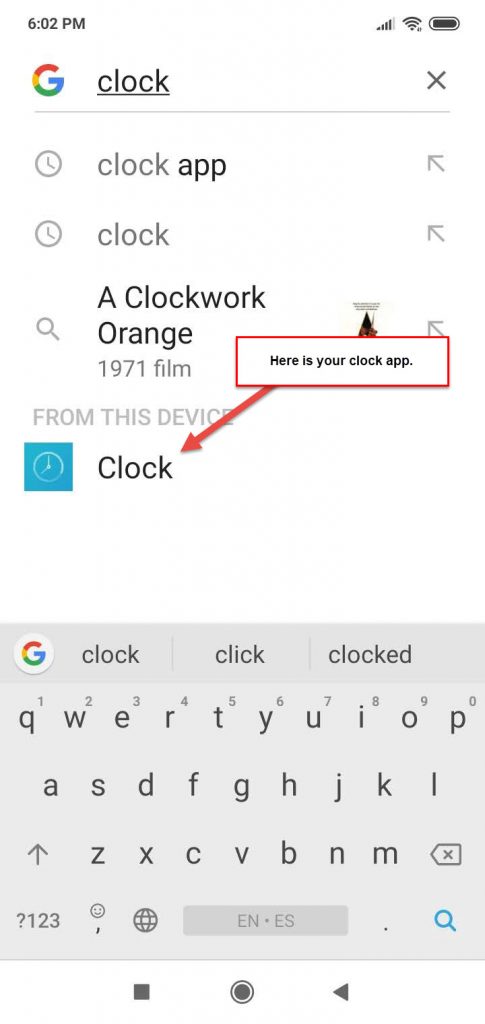 Once you have found the clock app on your Android, now you can manually set or unset all of your alarms.
But I'll always still prefer my voice commands 🙂
The Alarm Clock on Android:  Conclusion
Valerie, I hope this answers your question "Is There An Alarm Clock for Android and Where Is It?"
In summary, there is an alarm clock app built-in to Android and it is called "clock". And, the easiest way to set the alarm clock on Android phones that have voice commands is simply by saying "Set Alarm [time]".
And if you don't like the built-in Android alarm clock, here are the 10 best clock apps for Android so you can choose a different one.
If anybody has any questions, feel free to ask them below!

Richard Cummings is a writer, traveler, and web content developer.

Get your copy of his latest book entitled Obvious Conclusions, stories of a Midwestern emigrant influenced and corrupted by many years living in San Francisco and abroad. It just received its first outstanding review "...reminiscent of David Sedaris or Augusten Burroughs" on Amazon UK.

Latest posts by Richard Cummings (see all)