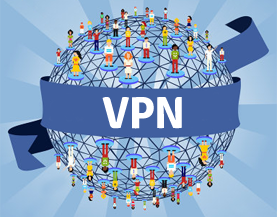 Welcome to an honest assessment of the best VPN products on the market in 2022.
I'm creating this page out of sheer frustration because of the numerous false claims by supposed, genuine reviews of VPN services.
The truth nowadays in 2021 is that VPN services are all pretty decent. The majority of the Top 5 VPN services in the list below are fast, secure, and reliable.
But, before making any immediate decisions, please read on.
The False Claims of VPN Services
The mistruths surface when the VPN companies or bogus VPN review sites claim that a VPN product works with a certain website or streaming video service and it actually doesn't.
When you buy their product based on these false claims, you lose a lot of time, money, and patience.
For instance, I need whatever VPN service I select to work with YouTube TV, Netflix, the Bank of America website, HBO, Showtime, Charter Cable, ESPN+, and a few more.
And nearly all the VPN companies and review sites claim that their products work with streaming websites such as YouTube TV.
And that is blatantly untrue.
YouTube TV, for example, is currently blocking nearly all (see below for my VPN Service that works with YouTube TV) VPN connections.
Why Are There So Many False Promises?
So why are these false claims about VPN Services being made?
The answer to this question is the answer to too many questions: money.
When you visit a VPN review site, they will receive a very healthy affiliate commission if you buy a VPN product by clicking the links on their site.  Similarly, VPN companies make these sometimes empty promises so that you will sign up for their product and they will earn money.
In fairness to everyone involved, the functionality of a VPN product can differ from day-to-day.
So, when one VPN company says "Yes, we work with YouTube TV", it's possible that they did at one time and you're looking at outdated information.
It's like a cat-and-mouse game.
The VPN company creates a new list of IPs for their VPN product and then the video streaming service blocks these IPs so that they no longer work.  Then, the VPN company creates more IPs, which work for awhile and then get blocked again. And, the wheel goes round and round…
But shouldn't it be incumbent upon these companies to keep updated information about their product?
If I buy VPN solution so that I can use it with YouTube TV and it doesn't work, aren't I going to be very disappointed?
The answer to that is yes.
But the hope of the VPN company is that you'll forget all about them — you won't ask for a refund and you'll forget to cancel before the next subscription cycle, which is often 2 or 3 years.
How to Always Choose the Right VPN
So, as customers, how can we win?
The answer: By taking advantage of the VPN guarantees!
Nearly all VPN companies offer a 30-day money back guarantee. To take advantage of this, make sure you use the VPN right away and, if it doesn't meet your needs, cancel it immediately.
This is the only way the customer can truly win with VPN software — you must test the VPN product to make sure it works with everything you do online.
Unfortunately, your solution may have to be plural — meaning that one VPN solution may not meet all your needs, which happens to my case.
What VPN Products Do I Use?
I like to always connect to the internet via VPN for two reasons.
First, I do like the security features and the fact that my geo-identity is blocked when I use a VPN.
Secondly, and more importantly, you readers of my website know that I'm often abroad traveling in Uruguay and other parts of South America and I need my internet presence to be in the United States.
So what VPN products do I use to make this happen?
I am a current and active user of the two most popular VPN products: NordVPN and ExpressVPN.
I use NordVPN for practically everything. I use NordVPN for streaming YouTube TV, Netflix, HBO, Showtime, ESPN Plus, etc.
Unfortunately though, NordVPN does not currently work with the Bank of America website which is very frustrating and why I need two VPN products.
The VPN product that currently works with Bank of America is ExpressVPN.
In comparing NordVPN with ExpressVPN, I can honestly say I like them both but it seems to me that NordVPN is a little bit faster — I realize that's a completely unscientific opinion but it is based on literally hundreds of hours of use and video views, which is probably more accurate than any quick, scientific assessment that you will read.
Conclusion: The Best VPNS of 2022 and How to Choose The Right One
My goal with this article has been to present to you the top VPN service of 2022 and how to choose the best one for you.
Not every VPN solution matches all circumstances.
You want to know what it is that you do on a daily basis and what VPN solution allows you to do all of those things uninterrupted.
I can tell you it's quite annoying when you have to disable your VPN solution to do something and then re-enable it again after you've done that particular something.
Bottom line is that you want your VPN product to be on all the time and work with everything that you do.
And truthfully, it can be difficult to identify the right solution for you and it would be nice for all of us if VPN companies and VPN review sites were honest.
But unfortunately, they are not.
So as consumers, we need to take advantage of the guarantees offered by VPN companies and test them out to make sure that they work. And if not, we need to cancel right away and test out another VPN company that works for us.
In my particular situation, I use two VPN provider Solutions, NordVPN and ExpressVPN.
I use NordVPN for virtually everything that I do and ExpressVPN because it works with Bank of America.
I hope this article has helped you out with how you are going to go about choosing the best VPN providers in 2020.
Let me know if you have any questions in the comments below and be sure to view the full list of the top 18 VPN providers in the appendices below so that you can find the one the meets all your needs.
Cheers,  Richard
---
Appendix:  The Top 18 VPN Products of 2020

Richard Cummings is a writer, traveler, and web content developer.

Get your copy of his latest book entitled Obvious Conclusions, stories of a Midwestern emigrant influenced and corrupted by many years living in San Francisco and abroad. It just received its first outstanding review "...reminiscent of David Sedaris or Augusten Burroughs" on Amazon UK.

Latest posts by Richard Cummings (see all)