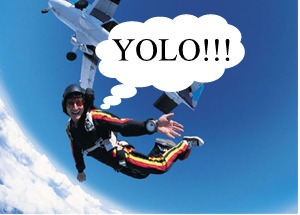 YOLO is an acronym that one must embrace! We'll tell you what YOLO means and how it got popular!
You all have probably heard the expression that someone is "like a cat with 9 lives".  But that is just an expression.
In life, there is one thing that we all have in common.  Well, unless you believe in past and future lives.
YOLO is that essential ingredient that motivates some and puts the fear of God–quite literally, in many others.
Why?  What is the common element we all share?  Life!
YOLO stands for You Only Live Once!
How Did YOLO Get Started?
You only live once is not a new expression.  I am sure that you have used it many times in the past before you did something daring or took a chance that you may have perceived as risky.
However, it's acronym form–YOLO–is still relatively new.  Since  people are all about abbreviating things and making life way faster than it needs to be, YOLO hit the scene.
In fact, shortening the expression to YOLO may just be another small example of the concept in action.  Since life moves fast and you must make use of all of your time, you can now just say YOLO instead of using more breaths to say the whole expression You Only Live Once.
So, when did YOLO become part of the scene?
Drake:  Making YOLO Mainstream
YOLO first hit the scene a while back on Twitter.  However, a young, popular rapper made the phrase common among young hipsters.  His name is Drake and the song is titled The Motto.  Watch it here. 
Zac Efron YOLO Tatoo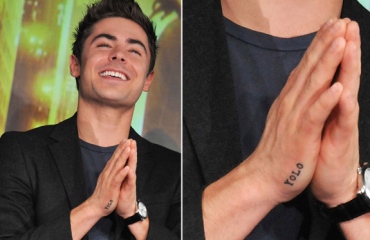 For those who do not listen to Drake, another star entered the fray and exposed all of his fans–young girls the world over–to the concept of YOLO.
As you see in the photo above, Zac Efron has YOLO tattooed on his hand.
The YOLO Parodies
Of course, when a term gets very popular as YOLO has it generates some folly.  The whole concept of You Only Live Once can not only drive people to do extraordinary things but also very stupid things.  We all know…one's man's dream may be another's foolishness.  Thus, many parodies have evolved on YOLO, one of which stands for You Only Lose Once.
Check out the many Google results for YOLO Parody and you will find many text and video results which mock the whole YOLO concept.
What Does YOLO Mean:  Conclusion
By now, we've answered your question and given you ample examples of YOLO in pop culture.
Now, the question you need to ask yourself is:  what does YOLO mean to you?
When you think, "Well, you only live once", how does that inspire you?
Does it make you want to pursue that dream of starting a business or becoming a professional singer?  Then, that's great and you understand the concept.
Or, does it inspire you to light up one of your farts just to see what happens?
If so, perhaps you'd be best to remember YOLO the other way:  You Only Lose Once!
Cheers Everyone!  You only live once so go do what you love and love what you do!

Richard Cummings is a writer, traveler, and web content developer.

Get your copy of his latest book entitled Obvious Conclusions, stories of a Midwestern emigrant influenced and corrupted by many years living in San Francisco and abroad. It just received its first outstanding review "...reminiscent of David Sedaris or Augusten Burroughs" on Amazon UK.

Latest posts by Richard Cummings (see all)