Question:  Hello, it's late tonight and I have to go to a Walgreens near me.  Are all Walgreen's open 24 hours?
---
Answer

:  Walgreens and the 24 Hour Question

This is a great question because we too have had that late night need to go Walgreens.  In fact, late one night when I could not sleep I ventured out at 3:30am to my local Walgreen's to get some necessities.

I made the assumption that all Walgreen's are open 24 hours.  And do you know what happened?  They were closed!!!  Arrgggghhh…

I was dumbfounded.  I assumed that ALL Walgreens were open 24 hours and they are not.  Only some Walgreen's are open 24 hours a day.  So, how can you figure out which Walgreen's near you are open 24 hours.  Well, let's have a look.
How To Find A Walgreens Near You Open 24 Hours
Even though not all Walgreens are open 24 hours (which is a bummer, we know), Walgreens fortunately has an easy way to determine the closest Walgreens to you that is open 24 hours a day.
All that you need to do is vist this Walgreens Store Locator page.  As you see in the photo below, all that you need to do is put in your zip code and then BE SURE TO CHECK THE "Store Open 24 Hours" button.  And, voila!, you now have a list of the Walgreens nearest you that is open 24 hours a day!
And The Results Are In…
Below, you can see the results of my search for the Walgreens that are open 24 hours near me.  By following the directions above, you should be able to easily find the results for your area.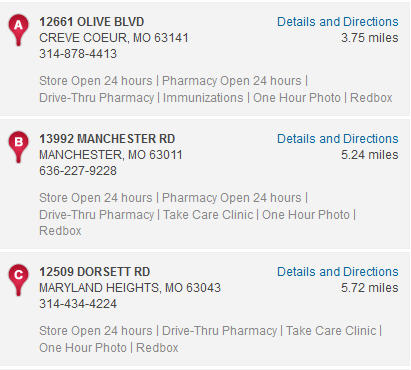 We hope this post has helped you in your search for late-night Walgreens.  Sometimes, when you can't sleep or have that late night emergency, finding a 24 Walgreens near you is an absolute necessity.  Hopefully, we helped you locate it!
Cheers, Richard

Richard Cummings is a writer, traveler, and web content developer.

Get your copy of his latest book entitled Obvious Conclusions, stories of a Midwestern emigrant influenced and corrupted by many years living in San Francisco and abroad. It just received its first outstanding review "...reminiscent of David Sedaris or Augusten Burroughs" on Amazon UK.

Latest posts by Richard Cummings (see all)