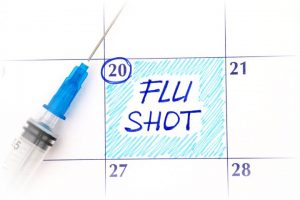 When flu season arrives, many wonder when they should get the flu shot. Wonder no more because I've got you covered.
Here is an email that I just received from a frequent guest of A Rich Idea:
Question:  Richard, hi.  The upcoming winter time seems to be the time when people get the flu so I was wondering when I should get my flu shot?
Answer

: When You Should Get Your Flu Shot!

The flu shot vaccine can take 2 weeks to achieve full immunity.

Thus, you will want to get the flu shot (you can do so at a 24-hour Walgreens near you) at least 2 weeks before flu season, which varies every year but can begin as early as October.

If you have not gotten the flu shot before flu season begins, this does not mean that you should not get it at all.  You should get the flu shot at any time during the flu season if you forgot to do it before.  This will protect yourself and others.

Richard Cummings is a writer, traveler, and web content developer.

Get your copy of his latest book entitled Obvious Conclusions, stories of a Midwestern emigrant influenced and corrupted by many years living in San Francisco and abroad. It just received its first outstanding review "...reminiscent of David Sedaris or Augusten Burroughs" on Amazon UK.

Latest posts by Richard Cummings (see all)