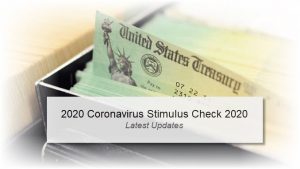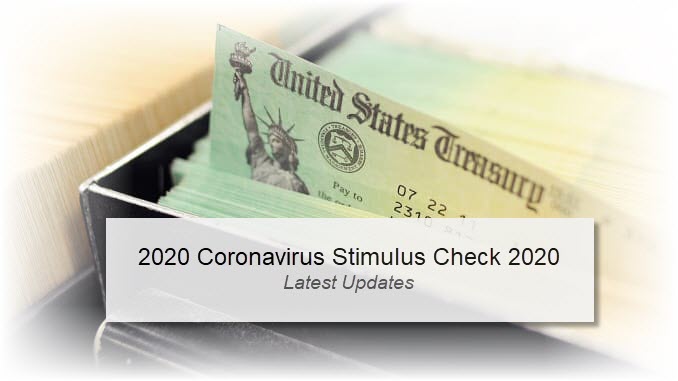 Want some good news? Yes, you will be getting a third stimulus check! Find out when and how much below.
While many want to know when they will receive their 2020 coronavirus stimulus check and are busy stocking up on Coronavirus protective equipment, others want to know what the delay is as the coronavirus continues.
Rest-assured, I've got you covered from all angles with daily updates about the third stimulus check. 
Let's begin with the Stimulus Payment FAQs and then take a look at the daily stimulus updates.
---
The 2020 Stimulus Check: FAQs
In the section, we will present all of the frequently asked questions about the COVID-19 stimulus checks.
There are a lot of them so let's get to it.
Will there be a third stimulus payment?
This is the question on most people's minds as of today and we now have an answer.  As of Thursday, March 11th, Joe Biden signed into law the American Rescue Plan Act, which provides for a stimulus check of $1,400 for all those making $75,000 or less.
Will there be a second stimulus payment?
As of December 22nd, 2020, we can now say firmly that — YES!!! — there will be a second stimulus payment.
The payment for most will be in the amount of $600 — about half the amount of the first stimulus.
Discussions about a second stimulus payment began in earnest the week of May 11th.
At that time, no decisions were firmly made. Many sources said that a second stimulus payment, or a second round of stimulus payments, was a near certainty given the economic challenges faced by the majority of Americans.
Donald Trump had said that any stimulus package that he will sign must include payroll tax cuts. Initially, there were 4 proposals on the table for a second stimulus package including one which pays many Americans $2,000 a month and another that eliminates mortgage and rent payments for up to a full year.
On May 15th, all proposals were boiled down into a second stimulus known as the HEROES ACT, which was passed in Congress but was DOA in the Senate. This bill did not contain any form of monthly payment and essentially repeated the previous one-time payment from the first stimulus bill.
Want to know more detail?  Here is 10 point summary of the HEROES ACT.
The Senate did nothing, thinking that things were getting better. However, with Coronavirus spreading quicker than ever, things were only getting worse which prompted the Senate to finally act when they resumed federal work on July 20th, 2020.
The result?  The Senate introduced the HEALS Act on Monday, July 27th which was not met with great fanfare by either the Republicans or the Democrats.
With disagreements on the details, the houses of Congress did not reach an agreement but they resumed discussions and the odds increased for a second stimulus payment.
Finally, in late December of 2020, the House and Senate came to an agreement to send stimulus checks of $600 to many Americans, although Donald Trump would like that number to be $2,000, a fact he should have mentioned months ago!
Who qualifies for the $1,200 coronavirus government stimulus payment?
Those Americans who earn $75,000 a year or less all qualify for the $1,200 stimulus payment.
Checks in a smaller amount will go out to those who make up to $99,000 per year. The $1,200 stimulus payment is reduced by $5 for every $100 in income over $75,000 per year.
The same basic rules apply for married couples whose gross income is under $150,000 per year. These married couples will receive a check in the amount of $2,400. Again, like above, reduced checks will go out to couples that earn in excess of $150,000 per year.
Married couples with children will also receive an additional $500 for each child in their family.
Regarding those who file as "head of household, they are eligible for a $1,200 check if they earn $112,500 per year or less. Reduced checks will be provided to those earning up to $136,500 annually. Head of households will also receive a check for their children in the amount of $500.
Where will the government send the money?
For those who have already filed their 2019 tax return and have direct deposit setup (see how to setup direct deposit for your stimulus check), the IRS will use this direct deposit and put the money directly in your account. If the IRS does not have your banking details and has no means to do a direct deposit, they will send you a check.
If you have not filed your 2019 taxes, they will use your 2018 taxes and, if you have direct deposit for this, they will do their best to do a direct deposit into your bank. If not, they will send the check to the address they have on file for you.
You will all be receiving your stimulus checks at different times.
The US government will initially make around 60 million payments during the week of April 13th for taxpayers who have their direct deposit information on file with the US government.
Obviously, if you have direct deposit setup, you will receive your stimulus payment much quicker. The government, in all likelihood, has your direct deposit information on file if you provided it with your 2018 or 2019 tax returns.
Given that direct deposit payments will be received much sooner, many people would like to provide the IRS with their direct deposit information so that they receive their stimulus payments in a more timely manner.
To that end, Treasury Secretary Steve Mnuchin has indicated that the government will be setting up a web portal for people to provide their direct deposit information. I will update you when and if this becomes available.
On or about the week of May 4th, the federal government will begin issuing and mailing 2020 stimulus checks to people whose bank information is not registered.
The government will be sending out 5 million stimulus checks each week until all qualifying Americans receive them. The first batch of 5 million coronavirus stimulus checks will go to the lowest incomes and will move up the scale until all checks are mailed.
It could take up to 20 weeks for all Americans to receive their 2020 stimulus payments.
Will the people on social security receive the 2020 stimulus payment?
The answer to that question is yes, if their total income does not exceed the limits.
For those who receive the SSA 1099 form, which is the social security benefit statement, the federal government will have their information and will be able to send them payment the way they normally receive their social security payment.
Will retired people receive the stimulus payment?
Yes, retirees are eligible to receive the 2020 coronavirus stimulus payment as long as their other income does not exceed the current threshold.
Are people on disability eligible to receive the stimulus payment?
Yes, people on disability will receive the stimulus payment as long as they don't have any other sources of income that exceed the thresholds.
Will there be more than one stimulus payment?
This was certainly discussed in the beginning between the President and Treasury Secretary Steve Mnuchin. The initial idea was one check now and one check in about two months. However the current stimulus package only calls for one check in the amount of $1,200 to be delivered.
How many Americans will receive the 2020 stimulus payment?
Approximately 125 million Americans will receive this payment.
Do I have to pay tax on this payment?
For most Americans, the answer to that question will be no.
However, the payment does make some assumptions about your 2020 income which the government does not know yet. If you had a much higher income in 2020 [good for you!] than you did in 2019, it is possible that you may have to pay back some of the money.
For example, if you exceeded the $75,000 or $99,000 thresholds and the government does not yet know this, you may have to pay the money back.
This will not likely apply to the majority of Americans.  And, if it applies to you, you can feel good that you earned a lot more money in 2019 than in the past 🙂
---
2020 Stimulus Payment: Daily Updates
Now, let's get to the latest updates on the 2020 government stimulus package.
As you see, the final daily update for the first stimulus payment took place Saturday, March 28th, 2020 as the stimulus bill was signed and the first 2020 stimulus checks were guaranteed.
On May 11th, serious talks of a second stimulus payment began and so we have renewed our updates but progress by the Republicans' has been slow, very slow.
If you're wondering how long a second stimulus bill may take to be signed into law, the first stimulus check process indicates that it may take about a month. 
Saturday, March 13th, 2021:  Third Stimulus Checks on the Way
Joe Biden signed into law The American Rescue Plan Act which will provide all Americans earning $75,000 or less a third stimulus check in the amount of $1,400.  Click the image below for more!

Friday, October 23rd:  Nearing A Deal
Yesterday, Nancy Pelosi said that she and Steve Mnuchin are "just about there" in regards to agreeing on a second stimulus package and check for Americans.

Saturday, Oct 17th:  Trump Says Go "Big"
The latest talks of a second stimulus have the two sides quiviling over the numbers.  As we read in this latest update:
With the election looming, Trump has been pushing to get a deal done and even tweeted at the sides to go "big," according to cnet.com. Currently, the Republicans are focused on a $1.8 trillion package, but the Democrats don't want to go for less than $2.2 trillion.
Wednesday, Oct 14th:  A House Divided
The House remains divided on a second stimulus package and, perhaps more importantly for you, a stimulus check to help you out during these tough times.

Monday, October 5th:  Trump's Covid Inspires More Stimulus?
It is looking like a possibility that Trump's Covid diagnosis may hasten your receival of a second stimulus check.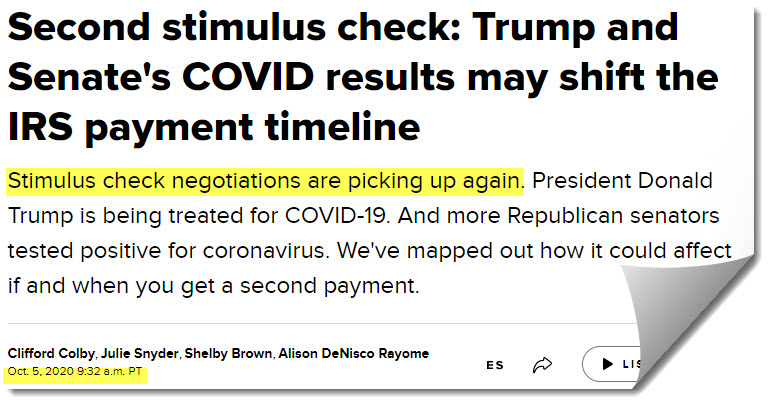 Sunday, August 16th:  Still Disagreement on Second Stimulus Package!
Well, our US Congress has failed us again with their endless bickering and unwillingness to compromise.  Read more:  Second stimulus check update: why is there no agreement?

Friday, August 7th:  Stimulus Talks In Danger of Collapse
The second stimulus bill put forth by the Senate last week called The Heals Act is currently going nowhere.  In fact, the Chicago Tribune reports that it's "in danger of collapse".

Wednesday, July 29th:  Arguments over the HEALS Act
The Republican-filled Senate continues to argue over the details of their new stimulus package called The HEALS Act which was introduced on Monday.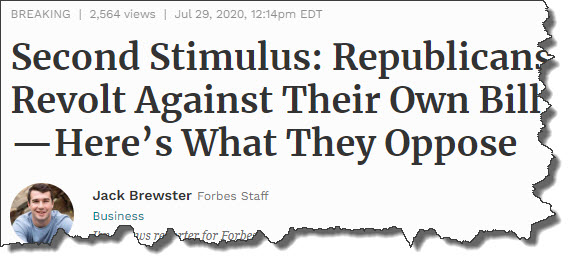 Tuesday, June 23rd:  Trump Says Second Stimulus Will Come Within Two Weeks and Be "Very Generous"
In an interview yesterday, President Donald Trump said that there will be a very generous second stimulus check of 2020 forthcoming.

Wednesday, June 3rd:  Still in Limbo…
The Heroes Act continues to languish in the Senate as Congress may decide on a second wave of stimulus checks this month.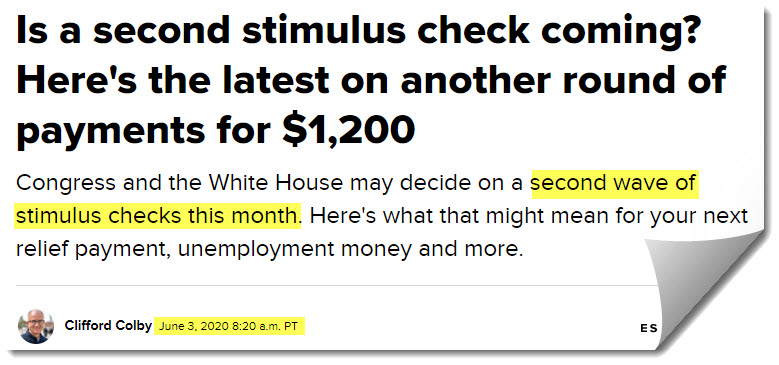 Saturday, May 30th:  As Senate Stalls, People Speculate
While the Senate sits on the Heroes Act, and senate leader Mitch McConnell suggests nothing will be done until the end of June, people are speculating about what will happen.
In his piece in Forbes, author Jim Wang suggests that a second stimulus check is becoming less likely.
After the last week or so, it's getting closer to 0%.
Click the headline graphic below for more information.
Thursday, May 28th:  Senate Continues to do NOTHING
The Heroes Act passed the House on May 15th and has been in the hands of the Senate for nearly two weeks.
Seemingly oblivious to the plight of a majority of Americans, the Senate continues to do nothing.
Many Republicans don't like the Heroes Act. And, to be fair, the Democrats tried to slip a lot of extras into the Heroes Act that would virtually ensure that it did not pass through the Senate.
Nonetheless, their duty is to either pass it or come up with something new to help out Americans who they have forced to stay at home and close their businesses during the pandemic.
At the very least, Mitch McConnell, the Senate Majority leader, has finally acknowledged that Congress will probably have to pass another coronavirus stimulus bill.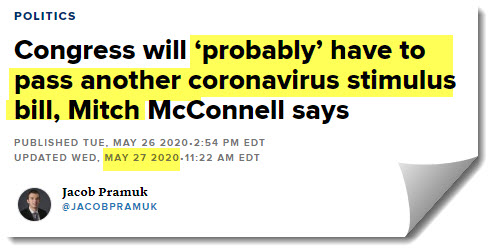 Monday, May 18th:  HEROES ACT Awaits A Vote in Senate
The Heroes Act, passed in the House on Friday, awaits a vote in the Senate but is highly unlikely to pass because Republicans are appalled by the $3 trillion dollar Heroes Act.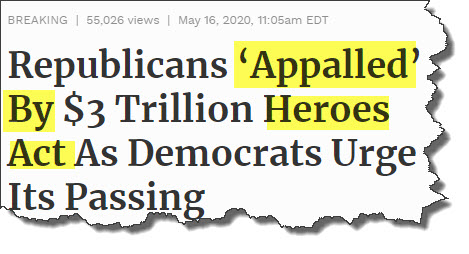 Saturday, May 16th: HEROES PASSES HOUSE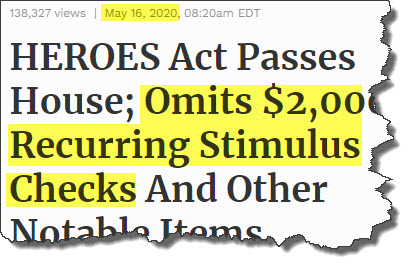 The HEROES Act has been passed in the House and that probably means…virtually nothing.
Why does it mean nothing? Well, as we read in Business Insider: "Despite passage in the House, it is not likely to be backed by Senate Republicans, who have expressed disapproval of the bill."
The iteration of this HEROES Act contains none of the monthly and/or quarterly payments to Americans that were initially proposed.  It essentially repeats the previous one-off payment of $1,200 that many Americans received in the first stimulus payment.
Thursday, May 14th:  Contemplating The Heroes Act
The Heroes Act that was released on Tuesday could be voted on by the House as early as Friday.
The bill, 1,800 pages in length, would extend benefits for unemployed Americans, provide for a second round of direct $1,200 stimulus checks, and also provide funding for food, rent, and mortgage assistant programs.

Monday, May 11th: Talks of a Second Stimulus Payment Begin
On May 11th, Americans are in need of a second stimulus payment as various ideas are currently on the table, one of which includes a $2,000 a month payment. This article outlines the four current proposals for a second stimulus payment.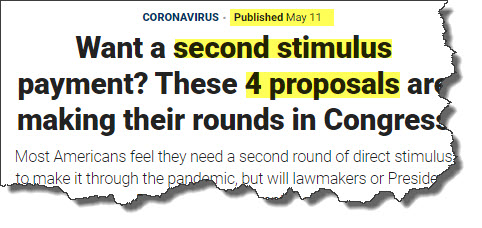 ---
Saturday, March 28th:  House Passes and Trumps Signs Stimulus Bill
There are no more barriers to you receiving a coronavirus stimulus check in 2020.
Congress has passed and Donald Trump has signed the largest stimulus bill in American history at $2 trillion dollars.  Click the image below for more:

Friday, March 27th: House Must Return to Washington to Vote on Stimulus Bill
What was thought to be a foregone conclusion by a voice vote changed dramatically Friday as one representative, Rep. Thomas Massie, R-Ky, said that he would oppose the bill.
This forces an in-person vote and all lawmakers must return to Washington putting them at greater risk of contracting the virus.
Here is a Rep. Dusty Johnson on a nearly empty plan having to return to DC to make the vote.
A bipartisan (and socially distanced) flight to DC this morning to vote on Coronavirus economic relief. @RepPeteStauber @RepAngieCraig @BettyMcCollum04 pic.twitter.com/8o48sSvYrW

— Rep. Dusty Johnson (@RepDustyJohnson) March 27, 2020
Thursday, March 26th: 2020 Stimulus Check — Waiting On Congress
Yesterday, the 2020 stimulus package was agreed upon. Now, it has been voted upon and passed…but only by the Senate.
Now, it needs to be voted upon and passed by the House. This is seen as a foregone conclusion and should happen by Friday so checks and direct deposits can happen quickly.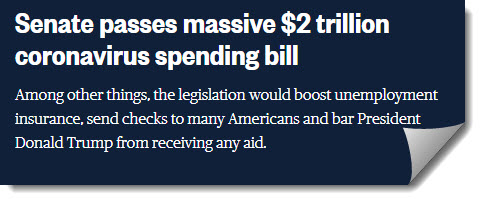 Wednesday, March 25th: A Deal is Done – Your 2020 Stimulus Check Will Be $1,200
The Senate worked late into the night to agree on their 2020 stimulus.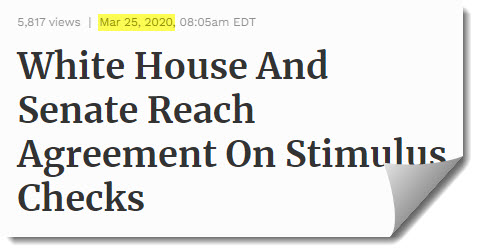 While it includes many provisions, the one Americans are most interested in is a stimulus check for them.
So [drum roll please], your 2020 stimulus check will be in the amount of $1,200 if you are an adult making $75k or less.
The payment decreases a bit for those who make more than $75k and will stop with those making $99k or more.
Additionally, each child will receive a stimulus check for $500.
The measure is agreed upon but not yet voted upon — that should happen this afternoon. We'll keep you up to date!
Tuesday, March 24th: Hours Away from a Stimulus Deal
The Democrats and the Republicans are getting every closer to a stimulus deal. Nancy Pelosi is optimistic that Congress could get something done "in the next few hours." CNBC also reports that Congress is getting closer to a deal on the massive coronavirus stimulus bill.
Let's keep our fingers crossed that partisan politics can be overcome and that the 2020 stimulus checks will be delivered soon.
Monday, March 23rd: Stimulus Talks Ignite Partisan Anger
After three days of intense negotiations, and thousands more Americans contracting the coronavirus, the Senate still has not come to an agreement about the 2020 coronavirus stimulus payments.
Talks will continue today. Here are the current five policy disagreements that are blocking the passage of the 2020 coronavirus stimulus.
Sunday, March 22nd: Negotiations on a Stimulus Check Falter
In spite of the fact that the US now has over 33,000 coronavirus cases with this number increasing more than 5,000 each day, Congress has still not been able to agree on a stimulus package to help out each American with the stimulus check that they began discussing in the past weeks.
Why have the negotiations faltered? Well, sadly, it's politics as usual as we see in this video.
Senate 2020 Coronavirus Stimulus Bill Negotiations Falter: Democrats & Republicans Can't Agree
March 22nd: After countless hours debating, Democrats & Republicans can't agree on the stimulus bill.
Saturday, March 21st: Senate Still Debating on Stimulus Checks
With no resolution reached on Friday, lawmakers continued to work on Saturday to create a stimulus package that would help out all Americans with a 2020 stimulus check.
However, given that this is a $2 trillion dollar stimulus package, there are still many details to be worked out and the Senate has reached no definitive conclusions or dates regarding stimulus checks to each American. Click the image below for more.

Friday, March 20th: Stimulus Debates Continue With No Resolution
Coronavirus cases are soaring by the thousands each day with the total number of cases in the US reaching 20,000. Meanwhile, Congress is debating about the specifics of the 2020 stimulus check payment to all Americans.
Thursday, March 19th: Two Coronavirus Stimulus Checks for $1000 Each?
Treasury Secretary Steve Mnuchin says the White House coronavirus stimulus plan will probably give every American adult two checks worth $1,000 and another $500 for each child. Of course, this is no guarantee and Forbes is still speculating what the 2020 coronavirus stimulus checks might look like.
Wednesday, March 18th: What We Know and Don't About the Stimulus Check
Another day of precipitous growth of the coronavirus in the US with 3,000 more cases being reported in just one day. Discussions of the stimulus continue but no firm resolution is made. This is what we know and what we don't know about the 2020 stimulus check today.
Tuesday, March 17th: The First Day Of Serious Stimulus Check Talks
Between March 16th and 17th 2020, the US saw the biggest one-day jump in the number coronavirus cases. With about 2,000 more cases reported, it became clear that things would only get worse and the Trump administration finally got down to serious discussions about sending every American a stimulus check in 2020. Click the photo below for more info:
Monday, March 16th: Earnest Talks to Give Every American Adult $1,000
Senator of Utah and former presidential hopeful Mitt Romney announces that he too promotes the idea of stimulus checks being sent sent to every American as part of a broader measure to stem the economic impact of the coronavirus.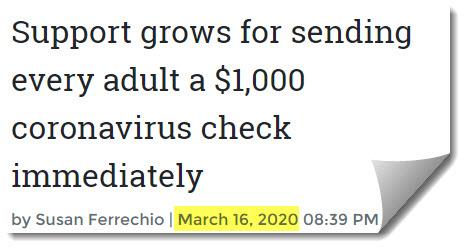 Sunday, March 15th: Fed Rate Cuts
With current coronavirus cases now it's exceeding 3,500, the United States cut Federal interest rates once again to zero and announced a 700 billion dollar stimulus plan but the idea of sending stimulus checks to Americans is still only in the consideration stage.
Saturday, March 14th: Things Are Starting To Get Done – Free Coronavirus Testing
The House passes a financial aid bill that guarantees free testing. The New Yorker ponders what a stimulus plan should look like. And politico asks the question: Who gets saved in who collapses?
Friday, March 13th: More Calls for 2020 Stimulus Checks to Be Sent To Americans Immediately
It's Friday the 13th and the coronavirus numbers are only worsening in the United States. We are seeing more calls for Congress to send Americans cash immediately.

Thursday, March 12th: A Second Proposal for a Direct 2020 Stimulus Check to Americans
New coronavirus cases are starting to show up by the hundreds every day. With over 1,600 current cases, Business Insider suggests that a stimulus package that puts individual Americans first is the best fixed.

Wednesday, March 11th: Steve Mnuchin Pledges Government Support
US Treasury secretary Steve Mnuchin finally engages in serious talks confirming that the government will be taking steps to help small businesses and workers as they struggle to survive amidst the coronavirus outbreak.
Tuesday, March 10th: The First 2020 Stimulus Check Discussed
The coronavirus count in the US has just about reached 1,000 people and we see our first signs of people talking about a 2020 stimulus check given directly to the people.
The Atlantic declared Give People Money Immediately.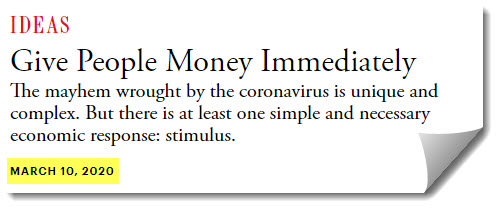 Monday, March 9th: First Trump Stimulus Proposal
With the coronavirus now in 34 states and many more Americans on cruise ships with the virus, Donald Trump finally proposes a stimulus comprised of a payroll tax cut and financial relief for businesses and workers. Of course, no specifics were given, but it was going to be "very major" and "very dramatic".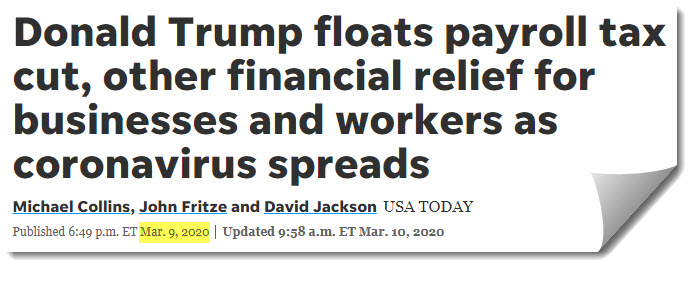 Sunday, March 8th: Attitude Still Pretty Chill
As we see in this interview with Dr. Anthony Fauci, director of the National Institute of Allergy and Infectious Diseases, the cases of coronavirus in the US are still below 500, attitudes are still relatively sanguine, and there's still no talk of a direct 2020 stimulus check to the US population.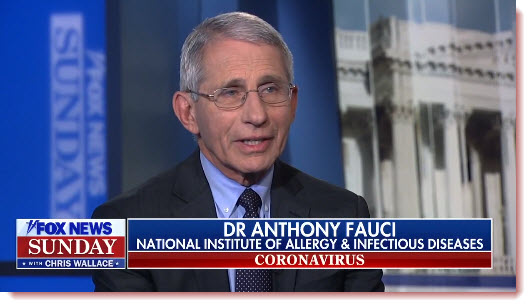 Also, by this date, cases in Italy have exploded and they have just implemented full lockdown.
Saturday, March 7th: Still No Talks of a 2020 Stimulus Check
By Saturday March 7th, the US is still not reacting to the Coronavirus in a way that indicates that they see the true gravity of the situation. While talks are in place about the economic impact of the Coronavirus, President Donald Trump continues to diminish the severity of the Coronavirus and even suggests that the virus may provide an economic benefit the US.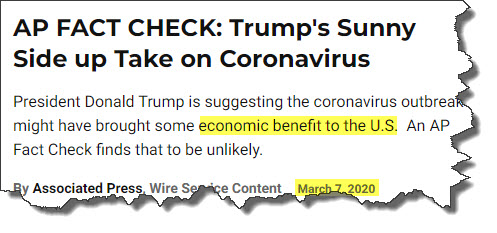 Friday, March 6th: Coronavirus Bailout Talks Begin
With China at over 80,000 cases and Italy now showing more signs of a drastic uptick in the number of people with the Coronavirus, the US government finally begins discussions of a coronavirus bailout as they see what's coming.
Interestingly, on this day, China had already begun flattening the curve while the US was still not really taking the virus seriously.
Thursday, March 5th: Stock Market Sliding More Help Needed
While the stimulus package that included government checks to all US citizens was still not on the table, Wall Street began wanting a lot more than Fed rate Cuts as the stock market began to decline.
Wednesday March 4th: Still No 2020 Stimulus Check Talks But Biden Won Big On Super Tuesday
On Wednesday March 4th, the Corona virus epidemic had still not reached massive proportions in the US. There were only a hundred and fifty-eight reported cases and most people were talking about Joe Biden's big win on super Tuesday yesterday.
Tuesday, March 3rd: The Wall Street Journal Reports Stimulus Considerations
By Tuesday March 3rd, the epidemic was seeing drastic increases in South Korea. They had already reached over 5,000 coronavirus cases and implemented a 9.8 billion stimulus plan to fight the virus.
Meanwhile, the Wall Street journal reports discussions of a coronavirus stimulus plan in the US because the markets had not been impressed by the feds reaction or a potential payroll tax cut.
Monday, March 2nd: Elizabeth Warren Proposes $400B Stimulus Plan
This is the first day of serious 2002 stimulus talks that would help the average America.
As the Coronavirus spreads across the world, the US still has very few cases. The realists see what's coming and one of them is Senator Elizabeth Warren of Massachusetts.
She begins discussions of a $400 billion stimulus bill to offset the impending economic damage of the Coronavirus.
At this time, Larry Kudlow, Trump's top economic adviser, suggests that the virus won't sink the US economy.

Richard Cummings is a writer, traveler, and web content developer.

Get your copy of his latest book entitled Obvious Conclusions, stories of a Midwestern emigrant influenced and corrupted by many years living in San Francisco and abroad. It just received its first outstanding review "...reminiscent of David Sedaris or Augusten Burroughs" on Amazon UK.

Latest posts by Richard Cummings (see all)