Do you ever have a phone number and wonder, "Who Does This Phone Number Belong To?"  If so, we are going to show you places to find out who this phone number belongs to.
But, first, we wonder, why are you asking this question?  Did you meet a hot girl last night and get her number but not her name?  Are you searching through all of your paperwork and just curious about all the phone numbers that you have written down?  Are you one of those people who is just randomly curious?
We're just curious that's all  🙂
But really, it is kind of important because this goes to how important it is for you to find this person's phone number. This is because there are two ways to find out who a phone number belongs to: the free way and the paid way.
Two Ways to Find Someone's Phone #
If you're just randomly curious, or the phone number in question is not that important, then you probably do not want to go the paid route. Seriously, was the girl you met last night worth paying to find out who the phone number belongs to? That is a little bit stalker-ish of you.
Be that as it may, we will just provide you the answer and dismiss with the analysis, though sometimes that is the part that is most fun.
The Free Way to Find Someone's Phone Number
When you start searching for "who does this phone number belong to?", you will run into a mine-field of gotchas! What does that mean? Well, it means that people will want you to pay for the information.
Nothing is free in life you know.
But the good news is: sometimes things are free.
In the article best free people finder, we are given a list of ways to find out who a phone # belongs to. The winner  of the place to go find out who a person's phone # belongs to is ZabaSearch.com!
I just tried it. My sister has an unlisted phone number and I was able to find her no problem. What is the benefit of being unlisted if I can find her number quicker than if I looked in a phonebook?
Well, you got me. But, it seems as though once you sign up for a magazine, respond to a questionnaire, or something similar, these sites will get your information.
And BOOM, all those thoughts of nobody being able to get your information are gone sooner than you can remember what that girl looked like last night.
Finding People the Paid Way: The Minefield
You see, here is what usually happens.
A free site will lure you in and provide with just a tease of information…like "the person that you are searching for is female, ,with the first name of Alexandra, who lives in Virginia. And then, they've got you because they will offer to tell you where she lives, where she went to school, what her SSN # is, and all of that great information for the low, low price of $15, which is, of course, and introductory rate.
$9 to find out detailed phone information (and more!) on the hotty you met last night or the random number you had in your pocket. Is it worth it? You be the judge.
However, the $15 introductory rate to find out who a phone number belongs to may just be the beginning. Watch out for things like "we'll charge you $25 a month thereafter until you cancel your account, which you can do on the second Tuesday of every month".
Just be careful of the paid people search minefield. And, remember, most of the people who claim "free people searches" will usually end up at a point where they want to you pay for something.
The best place to find the number if you need it and can not find it free using Zabasearch is Search People Free.
They may be able to provide you with all of the information that you need for free.  However, if you want more information, you will get a page that looks like this: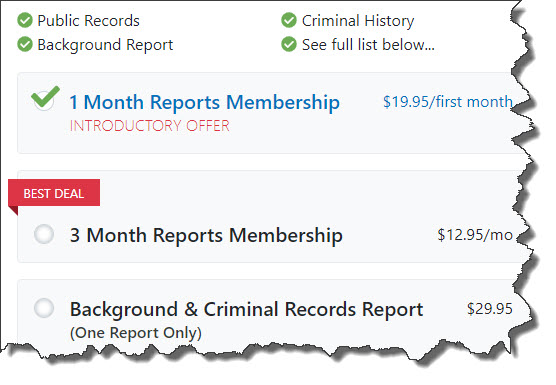 And it truly is amazing the amount of detailed information they can get you on just about anybody!
Who Does This Phone Number Belong To: Summary
The bottom line is this: You can find out too much information on just about anybody.
In fact, some websites give away information that is actually illegal (like Social Security Numbers). We live in a world of big brother now and all of our information is out there on centrally stored databases.
Most of the time you can get a smidgen of information for a free, a teaser about a person. Zabasearch will do the best for free, but even they want you to pay for more information like an address. If you need the information and cannot find it for free, choose Search People Free and pay the one time free.
Who knows? It might just be worth it…the girl could be the love of your life and you'll never know unless you find out "Who Does This Phone Number Belong To!" 😉

Richard Cummings is a writer, traveler, and web content developer.

Get your copy of his latest book entitled Obvious Conclusions, stories of a Midwestern emigrant influenced and corrupted by many years living in San Francisco and abroad. It just received its first outstanding review "...reminiscent of David Sedaris or Augusten Burroughs" on Amazon UK.

Latest posts by Richard Cummings (see all)