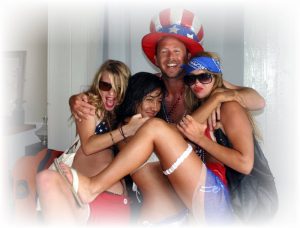 When it comes to July 4th celebrations, the place to be is Hermosa Beach, California.
My friends and I celebrated our independence last year on The Strand in Hermosa Beach.   The Strand is the sidewalk area just behind the beach but in front of the houses.  The Strand carries weight.  People use and abuse this term regularly, so much so that it's often met with skepticism.
When you're out for a night on the town, and you decide to have an after-hours party, people will ask:  "Where are you staying?"  You respond:  "On the Strand."  Then they'll say:  "The Strand, The Strand?" …a little bit like I know you two got together, but did you get together, get together? 
In many places, your value is assessed by very shallow qualities:  your intellect, your passions, your job.  Hermosa Beach rises above such shallow designations.  They just want to know one thing:  "Do you live on the Strand?"  The Strand, The Strand?  Fortunately, we were on 33X The Strand and thus would not be judged by other shallow characteristics like our personalities.
We spent a few days warm up on Hermosa Beach before the actual date of July 4th.  Everyone tells you, "Just wait until the 4th.  You won't believe it.  The Strand is wall-to-wall people."  We were ready!
As the day was beginning, and we had hundreds of Corona's awaiting consumption, my friend who owned the beach house warned:  "Be careful, a ton of people will try to get in the house.  Be very selective who you let in.  And don't give any beer to underage people.  There's cops everywhere!"
I would do my best.  But, after all, these people would be stranded and what kind of person am I if I cannot help people in need?
On New Year's Eve, the hype often exceeds reality.  On July 4th in Hermosa Beach, no amount of hype could equal the reality.
When the day began, it did not take long for the procession of bikini-clad beauties to appear.  Within hours, there were literally thousands of absolutely beautiful people strolling the Strand who just want to have a good time.
Want to look great in a bikini?
As we were sitting on the porch looking down on The Strand, one very-youngish, gorgeous looking girl asked:  "Could I come in and use your bathroom?"  Hmmmm.  I looked for my friend who had given the warning but he was nowhere to be found.  How could he disapprove?  We are helping the needy.
After using the bathroom, she seemed to be getting very comfortable and innocently asked:  "Do you have an extra beer?"  A little bit too innocently.
I hate to ask questions that may not deliver an answer that I want.  Don't give beer to underage people!  Ok, I'll ask, and I'll ask in a leading way:  "You are 21, aren't you?"
To which she perkily responded:  "No, I'm 19!"

Regrettably, out the door she had to go, but not without first saying…"I'll do anything for a drink."  While I appreciate this high-level of commitment, they were filming the show Cops just outside on The Strand and I was not yet ready to begin an acting career.
The day continued with invited, and uninvited, guests all adorned in their patriotic Red, White, and Blue thongs, bikinis, sarongs, and Speedos.  Easily, it was the best July 4th I have spent.
So, if you haven't yet made plans for July 4th, get a place on The Strand in Hermosa Beach and all of your expectations will be exceeded!

Richard Cummings is a writer, traveler, and web content developer.

Get your copy of his latest book entitled Obvious Conclusions, stories of a Midwestern emigrant influenced and corrupted by many years living in San Francisco and abroad. It just received its first outstanding review "...reminiscent of David Sedaris or Augusten Burroughs" on Amazon UK.

Latest posts by Richard Cummings (see all)