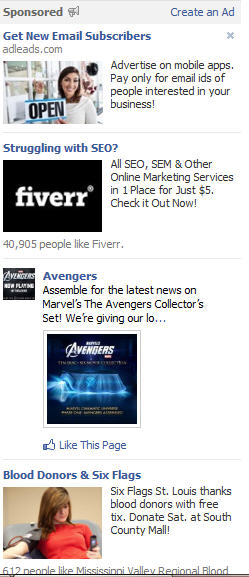 There are many people out there asking "How Does Facebook Make Money"? They are asking this because they are using Facebook and they are using it for free. So, we will investigate how Facebook makes money or, if in fact, they make any money at all!
How Does Facebook Make Money:  The Obvious Answer
The quality experience that Facebook provides is not created out of thin-air for free.  Facebook currently employs over 3,500 people and these engineers usually get paid a nice salary.
So, unless Facebook is simply hemorrhaging money, they need to make a lot to pay all of these people.
And, with over 901 million active users, we can assume that Facebook is able to generate quite a bit of money and they are able to do this through advertising placed on Facebook pages as you see in the photo on the right. Facebook used a portion of the screen to advertise to me and, yet, I have never clicked on one of the ads.
So, when you advertise to 901 million monthly active users, you are definitely going to make some money, but how much?  Does Facebook make enough to pay for all of their expenses?
I have read that Facebook users, because they are young and Internet savvy, tend to click on ads less than their older counterparts.  Facebook users are said to be "ad-aware" and do not click on ads as much.  Additionally, as people begin using Facebook more and more on their Smartphones, there will be even less room to place ads.  This is a big concern for investors in Facebook.
But, let's take a look at some hard data which should now be more readily available because Facebook is a publicly traded company.
Facebook:  How Much Money Do They Make?
Well, as we write this, Facebook is due to release their earnings tomorrow, Thursday, July 26th.  Analysts do not know what to expect exactly but estimates points to Facebook making about $1.15 billion in revenue for the quarter.  Thus, Facebook's annual revenue should be about $4.4 billion.
However, revenue does not consider the amount of money that the company is spending.  For instance, if Facebook spends more than $4.4 billion per year (they just paid more than $1 billion for Instagram!), they are actually losing money.
But, fortunately for Facebook, this is not the case.  Facebook is making money:  According to CNBC's Julia Boorstin…
"..the company pulled-in $3.8 billion in ad revenue during 2011 and generated operating profit of $1.5 billion. That translates to a 40% operating margin. By comparison, Google's operating margin during the fourth quarter of 2011 was 33%. The issue then, is not whether the company can make money, but whether it can continue to make money."
Will Facebook Continue To Make Money?
Looking forward, followers of Facebook are concerned with many things.  Principally, does Facebook have much room to grow?  They already have 901 million users, which is 3 times the size of the U.S. and would make Facebook the third largest country in the world.
This concerns many people, especially investors who place future growth into the price of stocks.  Are there that many more people to add to Facebook, and if so, will these people appeal to advertisers?
How Does Facebook Make Money:  Conclusion
Facebook makes money through advertising.  That is the simple answer.
However, there is much more under the hood.  A few prominent companies dropped their Facebook advertising campaigns because they say that advertising on Facebook does not really work.  Young people, who are the primary users of Facebook, don't click on ads or buy as much.  They are "ad-aware".
Many are also concerned that the founder Facebook, Mark Zuckerberg, is not concerned enough with making money.  He is only concerned with a positive user experience, which often conflicts with making money.
Facebook is an important benchmark for Internet companies in general.  If a company with over 900 million users can not make much money, what does that say about the future of Internet Advertising as a whole?

Richard Cummings is writer, traveler, and web content developer.

Get your copy of his latest book entitled Obvious Conclusions, stories of a Midwestern emigrant influenced and corrupted by many years living in San Francisco and abroad. It just received its first outstanding review "...reminiscent of David Sedaris or Augusten Burroughs" on Amazon UK.

Latest posts by Richard Cummings (see all)