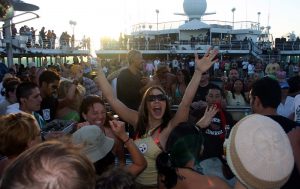 When I heard the news a few weeks ago about the untimely death of LeRoi Moore, it shocked and saddened me.  LeRoi is a founding member of The Dave Matthews Band.  I did not know him personally but, personally, he has given me so much joy.
Really, what more can one accomplish in life?  LeRoi and the DMB Band have given this joy to hundreds of thousands, if not millions, of people.  It is fair to say that the people in the picture above, all enjoying the Dave Matthews and Friends cruise, would never have had that moment were not for LeRoi Moore, founding member of the Dave Matthews band.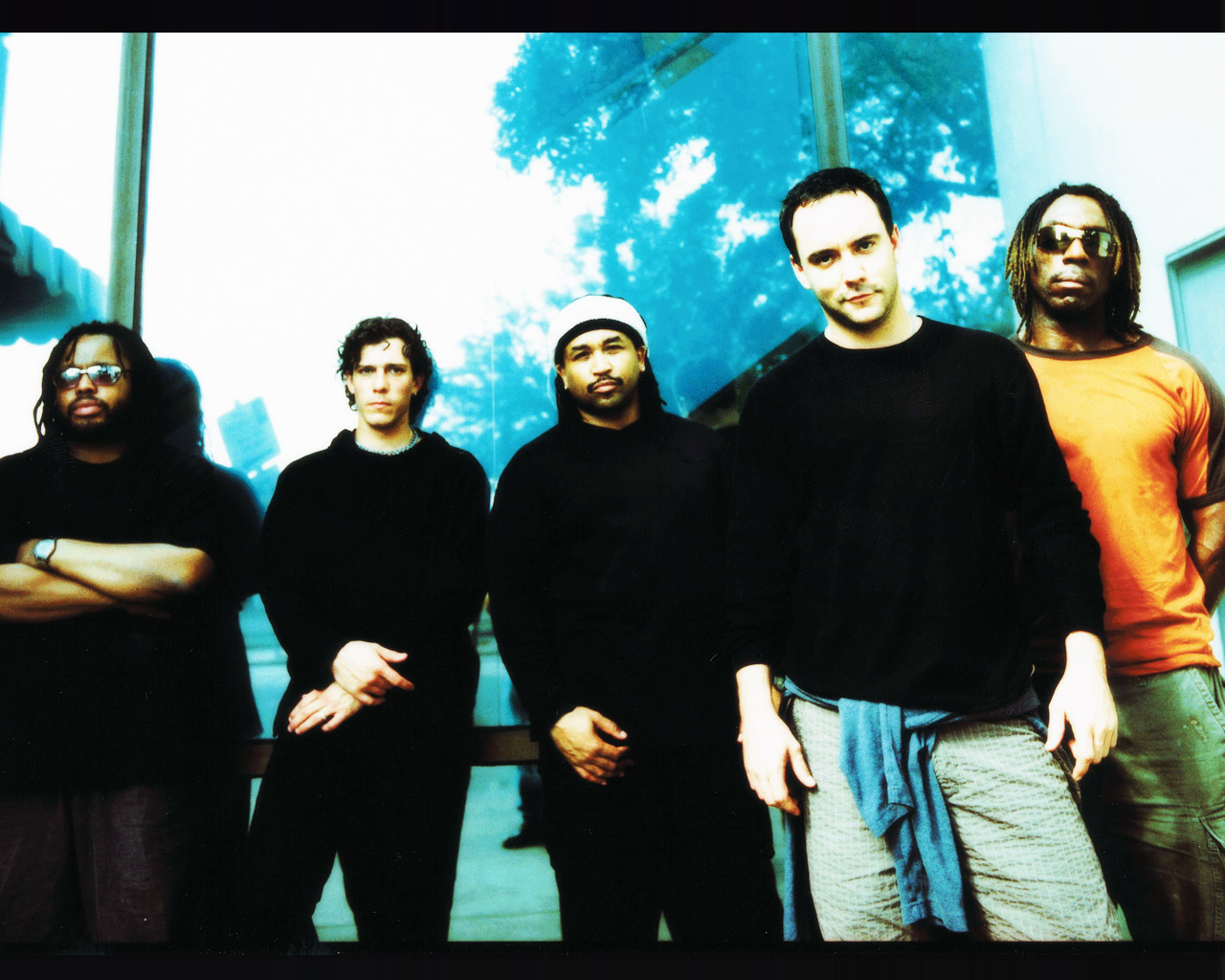 The first listen I had to a Dave Matthews song nearly got me arrested.  On a drive back to Lake Tahoe from San Francisco, I popped in a gift CD I had just been given:  Under the Table and Dreaming.  I had heard a bit of Dave Matthews on the radio but had not purchased any of their music.  The CD started and I loved every song.  How often does this happen?
Then, #7, Ants Marching, came on.  Holy S*it…what a song!  I played it again and again.  And, without realizing it, started driving faster and faster.    Good songs make you feel so joyful and somewhat indestructible.  Just when the line "Driving in on the highway" came on, I was getting pulled over by a cop for going 97 MPH.  The cop said 3 more miles per hour and I would be being hauled off to the slammer for going over 100.
Two years later, my friend Eric invited me to go see a Dave Matthews show.  Eric was a member of the DMB fan club, a notion over which I endlessly chided him.  "The fan club," I said…"that's very Seventeen of you."
As we entered the show in San Francisco's new ballpark, I asked Eric:  "Do we have good seats?"
He dismissively responded, "I don't know.  I think they're ok.  Just follow me."  We kept walking down, and down, until we were on the stadium field, and then further up, passing everyone, until we were seated…in the first row.  "Still think being in the fan club is geeky?" he asked.
After that amazing night, I have seen the Dave Matthews Band countless times…in San Francisco, Oakland, Los Angeles, San Diego, and, most notably, 3 nights, and one rented RV, over Memorial Weekend at The Gorge in Washington State.  Every show, and every venue, was filled with magical music and magical people.  Something happens when people gather around the common theme of music that they love, turning each night into an unforgettable experience.
I didn't know at the time, but things were crescendo-ing, leading up to an experience that would surmount them all…
The Dave Matthews and Friends Cruise
Normally, when I take a vacation, people ask:  "Would you do it again?"  My response is invariably "No, I would not do it again because I don't want to do the same thing twice.  I would, however, recommend it."
After the Dave Matthews Band cruise, I was asked the same question:  "Would you do it again."  Without hesitancy, I responded, "It was easily the best four days I have ever spent.  I will go on the Dave Matthews Band cruise every single year!"
If you did not go on the cruise, I might be able to describe the experience.  I might be able to show pictures that can paint a better story.  Or I might just be able to ask one rhetorical question and you can imagine the experience:
"What happens when you take 10 Great Bands, two huge cruise ships, endless oceans, 8,000 music fans who like to party, unlimited booze, sunny days, balmy nights, bikinis everywhere, 24 hour music, pools, hot tubs, and put all of these things together for four days, culminating with a journey to a private island in the Bahamas to see Dave Matthews play?"




Have I gone on the Dave Matthews and Friends Cruise again? 
Unfortunately not, because it has not happened again.I think that it should.  The cruise should set sail again.It should because people need it:   people need to hear Ozomatli in the open seas again; they need to groove with G-Love in the Atlantic;  they need Reggae with Toots and the Maytals in the Jamaican sunshine; and, perhaps most of all, they need that private show with Dave, the Band, and all of their fellow die-hard fans.
And, most importantly, they need to honor the life and memory of LeRoi Moore as true fans together.
Death can be a very sad thing.   The untimely passing of LeRoi is what awakened me to write about my Dave Matthews experiences.  As I said, I never had the pleasure of meeting LeRoi.  However, if I had to venture a guess, my guess would be that LeRoi would prefer that we not mourn his death but celebrate his life and the music he created.
Let's all do that on another Dave Matthews and Friends Cruise!
Other Notes/Links on the Dave Matthews Band & Friends Cruise
For those of you who did not get to go on the DMB & Friends cruise, it was truly an incredible experience…especially when it was time for Dave to play.  About 1 hour into Dave's show on the private island, a hurricane-like storm swept in.  The temperature dropped to very cold levels as rain bombarded the island.  Many people had to leave for safety reasons.  Dave completely manned up.  He not only continued playing when the hurricane left, but then he came to each cruise ship and played for 2 to 3 hours on each…until about 6am on my boat.  Yes, he played for about 12 consecutive hours. Dave, if you ever read this, thank you! I know that some of the logistics of the first cruise were difficult but fate, like the sun, will shine on the second one!
In Reflection from the Dave Matthews Caribbean Cruise Getaway, the author repeatedly mentions the logistically problems on the cruise.  Fortunately, though, many people disagree with him in the comments.  I do agree that there were some logistically failures, but sour weather is an unplanned event.  It does not have to result in a sour attitude.  Please Dave…don't let these naysayer's prevent another Dave & Friends.
Watch Dave and Friends play Rocky Mountain Way from the cruise on YouTube.  There are several more videos from the show there but the video/audio quality is not great.
There was a girl on the cruise (perhaps a little drunk) who thought that I looked like Trey Anastasio.  I didn't think so, but it begs the question:  "What do you do when someone thinks that you're a rock star?"  Answer:  "You roll with it!"  Here's a picture of us side-by-side.  What do you think?


In her Dave Matthews and Friends Cruise review, Julie writes:  "I dreaded looking at the message boards today, because I had such a GREAT time on the cruise and listening to everyone whine was getting old . . . I was so happy to see that most of the comments posted are positive."  She concludes with this:
To all of you who were there, THANK YOU FOR CONTRIBUTING TO AN INCREDIBLE TIME! It'll take a lot to top this one . . .Life handed us lemons, and some of us made lemonade . . . And boy oh boy, was it GOOD!

Richard Cummings is a writer, traveler, and web content developer.

Get your copy of his latest book entitled Obvious Conclusions, stories of a Midwestern emigrant influenced and corrupted by many years living in San Francisco and abroad. It just received its first outstanding review "...reminiscent of David Sedaris or Augusten Burroughs" on Amazon UK.

Latest posts by Richard Cummings (see all)