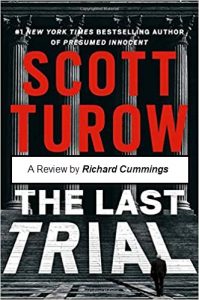 When I saw that Scott Turow had released a new book entitled The Last Trial, I felt like an old friend was coming to town and I looked forward to their arrival with pleasant anticipation.
I'm grateful to Scott Turow every time he writes a book — they arrive too infrequently and pass too quickly.
It all began back in 1987 with Presumed Innocent, a legal thriller with just the right proportion of character development, plot intrigue, and great writing. I was equally absorbed by his follow-up The Burden of Proof and then found myself looking forward to each new release by Scott Turow.