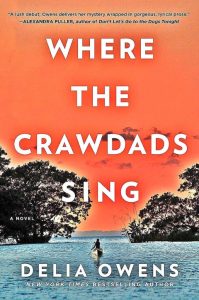 Where the Crawdads Sing has kept its place on the bestseller list for a long time. I didn't want to read it but it wouldn't go away. Every week, it's there again – inescapable.
Why didn't I want to read it?
As I viewed the Amazon page for the book, I found three compelling reasons to NOT READ Where the Crawdads Sing:
(1) It was a pick of the Reese Witherspoon Hello Sunshine Book Club — what is this?  I like Reese, but seriously, does every celebrity have to have a book club?
(2) It's described as "Painfully Beautiful" – this is exactly how many Oprah-emotionally-contrived tales are tallied.
And (3), it begins with a dead body as "handsome Chase Andrews is found dead [and] the locals immediately suspect Kya Clark, the so-called Marsh Girl."
What's wrong with a story that begins with a dead guy? Well, nothing except that is how so many painfully beautiful, book-club picks begin — I didn't want to read a book I've already read!
Thankfully, after exhausting all else on the bookshelf, my initial three-reason narrow-minded assessment yielded to my better judgement and I started Where the Crawdads Sing.
Yes, it's the rich-boy and the girl from the other side of the tracks – or, in this case, the marsh.
But it's so much more. It IS in fact "painfully beautiful", poignant, moving, and all those other Oprah-like adjectives that I often abhor.
Where the Crawdads Sing is that unique place where a tale worth telling meets a writer worth telling it.
I highly recommend it – read more here.

Richard Cummings is a writer, traveler, and web content developer.

Get your copy of his latest book entitled Obvious Conclusions, stories of a Midwestern emigrant influenced and corrupted by many years living in San Francisco and abroad. It just received its first outstanding review "...reminiscent of David Sedaris or Augusten Burroughs" on Amazon UK.

Latest posts by Richard Cummings (see all)