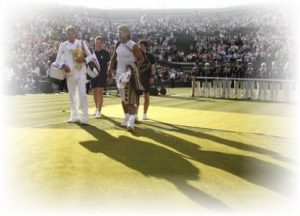 Read this live, on-line, coverage of the match between Rafael Nadal and Roger Federer in the Wimbledon Men's Championship, 2008.
We got what we wanted…
A Wimbledon final between Nadal in Federer
I wrote live, on-line coverage of the Nadal-Federer French Open where Roger was humiliated.  I noticed that most of the pundits are picking Nadal.  Do you recall they did this with Federer during the French?  Many people said…"This is Roger's time."  And Roger was humiliated.
Will he be similarly humiliated at Wimbledon?  Impossible-this is his place, his house.  But Nadal is so much in his head.  Perhaps too much.  You can see it.  Roger needs a therapist more than a tune -up to his game.  It's just a bit irritating playing someone like Nadal because he gets everything back…then the opponent plays outside of himself.
In-progress…Nadal has mown Federer over the first 2 sets.  6-4, 6-4 is a convincing beat-down in men's tennis.  If this continues, a 4,4, and 4 victory would be rather humiliating, not as much as it was at the French Open, but close.
Wow, serving 4-5 in the 3rd, Nadal blows a 40-0 lead.  Could we have a turning point?  Nope, at deuce Nadal gets the advantage.  Federer won the ad point.  Back to deuce.  He needs to win a game to take it to the 3rd set and get this thing back to a match, at least a little bit.  Sh*t, Nadal won the deuce point with an off-speed serve.  And then got the ad point.
Five all, third set.  Listless is often the best way to describe Federer's look when he plays Rafa as if he's silently saying "I have no answer."
SWEET…Federer holds to lead 6-5.
At 5-6, Nadal wins the first point.  A baseline point.
Why is Federer playing from the baseline?  He can't win those points.  Roger has only been to net a dozen times–not enough!
We head to the tiebreaker.  Federer begins with an ace.  Federer has a much better record in tie-breakers.  Usually when they mention this on TV, the contrary happens.
Federer wins a challenge on a winner he hit that was called out.  But he does not get to win the point because the ball was called out…even though Nadal hit the ball into the net.  Federer aces the next 2 to go up.
Federer up 4-2 as he rips a forehand.  The crowd really wants a 4th set and so do I.  5-2 Roger.  C'mon Roger.
Federer, 3 set points.  Federer is pumping his fist-no longer listless.  Nadal saves 2 set points on his serve.
Federer one more set point on his serve.
BOOM!
4th set upcoming.
I should write a manual:  "How Roger Federer can beat Rafael Nadal".
Rule #1:  DON'T GET IN LONG RALLIES.  You will lose.  I know you want to beat him at that game, but he's better.  He's just better.  I think of Rocky's wife saying to him against Mr. T, "you can't win Rock.  You can't win."  Roger, you can't win from the baseline against Rafa.
Rule #2:  Hit more off-pace shots.  Don't give Rafa any chance to find his rhythm.
Rule #3:  Hit a few short chips and force Rafa to come into net.
Rule #4:  Come to net more often.  If you're not going to serve-and-volley, come to net at the first opportunity.
Rule #5:  Do a delayed rush.  This throws off your opponent because then they start taking a peak to see whether you are rushing net.  Plus, with Rafa hitting the ball so deep all the time, many of his balls go over the net very high which gives good opportunities for easy volleys.
Wow, Cavin RoseDale and Gwen Stefani are in Federer's box.   Our silent but deadly Swiss friend is moving in some high social circles.  Roger, remember you're a tennis player not a social player.  Get back to tennis Roger.  Remember what happened to Lennox Lewis after he became a movie star in Ocean's 11?  Hasim Rockman dropped him!
Speaking of Roger's friends…Where is Tiger Woods?  Oh, he's not allowed to be there because he didn't even go to the golf tournament he is supposed to host this weekend.
2-2. 4th set. Great tennis right now.
3-2 Nadal; he holds serve easily.
Federer struggling at deuce to hold serve.  Critical moment.  Alright, Federer holds 3-3.
Rafa holds easily, leads 4-3.
Federer is forced to play from behind all set.  This is tough.
At 30-15, Roger misses an easy volley.  Is he getting tired?  Alright, he holds.
4-4.
Nadal holds serve.  4-5.  Will Roger hold?
Down 0-30!  Whew, back to 30-30.  Wow,  championship play.  Federer, down 0-30, wins 4 straight points to bring us to 5-5.
Roger drops the first 2 points on Rafa's serve.  Does he hope too much to reach a tiebreak and not try hard enough to break Rafa's serve?  I hope not because holding serve against Rafa is never a foregone conclusion.
Roger serving at 5-6.  Down love 15, with his back against the wall, Roger plays 3 great points to lead 40-15.  Now, 40-30.  Tiebreaker time once again.
Amazing point-the first point of tiebreaker.  This will definitely be #1 on the top 10 shots at Wimbledon if they revise it after this match.  Federer wins this point but then  loses both his service points.  Down 1-2.
Federer down 1-4.  How often these tie-breaks get out of control in the blink of an eye!  Federer hits an amazing forehand under intense pressure.
5-2 Nadal serving.  Double-fault at 5-2.  Hmmm.  Interesting.  In my writings of the French Open Final,   I wrote about Nadal's intimidating, somewhat robotic disposition.  Could he actually be human?  5-3.  5-4.
Great tennis!
Unbelievable!  Federer wins 4 straight points to lead 6-5 down from 2-5.  Just unbelievable!
C'mon Federer-bring on the 5th set!
Ahhh!  Why does Roger get in these long baseline points?  He never wins them.  Refer to rules above.  Stop it Roger.  6-6.
Oh no.  Match point.  Federer hits a great serve.  7-7.  Both of them are trying to hit their server too hard.
Rafa hits a passing shot that deserves the match win.  Fantastic.  I think this will be it.
Amazing.  I've never seen tennis like this.  Federer hits a Nadal like passing shot.
Federer has a set point and is serving.
Fifth set coming!  Oh-my!!!
Beginning of the fifth:  Federer holds; Rafa holds.
Remember, there's not tiebreaker.  This thing could go on forever.  However this ends, Federer has played like an absolute champion.  Serving from behind in both the third and fourth sets, Federer won them both.
Each of these men must think:  I have to break early.  Because they have to break to win…why not do it early?
At 1-1, Federer has made a few careless errors on his serve.  Another flawless point from both which Rafa wins to get it back to deuce on Federer's serve.  Federer is yelling a bit to himself-it's good to see him fired up!  Alright, Federer holds.
Rafa "plays hard every single point" says McEnroe.  This is so true and that is  why he is so difficult to play.  Players make errors when they normally would not .  Federer just played a long point, finally got a short ball, and missed it.  A shot he would never miss against others.  Playing Rafa is just that difficult.
2-2. Fifth Set. Roger serving.
Oh my!  It's starting to rain again.
Rafa challenges two balls in a row and is right on both.
And there's another rain delay at 2-2, deuce, 5th set.  What time is it in London right now?  7:54 pm.  They might not finish tonight…
As we are on a break, I have just noticed that many people, after seeing pictures of Roger Federer's girlfriend, do a search for her on the Internet.  I'll make it easy for you.  Here you go:
Roger Federer's girlfriend:  Miroslava 'Mirka' Vavrinec.
Personally, I think it's a comment on Roger's substance that he does not have a knock-out, dimwit, model on his arms.  Clearly, he and Miroslava have a little something more than a manufactured for TV relationship.
And Nadal? Why not?
Rafael Nadal's girlfriend:  Francesca Xisca Perello
Ok, we've devolved enough.  But it is fun to see the personal lives of these two who are battling it out in what is one of the most epic Wimbledon show downs of all time.
They're back on the court now.  McEnroe just mentioned that "heart wins the 5th set".  Who has more heart?
Federer comes out and hits two aces.  Perfect.  He's playing from ahead this set.  Will this help him?  Federer leads 3-2 with night descending on London.
Rafa hits a passing shot as easy as he breathes.
In the French Open final, Rafa looked bigger, unusually big for a tennis player.  He seems somewhat more slight here at Wimbledon.  True?
Rafa holds easy:  3-3.
Federer holds to lead 4-3.  This next game is his game, his chance.  If he could break, he could serve for the match at 5-3.  This is it Roger.  Play this game like no other and take home the title.
Mac just said, "if he wins this, it might be the sweetest of them all".  I think surely it would be, aside from maybe the first win which has to hold a very special spot.
Break point at 3-4 for Roger.  Huge point.  If he wins, he serves for the match!  But Rafa plays a remarkable point and gets back to deuce and eventually win the game.  4-4.
Roger holds fairly easily and leads 5-4 in the fifth.  What a match!  The best any of us have seen in a long time!
4-5 Rafa serving.  30-30 after Federer bangs a forehand into the corner.  Rafa wins two in a row though to win bring it to 5-5.
15-40 on Roger's serve.  Trouble?  Roger wins two in a row to get it back to deuce.  He has played these pressure points so coolly.  So coolly.  And Roger holds to lead 6-5!
Nadal holds.
Roger is in trouble again at 0-30.  He can't keep putting this pressure on himself.  Ace.  15-30.  Another great serve:  30-30.  Now 40-30.  Arggghhh.  Roger misses an easy volley after Nadal tracked down several balls that no other human would have returned.
But Federer holds.  Leads 7-6.
Wins first point on Nadal's serve.  0-15.  Now, 30-15 Nadal.  40-15 as Roger is getting into too many baseline points which he never wins.  On an amazing point, Nadal holds serve.
Federer in trouble again.  Broken Record.  He cannot keep doing this and escape.  0-30.  But he plays a great point to go 15-30.  Rafa-astounding backhand to get to 15-40.  Now, back to deuce but Nadal wins another won to have a break point.  Near Ace.  Deuce.  It finally got him.
"And Federer has cracked!" say the announcers.
Nadal to serve for the match!  0-15 as Nadal hits a forehand long.  15-15-Nadal serves and volleys for the first time in the match.  Good call!  30-30:  Federer played a great point with Nadal approaching net.
Match point for Nadal.  Here it is.
"Impossible!"  –JM.  Federer hits an impossible return to get it back to deuce.
Another match point.
And it's over!
"A changing of the guard at Wimbledon."
"How lucky we are to have been here, " says John McEnroe.
I feel the same way.

Richard Cummings is a writer, traveler, and web content developer.

Get your copy of his latest book entitled Obvious Conclusions, stories of a Midwestern emigrant influenced and corrupted by many years living in San Francisco and abroad. It just received its first outstanding review "...reminiscent of David Sedaris or Augusten Burroughs" on Amazon UK.

Latest posts by Richard Cummings (see all)