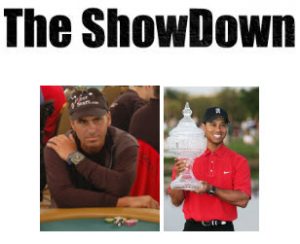 Live On-Line Coverage of the Playoff Between Tiger Woods and Rocco Mediate in the 2008 US Open from Torrey Pines Monday, June 16th
---
And they're off. Rocco perfectly down the center. Tiger…heading for the bunker, but gets a favorable kick into the fairway.
Tiger and Rocco laugh with each other as they walk down fairway #1.  Tiger clearly likes Rocco.  Will this throw Tiger off of his game?
Johnny Miller is so behind me…as he just mentioned about Lee Trevino throwing people off of their game.
Tiger on green…Rocco in bunker.
Will Tiger be thrown off his game?  Are you serious?  Tiger is never throw off of his game!
Results after 1:  Tiger:  Par…Rocco misses 5-foot par putt and gets birdie.
Hole 2:  Tiger hits a horrendous drive left.  Rocco in the right rough.
They just ran a 2-minute interview with Rocco that had no audio.  But, apparently, Rocco mentioned his participation in the World Series of Poker (see picture above).  He'll need thos poker skills today.  But, we need to remember–this is not match play.
It's simply this:  Best player after 18 holes wins.
Rocco hits a terrible second shot.  Tiger's shot was ok.
Dan Hicks just mentioned that, at 10-1, "there is nobody better percentage-wise in playoffs."
Actually, there is:  Rocco Mediate.  He's 2-0 in playoffs.  That is better percentage-wise.
Two pars on #2.  Tiger even.  Rocco +1.  They're coming up on the fantastic 3rd hole.  I have to go play Torry Pines sometime.  Does anybody want to send me the $281 green fees?
Tiger came up short…Rocco just almost got a hole-in-one!
Perfect.  Two-shot swing.  Birdie/Bogey.  Rocco up by one.
Hole 4:  Both in rough off the tee.  Tiger hits a terrible second.  Rocco hit a 200 yard hybrid that landed on the green.  Don't you love that?  He hits the clubs we commoners would have to hit.
Tiger chips hits a perfect chip for a tap in par.  Rocco two putts.
Two pars…off to hole #5.
Terrible drive for Rocco in the deep stuff and, of course, very short.  Tiger used a 3-wood and striped it effortlessly down the middle.
I like the donate to Richard's green fee's idea.  If you donate the $281 for my Torrey Pines greens fees, I will post a link to your website or company in this page.  Here is the button again:
Rocco got a bad break and his ball hit the cart path twice. He's in trouble.  Tiger's on the green.
Rocco hit a pretty damn good flop shot with a sand wedge and will have a putt at par.  Rocco doesn't even carry a 60 degree wedge.  Even I have one of those…though I don't always hit it too well.
Tiger for birdie…misses by quite a bit.
Rocco just misses for par and walks away with bogey.  Tiger par.  Both at plus 1.
Hole #6:  This is a long par 4.  Advantage Tiger.  They both hit fairway, but Tiger is way ahead of Rocco.  Rocco hits his second shot long and Tiger stuffs it.  He'll have a five foot birdie putt.
Oh, Rocco nearly chunks his chip, but gets that one roll needed to feed towards the hole.  He'll have 4 feet for par.  Tiger drops his birdie putt.  Rocco hits a beautifully stroked par putt.  Tiger up by one.
Off to #7…Decent drives.  Both hit their second on the green but, once again, Tiger stiffed it.
Johnny Miller just said, "Watch out…Tiger is bringing his A-game now."
Rocco hit a decent lag putt and will end up with par.  Tiger drains another birdie with confidence:  -1 to +1.
Off to hole #8, a par 3.  Tiger mis-clubbed and mishit and he is left with a fried-egg in the sand trap.  Johnny Miller says, "He might not be able to hit the green from that sand trap."  Wanna bet?
Rocco comes up well short with his drive.
It would have been a good bet…for Johnny.  Tiger did not hit the green out of the sand.  Rocco hits a poor chip and runs it 4-feet past the hole.  Tiger hits a chip from the same location and gets it to within knock-in range.  He'll have bogey.  Rocco has to make this par putt–it's essential.
And he does.  Tiger up by one and they're off to the par 5 ninth.
Rocco hits one down the pip.  Tiger grimaces as he goes hard at a driver….way down the fairway.  Rocco lays up, but lands in the rough.  Even the pros get lazy on layups and then hit them astray.
Tiger's got a 3-wood and the hole is 280 away.  Just like me…hitting a 3-wood 280–not!  Tiger hooks it left and lands in the bunker.
Rocco hits a solid 3rd but lands behind the hole.  Tiger hits a bad sand shot but then recovers decently and one putts.  Rocco three putts–ouch!
Hole 10 produces another par/bogey combination for Woods/Mediate respectively.  However, hole 11 reverses the trend for Rocco where he pars and Tiger bogeys.  On 12, another par for Mediate and bogey for Tiger.
We enter the 13th with Tiger up by only 1.  Most people would have guessed that it would be game over by 13th.  But game is still on…Rocco in the fairway at the par 5 13th after his drive.  Tiger in the rough.
Rocco almost reaches the par 5 on his second.  He's in the greenside trap in 2.  Tiger, from the rough, lands on the green in 2.
Rocco hits the bunker shot to within 4 feet.  He'll have a good birdie opportunity.  Tiger's eagle putt comes up short, but he has a tap in birdie.  Rocco needs to make this birdie to keep things even…and he does.
Off to 14.  I love this hole.  I hope they have tees up!  Yesterday, these hole added great drama.   Ah, perfect, it's playing up.  Rocco going for it like yesterday.  Tiger didn't go for it yesterday; we'll see today.
Roccco gave it his all but just couldn't reach it.  Tiger grabs his 3-wood 🙂  He ended up short, where Rocco is, and in the rough.  He must have take too much off of it.
Tiger shockingly chunked his chip a bit.  Rocco hits a fantastic chip for a tap-in birdie.  Now, Tiger with a 10 footer for birdie…and it lips out!
ALL SQUARE going to the 15th.  Who would have thunk it?
Rocco gets a great kick into the fairway.  Tigers shoots it well right as he has done many all week.  Outside the ropes again…will he have one of his fortunate trampled-downed lies or will the thick rough finally get him?
Rocco hits a perfect second, on the green, with a look at birdie.  Tiger now hitting from the trap.   A miraculous high hook to about 5 feet from the pin–AMAZING!
WOW!  Rocco hits a Tiger-like curler for birdie!  I think he just surprised himself.  And Tiger misses by a few feet.  He still has a tester for par.
"Not often do you see the pressure reversed like this on Tiger."- Dan Hicks
Dead center.  Rocco up by 1.
Three holes left.  A 3,4, 5 left.
First up.  The long par 3 16th.
Rocco hit an iron and just couldn't reach.  He's 10 yeards short of the green but in a good spot.   Tiger on the green as well but short.  I predict 2 pars.  We'll see.
Two pars it is, but not without drama.  Both hit great shots.   Tiger's was one revolution short of perfection.
Off to 17; Mediate one up.  If you're at work, say you have to go to the bathroom, run to the local bar, and watch the last 2 holes.  Go now!
17th.  441 yard par 4.
Both players in good postion after drives.
Even though Mediate is up by 1 right now, I would put him up by .5.  On 18, Tiger will best Rocco by 1 stroke 50% of the time.  Thus, the .5.  Tiger is taking forever in the fairway on 17 and…hits it to within 15 feet.
Rocco hits a "sketchy" one that he gets away with.  He's on the green with about a 25 or 30 ft putt.
Rocco gives it a rap but leaves himself a good distance for par.  No tap in at all, especially at this stage of the contest.
Tiger, unlikely, leaves it short, but has a tap in par.
Rocco steps up to his par putt and…DROPS IT.
Off to 18, the par 5, Rocco with a 1-stroke lead.  Unbelievable!  This is definitley the most important hole that has been played in golf in 2008.
Argggh, Rocco pulled his drive; he's in the sand.   Tiger stripes it long down, straight down the center.
As Johnny Miller just said, "this makes it a par 4 for Tiger."  Game even?
Rocco hits a layout in the fairway.  Tiger will obviously go for the green.  He selects a 4-iron from 217 yards and… lands on the greeen but a good distance from the hole.  He actually didn't clear the water by much.
Rocco needs to stiff it and make birdie.  Then, he wins.  Here he goes.  He hits it the right distance but it's also a ways from the cup.
Both have tough putts.  Tiger for a 3.  Rocco for a 4.  If both make, tie.  If both 2 putt, tie.
What's gonna happen?
Tiger misses his eagle putt and leaves it about 5 ft from the cup–no gimme.
Rocco does not make a good effort.  He also has about a 5 footer.
OH MY!  Sudden Death.  Birdie/Par.
We begin sudden death on the par 4 7th.  Tiger has played this hole well all week. Rocco hasn't.
Tiger hits a bomb down the right-side of the fairway.  Rocco lands in the bunker, up agaisnt the lip, as he has done several times this week.
Huge advantage to Tiger.  Is the fat lady singing?
Rocco yanks it over near the grandstand short of the green. Tiger on the green…with a longish putt.
The fat lady has warmed her vocal chords.
Rocco has 20ft for par.  She's approaching the stage.
Tiger almost makes.  He'll tap in for par.
Rocco must make a 20 footer to tie this hole.
The fat lady is singing.
Tiger just won his 3rd U.S. Open.

Richard Cummings is a writer, traveler, and web content developer.

Get your copy of his latest book entitled Obvious Conclusions, stories of a Midwestern emigrant influenced and corrupted by many years living in San Francisco and abroad. It just received its first outstanding review "...reminiscent of David Sedaris or Augusten Burroughs" on Amazon UK.

Latest posts by Richard Cummings (see all)