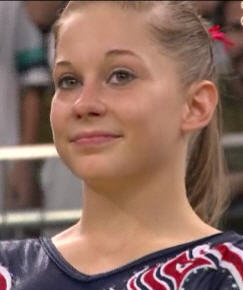 While the balance beam derailed the U.S. Olympic gymnastic team after Alicia Sacramone's fall, it provided the setting for one of the Olympics great moments after Shawn Johnson's balance beam routine brought home the gold for America. 
Upon first seeing Shawn Johnson when the Olympics began, one could not ignore that her smile-filled with electricity-and her physique bared a striking resemblance to the golden Olympic girl herself, Mary Lou Retton.  However, up until last night, Shawn's golden smile had only yielded silver results.
Her golden smile warranted more than silver.  In fact, Shawn Johnson was favored to win the all-around Olympic gymnastic gold medal but that gold went to her great friend and fiercest competitor Nastia Liukin.  Shawn placed second and won the Silver in the all-around. 
And so last night was her final opportunity.  Her final chance to win the gold medal that she had prepared for her whole life.  After some unmet expectations, it may have been difficult to get emotionally prepared, but Shawn's attitude matched her smile:  "I was at the Olympics, having the time of my life.  Coming out here today, whether [I won], I didn't care. I knew in my heart what I deserved."
As she mounted the balance beam, Shawn Johnson's routine was fraught with opportunities for failure-her degree of difficulty exceeded that of her competitors.  She mounted the beam gracefully and executed her difficult moves with precision.  I'll never fathom, especially given all the pressure, how these girls stay on the balance beam much less perform such acrobatic moves.  But, in the end, it's not how you get on the beam, it's how you get off-the dismount.  Shawn hit a pretty-perfect landing, but left a smidgeon of room for her competitors, one of whom was Nastia Liukin.
In her post-golden interview, Bob Costas asked Shawn what it was like waiting to see if her performance would hold up against the others.  Shawn responded with her trademark Olympic smile saying:
I didn't really care where I stood.  I finished off my Olympic experience as best as I could and I had no regrets.
I often wonder what will become of Olympians after their moment.  They spend everyday of their lives preparing for the Olympics and then-poof!-it's gone.  Most will return home and begin other careers, other lives.  Some will contine their sport for a few years.  But, seriously, how many of us watch gymnastics outside of the Olympics?
A select few will go on to marketing gold, earning millions telling us to eat Wheaties or drink Coca-Cola.  But, to do this, you need a gold medal and a golden smile.
Shawn Johnson now has both.

Richard Cummings is a writer, traveler, and web content developer.

Get your copy of his latest book entitled Obvious Conclusions, stories of a Midwestern emigrant influenced and corrupted by many years living in San Francisco and abroad. It just received its first outstanding review "...reminiscent of David Sedaris or Augusten Burroughs" on Amazon UK.

Latest posts by Richard Cummings (see all)