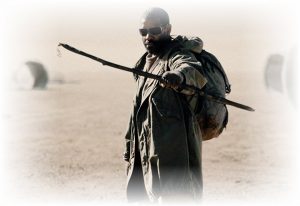 I just noticed that the Book of Eli is number one on the latest list of DVD Movies New Releases.
I saw this movie in the theaters when it came out and remember a discussion that ensued afterward: Is Eli blind in the movie? After visiting the Book of Eli IMDB page, I realize that many people have this question.
As Schwatime points out in the IMDB post called Why the Ending Should Make You Blind With Rage, there is multiple evidence to support both sides. This pissed her/him (what gender is the name Schwatime?) off to the point where he/she concludes "This is a crappy film made by lazy filmmakers."
Get over it gender challenged person–The Book of Eli was a quality movie…and I don't even like these kind of movies. I never even saw the Road Warrior Mad Max movies which spearheaded all of these types of flicks. (I really don't need to now though as Mel Gibson has become a real life road warrior.)
Anyway, I fully recommend The Book of Eli, but just want your opinion: Was Eli Blind in the movie? Yes or No?

Richard Cummings is a writer, traveler, and web content developer.

Get your copy of his latest book entitled Obvious Conclusions, stories of a Midwestern emigrant influenced and corrupted by many years living in San Francisco and abroad. It just received its first outstanding review "...reminiscent of David Sedaris or Augusten Burroughs" on Amazon UK.

Latest posts by Richard Cummings (see all)