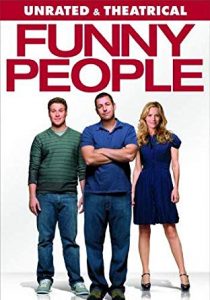 Last night, I watched the movie Funny People with Adam Sandler and many other great young comedians.
20 years ago, you knew what to expect with an Adam Sandler movie; now you don't.  I like that.
20 years ago, all was simply slapstick and often very funny.  Now, we still get slapstick but with serious, and sometimes slightly demented, undertones.  It is often said that great comedians and great comedy comes from the darkest of places where the only means of survival is through comedy.  In the recent career of Adam Sandler, he seems more comfortable exposing some of those dark places.